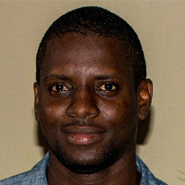 Quasi Williams, BSc
Graduation Date: 2013
Grenada
Pursuing a bachelor's degree in biology at St. George's University before applying to the School of Veterinary Medicine turned out to be one of the best decisions Quasi Williams, BSc SGU '13, ever made. For although he loved working with animals, it was during his time at SGU that he found his passion for apiculture—or as it's more commonly known, beekeeping.
Mr. Williams has spent more than 10 years working at Grenada's Veterinary and Livestock Division of the Ministry of Agriculture, Lands, Forestry, Fisheries, and the Environment. He now serves as the Livestock Extension Assistant responsible for apiculture.
"My job requires providing technical assistance to all the beekeepers of our tri-island state, including workshops and training for said beekeepers," stated Mr. Williams. "In addition to overseeing and conducting research in the field of apiculture on behalf of the Ministry, I also provide technical support to senior staff within the Veterinary division."
While at SGU, Mr. Williams was asked to oversee and work with the School of Veterinary Medicine's East Caribbean Bee Research Extension Centre (ECBREC), as the Ministry's technical officer. ECBREC currently carries out internationally recognized research in bee diseases, parasites, pests, husbandry, and pollination, to enhance the knowledge of agriculture and livestock sustainability, ecology, behavior, and conservation, and provides technical training for local and regional beekeepers. It was this invaluable opportunity that Mr. Williams now credits with his entry into the field of apiculture.
"My experiences at SGU were an eye opener that I would enjoy sharing with my kids in the future. My interactions with people from many different cultures, and the friends and professors that helped me throughout my time at the University would all be cherished," said Mr. Williams. "My decision to attend SGU has impacted my life greatly. I didn't know what to expect, but by the end of my time there, I had a clear path of my future, career-wise, which was uncertain during the initial stages of my academic journey."
In addition to academics, during his time at SGU, Mr. Williams also had an active athletic career. An avid footballer, he was a member of the University's varsity football/soccer team as well as the inter-sector netball team. Currently, he coaches SGU's female varsity football team under the guidance of Mr. Chris Park, Assistant to the Director of Athletics, SGU, which now has an all-female intramurals competition every semester. As part of SGU's athletics team, Mr. Williams continues to raise the profile of sports and expand the number of opportunities offered to students in various sporting disciplines, exercise sciences, and physical education.
Aside from beekeeping, Mr. Williams loves working with animals both farm and domestic, presently providing care as an aspiring veterinary technician within the Ministry. In the future, he plans to specialize in veterinary public health and epidemiology, beginning with a master's degree and then on to a PhD.
Published February 2018
Find out if St. George's University is right for you.
https://www.sgu.edu/wp-content/uploads/2020/02/sgu-logo-grenada.svg
0
0
rpetersgmail
https://www.sgu.edu/wp-content/uploads/2020/02/sgu-logo-grenada.svg
rpetersgmail
2018-02-02 13:38:38
2021-01-20 21:44:18
Quasi Williams, BSc