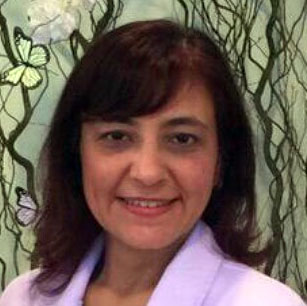 Rekha Hanvesakul, MD
Graduation Date: 1996
Thailand
Growing up in Thailand, Dr. Rekha Hanvesakul attended an international school in the late 1980s. It was during this time that she saw an advertisement for St. George's University. After finishing her studies at the international school, she traveled to the United States and received her undergraduate degree from Northern Arizona University. She then applied to St. George's University School of Medicine.
"Attending St. George's University was such an interesting experience," Rekha recalls. "I met people from all parts of the world. It was a very different experience from attending a school in one state (as in her undergraduate career). There were many different cultures and many different foods—not to mention the balmy weather."
Rekha completed her clinical rotations in New York and her residency in internal medicine at Booth Memorial Medical Center, now New York Hospital of Queens. After completing additional postgraduate training in the United States, Rekha returned to Thailand. St. George's University is on the "Recognized Universities List" maintained by the Thai Medical Association and as a result, she was eligible to sit for the Thai licensing examinations. Before sitting for these exams she spent three months doing an observership in a local hospital to get accustomed to the style of medicine practiced in Thailand as well as brush up on her Thai language skills after having been away for so long.
Now practicing internal medicine at BNH Hospital in Bangkok, Rekha is also an advisor at the hospital's international travel medicine clinic where she gives travel advice to local people, expatriates, and foreigners. She tells them what to look out for when traveling to certain countries—what vaccines they may need, what preventative medicine they need to take, which diseases are a problem in which countries, and how to stay healthy when traveling.
Dr. Rekha Hanvesakul also commented on how much the University has grown and matured since she was there in the early 1990s. "They didn't have the new buildings then and the library was small in comparison to what students have today, but I know the education I received there was very good and compares favorably to the experiences of other doctors I have met throughout the world.  I really learned a lot—both educationally and culturally—and am proud to be a St. George's graduate."
Published January 2011
Find out if St. George's University is right for you.
https://www.sgu.edu/wp-content/uploads/2020/02/sgu-logo-grenada.svg
0
0
Erin Shaw
https://www.sgu.edu/wp-content/uploads/2020/02/sgu-logo-grenada.svg
Erin Shaw
2016-12-07 19:43:56
2021-01-21 17:21:20
Rekha Hanvesakul, MD