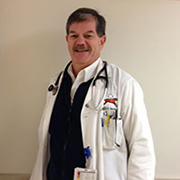 Richard Goulah, MD
Graduation Date: 1982
United States
More than 30 years into his career, Richard Goulah, MD '82, an attending cardiologist at St. Patrick Hospital's highly decorated International Heart Institute (IHI) in Missoula, MT, has grown to enjoy and appreciate his profession more and more with each year that passes.
"I've really fallen in love with what I do," Dr. Goulah said. "I really enjoy sitting down and talking to patients, not only about their illness but just communicating with them. The last five or six years have been just spectacular. It's been the pinnacle of my career."
Since 2009, he's been part of an institution that has been recognized nationally. Truven Health Analytics named the IHI one of the top 50 heart hospitals in the country in 2013, a list reserved for facilities with superior survival rates, the shortest hospitals stays, and the fewest complications and readmissions. Dr. Goulah specializes in diagnostic and nuclear cardiology, echocardiology, cardiac CT, pacemaker implants, and treating critical care patients.
In addition, he is an attending cardiologist at St. James Hospital in Butte, MT, and clinical instructor in the University of Washington Department of Medicine's cardiology division as well as a full-time staff member in the Department of Biomedical and Pharmaceutical Sciences in the University of Montana's Skaggs School of Pharmacy. Pharmaceutical students rotate with Dr. Goulah on a weekly basis, and he is exploring the possibility of establishing a two-year pharmacy cardiovascular fellowship at St. Patrick.
Born and raised in Niagara Falls, NY, Dr. Goulah obtained his Bachelor of Science in biology from Niagara University in 1976 before enrolling at St. George's University. He was a member of the 1982 graduating class at SGU, when foreign medical school graduates were still a foreign idea to US hospitals.
"SGU gave me everything I needed to go out and practice and compete with everybody," Dr. Goulah said. "We were all hard-nosed and really wanted to be doctors, and SGU gave us that opportunity."
After graduating, he completed his internal medicine residency at St. Michael's Medical Center in Newark, NJ, before spending the majority of his medical career in South Boston, VA. From 1987 to 2007, he served as an attending cardiologist at Halifax Regional Hospital, a 192-bed facility with more than 100 physicians representing 28 specialties on staff. Dr. Goulah also spent a decade as chairman of the hospital's Department of Medicine and headed the facility's board of directors from 1992 to 2007.
In addition, Dr. Goulah founded and presided over the Halifax Heart Center, which addresses everything from congenital heart defects and heart failure to echocardiography and stress testing, and he was the longtime president and board member for Medical and Surgical Associates of South Boston. He is also dedicated to clinical research, having maintained a longtime relationship with Duke University – at which he has been on the faculty since 1994 – the Duke Clinical Research Institute, the Duke University Cooperative Cardiovascular Society, and International Heart Institute Foundation. He is board-certified in cardiovascular diseases, internal medicine and nuclear cardiology.
Find out if St. George's University is right for you.
https://www.sgu.edu/wp-content/uploads/2020/02/sgu-logo-grenada.svg
0
0
Erin Shaw
https://www.sgu.edu/wp-content/uploads/2020/02/sgu-logo-grenada.svg
Erin Shaw
2016-12-07 19:48:51
2021-01-21 19:19:24
Richard Goulah, MD