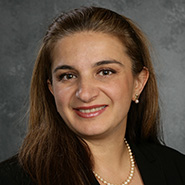 Roxana Mehran, MD
Graduation Date: 1987
United States
Icahn School of Medicine at Mount Sinai
Professor of Medicine, Cardiology, and Population Health Science and Policy; Director of Interventional Cardiovascular Research and Clinical Trials, Zena and Michael A. Wiener Cardiovascular Institute
Undergrad: New York University
Residency/Chief Residency: Internal Medicine, University of Connecticut
Fellowship: Cardiovascular Disease, Icahn School of Medicine at Mount Sinai
In addition to being an interventional cardiologist, you have long been an advocate for women in medicine. What drives you to be a pioneer in that initiative?
I want to see that there is equality and fair representation of women and minorities, not only as patients in clinical trials but also across the field of medicine. The number of female cardiologists delivering health care to patients is tremendously low–just 20 percent. And for interventional cardiologists, it's under 5 percent. Women also earn considerably less over the course of their careers than men. My mission is to make sure that women are well represented and well respected.
Have the numbers improved over the years?
Not as much as they should. If you look at the last 10 years, the percentage of interventional cardiologists in the US who are women has stayed between 4 and 8 percent. I recently wrote in JAMA Cardiology that I felt women had cracked the glass ceiling, but we really haven't. We've made important strides, but there is still so far to go.
For your work, you were recently bestowed the Wenger Excellence in Medical Leadership Award by WomenHeart, as well as Bernadette Healy Leadership in Women's Cardiovascular Disease Award from the American College of Cardiology. What was your reaction for earning such distinctions?
I'm very humbled. These awards fuel the fire in me to continue this work and reduce cardiovascular disease in women and minorities. In fact, improving the care of women with cardiovascular disease also ties closely with my work to improve representation of female cardiologists. There is strong evidence connecting female cardiologists to improved outcomes for female patients. It's unconscionable to believe that, in 2018, there's discrimination against women in medicine. We have to stop that. It's an honor to receive awards, but it's not about the recognition. It's about having a platform to help my fellow women colleagues, as well as patients, who are underrepresented.
Going back to when you were first getting started. How did a career in cardiology come on to your radar screen?
I was part of one of the very early classes of SGU, and very determined to build a career in medicine. I didn't want to go into cardiology immediately, but my exposure to cardiology, my love for cardiology came when I was a fourth-year student at Mount Sinai Hospital. I remember working in the critical care unit and loving every single minute of what I did. Once I got to the catheterization lab, I knew that that's what I wanted to do, even if it meant working the crazy hours. Twenty-five years later, I can say very strongly that it was absolutely the right choice.
Can you elaborate further on the passion you have for this particular field?
Interventional cardiology is one of the most rewarding sub-specialties. We get to perform procedures involving cutting-edge science. I'm able to work on one of the biggest problems in the world—cardiovascular disease. We are literally saving lives every single day. To be in the driver's seat for that, how much better could it be?
Find out if St. George's University is right for you.
https://www.sgu.edu/wp-content/uploads/2020/02/sgu-logo-grenada.svg
0
0
bpmauser
https://www.sgu.edu/wp-content/uploads/2020/02/sgu-logo-grenada.svg
bpmauser
2018-09-24 21:23:02
2018-09-28 15:57:08
Roxana Mehran, MD