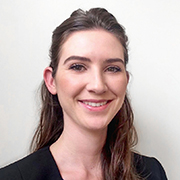 Roxanne Graham, MD
Graduation Date: 2017
South Africa
Western Michigan University School of Medicine
Pediatrics
Amid a storm in an impoverished area outside Cape Town, South Africa, Roxanne Graham, then just a high school student, witnessed the impact that a physician could have.
"It was raining and raining, and a family had come to our clinic to tell us that a woman had given birth," she recalled. "An ambulance couldn't get close enough, so a doctor, a nurse, and I ran there in the rain to help. At that point, I said 'wow, this is awesome.' "
Dr. Graham spent five months at the clinic, and it was a life-changing experience that she looks back on fondly as she completes her first year of a pediatrics residency at Western Michigan University School of Medicine.
"I was volunteering so I wasn't earning any money, but I loved going back there every day to see the kids," she said. "I always knew that I wanted to help kids because they're the future of the population."
WMU has been the ideal training location for her, as she's taken on a wealth of responsibilities as an intern, yet has had plentiful supervision from attending physicians and chief residents. She also appreciates having open communication lines with them, allowing for feedback and for answers to any questions she may have.
"It's challenging, but I'm really enjoying it," she said. "I'm glad I matched here because the people are just phenomenal—they're so kind and helpful."
Of course, she had to adapt to a cooler climate in Michigan. Dr. Graham earned her Bachelor of Science in human life sciences from University of Stellenbosch in South Africa in 2011, and then a Bachelor of Science with Honours from its Tyberberg Campus a year later. She completed a year of stem cell research, and upon learning about SGU's campus and credentials at an area information session, she applied and enrolled.
"I just thought that SGU was such an awesome opportunity," she said. "I'm very adventurous and wanted to see another part of the world, plus I loved that it's on an island and that I could meet new people."
Dr. Graham made friends quickly, and through frequent study groups, she navigated her way through the rigorous courseload. On the side, she was a member of the University's Pediatrics Club, and also carved out time to participate in the popular Thailand selective, during which she and several other SGU students had the opportunity to learn about traditional eastern style medicine and modern medical practices in both Bangkok and Krabi.
The trip had an added benefit. While in Thailand, she met her future husband, who had been visiting on holiday.
Dr. Graham's upbringing in South Africa and international experience at SGU—between Grenada, Thailand, and the United States for clinical training and residency—has piqued her interest in global medicine. Dr. Graham plans on entering the global medicine track at WMU, which has brought residents to places like Madagascar, Peru, and Cuba in the past.
Her journey has taken her to places all over the world, just as she'd hoped.
"I'm really glad that I took the opportunity to go to SGU," Dr. Graham said. "I met amazing people along the way, I met my husband, and I feel that if I'd stayed at home, I would not have been able to do what I've done and to experience the world like I have. I feel like I'm exactly where I need to be."
Published February 2018
Find out if St. George's University is right for you.
https://www.sgu.edu/wp-content/uploads/2020/02/sgu-logo-grenada.svg
0
0
bpmauser
https://www.sgu.edu/wp-content/uploads/2020/02/sgu-logo-grenada.svg
bpmauser
2018-02-01 18:14:38
2021-01-20 21:25:46
Roxanne Graham, MD