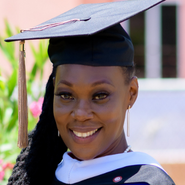 Samanta Johnson, BSc
Graduation Date: 2022
Grenada
St. George's University
Coordinator of campus life
As a part-time student and full-time employee at St. George's University, Samanta Johnson, BSc '22, always knew that if she obtained her bachelor's degree, more doors would open for her professionally, allowing her to create more purpose in her life.
This month, Ms. Johnson graduated with honors, earning a Bachelor of Science degree in management. The grad is about to embark on the next step in her professional career.
On July 1, she begins her new role at the University, as coordinator of campus life within the Office of the Dean of Students. Ms. Johnson has worked for the past 13 years within the Department of Microbiology, Immunology, and Pharmacology—where she started off as a secretary and was later promoted to executive secretary within the same department.
She shared with SGU News that completing her degree at SGU has been the greatest accomplishment of her career so far and how it has boosted her desire to grow both personally and professionally.
St. George's University: What are you most looking forward to accomplishing in your new role?
Ms. Johnson: As I transition into my new position, I will have the opportunity to assist within the areas of planning and oversight of new student orientation, Family Weekend, White Coat Ceremonies, student organizations, and SOM College events. Also, with everyone being back on campus next term, I'm looking forward to having more in-person interactions and cultivating an even more collaborative environment as I support with the recruitment, training, and supervision of various student assistance teams.
SGU: Share what your student experience was like at SGU and its impact on your life. 
Ms. Johnson: Being a student at SGU has been one of the defining moments of my life—one that has brought me many opportunities. The University is extremely student centric and there is a breadth of support services that students have at their disposal, for both new and seasoned students. From inception, students can learn all that SGU has to offer in the Introduction to University life presentation, which provides vital information to first-year students to ensure their success.
I believe that regardless of your current position, there is always more to learn and once you invest in your professional growth it creates self-awareness, tenacity, humility, and the like. Being a student at St. George's has pushed me out of my comfort zone and inspired me to think differently—in a positive way.
SGU: How did it feel to walk across the stage at commencement?
Ms. Johnson: For me, graduation signified that I completed a certain period in my life. Not having to consistently attend classes anymore, I felt as if I was leaving behind an organized set of routines, and it was a bittersweet occasion for me. Yet, on the day itself I felt honored and accomplished. The chance to walk across the stage and become an SGU alumna brought feelings of happiness, excitement, and pride.
Throughout the years, there was always a goal in my mind to earn my bachelor's degree. Completing that degree and graduating with honors, whilst being a full-time employee has been my greatest accomplishment in my career thus far. My goal in the future is to continue to improve myself, continue reaching for greatness, and becoming an expert in my field.
SGU: How well do you feel that SGU prepared you for the next step in your journey?
Ms. Johnson: SGU has aided me in developing my confidence and assertiveness. I am much surer of myself, and I believe I can accomplish everything I set my mind to. The University also instilled in me a sense of wanting to achieve more and not settling for less.
SGU: What would you say to an aspiring student considering going to SGU? 
Ms. Johnson: I believe prospective students will have a unique opportunity to study and learn in a multicultural setting that will benefit them both academically and personally. They will also be immersed in a professional environment from the very beginning of their journey.
Find out if St. George's University is right for you.
https://www.sgu.edu/wp-content/uploads/2020/02/sgu-logo-grenada.svg
0
0
lchartor
https://www.sgu.edu/wp-content/uploads/2020/02/sgu-logo-grenada.svg
lchartor
2022-12-29 15:10:16
2022-12-29 15:10:16
Samanta Johnson, BSc