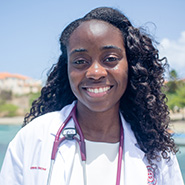 Sarah Ackah
Graduation Date: 2017
United States
University at Buffalo, Buffalo, NY
Internal Medicine/Pediatrics Resident
As an internal medicine/pediatrics resident at the University at Buffalo, Sarah Ackah, MD '17, sees inpatients and outpatients with a range of complex conditions. Cases run the full gamut and sometimes involve trauma, forcing her and her colleagues to be prepared for any situation that may arise.
Dr. Ackah has thrived during her time in upstate New York, and hopes to take the knowledge and experience she has gained there to Texas, where her fondness was medicine was born.
Like her travels, the fields for which she is enthusiastic are wide ranging.
"My medical interests include primary care, public health, and sociocultural research, and I have a passion for working with both adults and kids," she said.
In addition to her clinical responsibilities, Dr. Ackah is involved in two major research projects related to palliative care awareness in inpatient settings and pediatric endocrinology in children with thyroid disease.
"Obesity and thyroid disease in children is a serious and growing problem in the US and beyond," she said. "There is a child obesity clinic at my hospital and it's a topic I studied and became interested in at SGU. I'd like to research more about the effect of obesity on thyroid function and see if there are ways of helping children and adults in non-surgical ways."
Dr. Ackah was born in the United Kingdom and grew up in Texas. The eldest of four children, she was inspired to follow a career in medicine during a childhood visit to the emergency room for her younger sister.
"My sister needed stitches following a serious accident and the attending doctors were so kind and caring," she said. "I was only about 8 years old, but I remember thinking I wanted to be like them one day."
Dr. Ackah completed her undergraduate degree at the University of Texas at Austin. When it came to choosing a medical school, she weighed her options in the United States, Europe, and the Caribbean before opting to study at St. George's University. It proved to be the right decision.
"The whole experience at SGU was terrific," Dr. Ackah said. "It was such an interesting and family-friendly environment. I come from a big family so this is what I wanted, and my classmates were great. SGU has a way of picking the best students.
"The resources and teaching staff at SGU were also first class. I found the schedule quite rigorous but everyone was extremely supportive. It definitely prepared me for the complexities of life as a doctor. It was the perfect, well-rounded experience."
Published September 2019
Find out if St. George's University is right for you.
https://www.sgu.edu/wp-content/uploads/2020/02/sgu-logo-grenada.svg
0
0
bpmauser
https://www.sgu.edu/wp-content/uploads/2020/02/sgu-logo-grenada.svg
bpmauser
2019-09-18 20:39:21
2021-02-03 19:34:06
Sarah Ackah