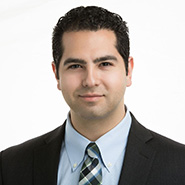 Sepehr Lalezari, MD
Graduation Date: 2011
United States
Private Practice
Bariatric and Minimally Invasive Surgery
As a bariatric and minimally invasive surgeon, Sepehr Lalezari, MD SGU '11, believes the procedures he performs is as much about the lives that are positively affected as it is about the weight loss.
"To take someone who has struggled with something for their entire life, who are taking a multitude of medications, and then to see them be able to play with their kids, and go out and live a life that they couldn't before is very rewarding," he said.
Dr. Lalezari recently completed a bariatric and minimally invasive surgery fellowship at Johns Hopkins Medicine in Baltimore, MD, and is now opening an advanced bariatric and minimally invasive general surgery practice in Los Angeles—where he grew up.
"What I enjoy about bariatric surgery is how technically demanding the cases are," Dr. Lalezari said. "You're always trying to better yourself and find different ways to do the operation more efficiently and with fewer incisions. It's very interesting. Every day is new and exciting."
At Johns Hopkins, he learned the most cutting-edge procedures such as single-site surgery and endoscopic surgery—"truly incisionless surgery," he called it. Training at JHU was an "honor" and has put him in a unique position when starting private practice.
Born in Iran, Dr. Lalezari moved to California with his family at age 4. With the help of a highly influential primary school teacher, he overcame early difficulty with learning the English language to become a high achiever, eventually graduating magna cum laude—and two years early—from UCLA with a Bachelor of Science in neuroscience.
Always dedicated to education, he spent some time as a high school biology teacher, after which he set off on his journey to become a physician, enrolling at St. George's University.
"SGU was the only Caribbean school I even considered," he said. "It had a good reputation, and I knew a lot of people who went there, worked hard, and ended up in the places they wanted to be."
He embraced the culture in Grenada, where among other activities he provided instruction in basic life support through the American Heart Association and helped facilitate neuroscience review sessions.
"The faculty, staff, and people in Grenada were great," Dr. Lalezari said. "It's a great place to learn, and the education I received set me up to be successful. I also appreciated all the support from the staff there. If I had any questions or needed anything from them, they were always available."
For his clinical training, Dr. Lalezari trained throughout the United States, including Florida, New York, California, and at Minnesota's prestigious Mayo Clinic. Although he studied neuroscience as an undergrad, he steered his career toward bariatrics and minimally invasive surgery after seeing the long-term effects that his care could provide, as well as the long-term relationships he could develop with patients—similar to that of his primary care doctor growing up who first inspired him to pursue a career in medicine.
"With bariatric surgery, I love the relationships you develop with the patients," he said. "They're looking for a way out of their current situation, they've been fighting their entire lives, and you help them meet their goals. In the end, they're so happy. The relationships that develop with patients over time is why I got into medicine in the first place."
After graduation, Dr. Lalezari earned a general surgery residency at Jewish Hospital in Cincinnati—his top-choice program—and he ascended to the rank of Chief Resident for the 2015-16 year. Following residency, he went on to complete his fellowship at Johns Hopkins—also his top choice.
Throughout his training, he has felt very much on par with his colleagues from US schools, and it was clear that SGU grads were "hungrier for success."
In bariatrics, his success is now measured in the magnitude by which his patients' lives are changed.
"I'm living what's been my lifelong dream," he said. "I couldn't be more pleased with where I ended up, I love what I do and I have so many career choices because of where I've been. It's been an amazing journey."
Published November 2017
Find out if St. George's University is right for you.
https://www.sgu.edu/wp-content/uploads/2020/02/sgu-logo-grenada.svg
0
0
bpmauser
https://www.sgu.edu/wp-content/uploads/2020/02/sgu-logo-grenada.svg
bpmauser
2017-11-22 16:52:46
2021-01-20 19:39:37
Sepehr Lalezari, MD