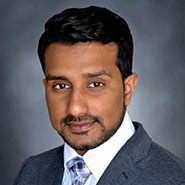 Shivantha Amarnath, MD
Graduation Date: 2017
Sri Lanka
Hofstra Northwell School of Medicine at Staten Island University
Internal Medicine
From a young age, Shivantha Amarnath, MD '17, dreamed of becoming a physician who treated the citizens of New York City. Now, fostered by the hard work and dedication he put into achieving his goal, his dreams are coming true. In early 2021, Dr. Amarnath will begin a gastroenterology fellowship at Hofstra Northwell School of Medicine at Staten Island University,
It was during his internal medicine residency at the same institution that Dr. Amaranth said he fell in love with gastroenterology. "I fell in love with procedures and would spend countless hours in the endoscopy suite seeing back-to-back procedures which affirmed my interest in GI. My hard work culminated in getting the fellowship I've always dreamed of," he said.
Dr. Amarnath was born and raised in Colombo, Sri Lanka, and as the son of an ophthalmologist, he gained early exposure to the medical profession. His drive to become a physician was evident even in his early years. Dr. Amarnath was a member of the Sri Lankan Red Cross Society for Humanitarian Efforts, organizing youth camps, serving as a youth first aid trainer, and assisting with tsunami relief efforts.
Dr. Amarnath traveled to the United Kingdom, where he earned his Bachelor of Science (Hons.) in biology from Manchester Metropolitan University and also obtained an honorary degree in the Royal Society of Biology, UK. He is a Trinity College of Music qualified pianist and cellist as well.
He chose to study medicine at St. George's University because it offered "the same level of education" as US medical colleges while also functioning as a gateway to practicing medicine in the US for many international students.
Watch Dr. Amarnath's interview on graduation day
While Grenada was halfway around the world from Sri Lanka, the setting was very similar. "The island felt close to home considering my home country is also a tropical island," Dr. Amarnath said. "The people, the food, and even the culture made me feel close to home. Adjusting to Grenada was a breeze."
A high achiever at MMU, Dr. Amarnath came to SGU on an International Student scholarship. He admits that it took time to adjust to American style of teaching and examination system, particularly with MCQ questions, but worked closely with University staff to thrive. He gained admittance to the Iota Epsilon Alpha International Medical Honor Society. He ultimately gave back to his fellow students as a tutor for biochemistry, anatomy, and pathology as part of SGU's Department of Educational Services. Upon graduating, Dr. Amarnath was inducted into the Arnold P. Gold Foundation's Gold Humanism Honor Society, reserved for students, residents and faculty who exemplify a gold standard of compassionate patient care.
As an internal medicine resident, Dr. Amarnath received several accolades, winning several research awards and competitions including Outstanding Poster Presenter for two consecutive years at the annual international gastroenterology conference organized by American College of Gastroenterology. Dr. Amarnath was also awarded Resident Teacher of the Year and offered the position of chief resident of internal medicine at SIUH.
As chief resident, he spearheaded the initiation of a dedicated sub-internship in internal medicine for fourth-year medical students. The new change means that he (and future chief residents) "dedicate weekly sessions with the students where we teach and guide them on how to prepare for intern year, what resources to use, how to present patients to attending physicians, and take notes,," he said. "This was well-received by the students and the medical schools that we have relationships with."
Dr. Amarnath credits SGU for reinforcing his desire to pursue medicine, and the community of lecturers, colleagues, and staff who were inspirational and supportive in helping him reach that goal.
"I honestly have to thank SGU to the fullest extent for preparing me so well for my future in medicine," Dr. Amarnath said. "I honed my skills of teaching and guidance, hard work, dedication, and leadership at SGU. The years in Grenada, along with my rotations in New York, prepared me extremely well for day 1 of residency where I did not feel any different in terms of overall standard, and knowledge from any other American medical school grad. I am extremely grateful to SGU."
He added: "For anyone from Sri Lanka who wanted to pursue to become a doctor and get trained either in the States, UK, or Canada, St. George's University is, without a doubt, the best choice."
Updated January 2021 
Find out if St. George's University is right for you.
https://www.sgu.edu/wp-content/uploads/2020/02/sgu-logo-grenada.svg
0
0
bpmauser
https://www.sgu.edu/wp-content/uploads/2020/02/sgu-logo-grenada.svg
bpmauser
2017-09-20 18:18:08
2021-02-24 21:19:52
Shivantha Amarnath, MD