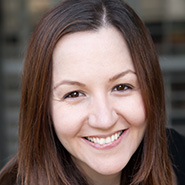 Svjetlana Lozo, MD
Graduation Date: 2008
Bosnia
University of Chicago Medical Center
Fellow, Female Pelvic Medicine and Reconstructive Surgery
Undergrad/Graduate: Bachelor of Science in Biology and Psychology, Drexel University; Master of Public Health, T.H. Chan School of Public Health, Harvard University
Residency: Obstetrics and Gynecology, Maimonides Medical Center
Fellowship: Global Health Leadership, Massachusetts General Hospital
Fellowship: Female Pelvic Medicine and Reconstructive Surgery, University of Chicago/North Shore University Health System
How did your upbringing shape your perspective in general and in terms of health care?
"Growing up in the war-torn Bosnia in early 1990s, I learned that death and suffering is a part of life. Twenty years later, working in the small village in western Kenya, I was faced again with the similar challenges that I grew up in.
As a 15-year-old, I received a scholarship to attend high school in Philadelphia and was fortunate to have had family and mentors that supported my dream of becoming a physician. During my high school years, I volunteered in homeless shelters and learned that discrepancies in healthcare are extremely pronounced in American society. My desire to pursue a career in medicine is led by my desire to decrease the healthcare gap around the world and provide the best possible care to patients no matter their background or zip code."
After finishing your residency, you worked as a global health leadership fellow at Massachusetts General Hospital. How would you describe that experience?
"During my residency, I was fortunate to have great mentors and have had the ability to travel to Jamaica, Eritrea, Tanzania, and Haiti and see healthcare concerns faced by physicians and patients in these countries.
"My desire to pursue a global health fellowship stemmed from the understanding that in order to have a long-term impact on the health system, you need to be physically present for a certain amount of time. During my fellowship, I spent about a year and a half in Kenya at the same site, within the same hospital system. I lived and worked there for three to four months at a time, two times a year. The majority of my time was spent providing hands-on education to physicians, nurses, and medical assistants. We also started a family and emergency medicine residency program and spent a significant amount of time collaborating with the local university to develop programs that would provide adequate training to physicians who are remote from large medical centers.
"Giving someone gift of education and empowering them to take better care of their society is one of the most empowering gifts that one can give."
How did your career come to focus on female pelvic medicine and reconstructive surgery?
"OB/GYN combines surgery and medicine, as well as my desire to do global health work. Urogynecology as one of the gynecological subspecialties that directly addresses patients' quality of life and has a great need for further education internationally. Patients are often not comfortable with discussing their intimate problems such as urinary incontinence, fecal incontinence or uterine prolapses."
In what ways is the St. George's University experience unique?
"The St. George's experience provided me with the family of extremely diverse, open-minded and highly driven physicians. Taking in account that most of us were away from our families, we have become each other's family. Today, I am proud to say that my SGU family consists of amazing, well-trained physicians all around the US, and many of them having leading positions in major universities or healthcare organizations.
How did it prepare you for clinical training and beyond?
"Having an ability to do my third and fourth year of medical school in Brooklyn was instrumental. We as medical students were intimately involved in taking care of a large volume of sick patients, with wide variety of pathologies. I did all of my third-year rotations at Brooklyn Hospital, and most of my fourth year at Brooklyn Hospital and Maimonides Medical Center. Our rotations were done with students from US medical schools, and I felt we were equally well prepared. Because it was such an enriching experience, a significant percentage of us desired to do our residencies in New York City and were able to do so."
Published January 2019
Find out if St. George's University is right for you.
https://www.sgu.edu/wp-content/uploads/2020/02/sgu-logo-grenada.svg
0
0
bpmauser
https://www.sgu.edu/wp-content/uploads/2020/02/sgu-logo-grenada.svg
bpmauser
2019-01-24 22:13:13
2021-02-02 16:07:32
Svjetlana Lozo, MD