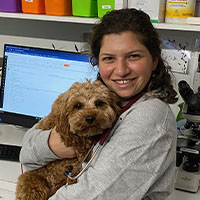 Sydney Friedman
Graduation Date: 2021
USA
Hoboken Vets Animal Clinic, Hoboken, NJ
Associate veterinarian
Sydney Friedman, DVM '21/MPH '21, an associate veterinarian at Hoboken Vets Animal Clinic in Hoboken, NJ, had always known she wanted to work with animals as a child. She initially pursued her DVM degree so that she could educate others and herself about disease transmission from zoonosis and preventative methods. She then learned about the opportunity to obtain an MPH degree…. And the rest as they say is history.
SGU: Why did you pursue your dual degrees? How did that fit in with your career interests?
Dr. Friedman: In addition to the DVM degree, an MPH degree gives a different perspective on disease prevention and control.  I also learned about the One Health initiative throughout my time at SGU. This initiative not only connects humans and animals, but the environment as well through disease, medicine, and conservation. By obtaining my MPH, I have gained additional knowledge of these diseases affecting humans, animals, and the environment, which has allowed me to expand my veterinary career in ways I didn't think were possible.
SGU: How are you using your DVM and MPH degrees now?
Dr. Friedman: As a small animal general practitioner, I am in the position to educate my clientele about the importance of preventative medicine. I am continuously educating my clients on vaccines, disease processes, disease control, as well as disease spread. I am also accredited by the [U.S. Department of Agriculture] to write health certificates for international travel, allowing for additional conversations surrounding regional diseases. Having both a DVM and an MPH gives me the knowledge needed for these conversations.
SGU: How do your dual degrees give you a unique advantage over other veterinarians?
Dr. Friedman: In the veterinary field, having a dual degree allows for additional opportunities. Although we as veterinarians are all trained on zoonotic disease, I believe my additional knowledge of disease and how it affects not only animals, but also humans and the environment, gives me an advantage over other veterinarians. I can see things from a different perspective and use my knowledge to better my community.
SGU: Which faculty members were instrumental in helping you obtain those degrees?
Dr. Friedman: For my MPH, Dr. Satesh Bidaisee was instrumental in my decision to pursue this dual degree. He helped to keep me motivated when things became difficult. Dr. Victor Amadi was another person who helped me immensely during my MPH degree. He was my research mentor, helping me finish my capstone project on pseudomonal aeruginosa in dogs and cats at the small animal clinic on campus.
For my DVM, I have so many people to thank. Dr. Anne Corrigan, Dr. Tara Paterson, Dr. Talia Guttin, and Dr. Rhonda Pinckney were instrumental in getting me through the challenging curriculum at SGU. Honestly, each one of my professors were amazing. I would not be the veterinarian I am today without their expertise in all things medical and surgical for the plethora of species we need to know to be a successful veterinarian.
SGU: What is one piece of key advice you would give to students who are considering a dual degree DVM path?
Dr. Friedman: Be passionate about what you want in life. People are going to try to dissuade you from this career. Don't listen to them, and don't give up. Things are going to get tough, sometimes hectic, but if this is something you are passionate about, continue to work for it. And always remember, work hard play harder.
Find out if St. George's University is right for you.
https://www.sgu.edu/wp-content/uploads/2020/02/sgu-logo-grenada.svg
0
0
lchartor
https://www.sgu.edu/wp-content/uploads/2020/02/sgu-logo-grenada.svg
lchartor
2023-02-10 11:16:11
2023-02-10 11:16:11
Sydney Friedman