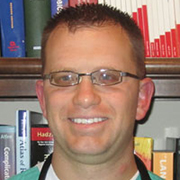 Tanner Brownrigg, MD
Graduation Date: 2007
United States
When Tanner Brownrigg set off from his home state of Kansas to enroll at St. George's University School of Medicine in 2003, he had a vision of where the path would lead him. He wanted to study anesthesiology and return to the Midwest to continue his career.
Nine years later, he's an anesthesiologist at Ad Vivum Anesthesiology, a group of 10 physicians, practicing anesthesia at a community hospital and an ambulatory surgery center in Kansas City. The plan worked. He's where he always wanted to be, doing what he always wanted to do.
"I have nothing but great things to say about St. George's," he said. "I loved my experience there. I went there with a clear idea in my head of what my future held, and it came to fruition."
Dr. Brownrigg believes one of the main draws to anesthesiology is the ability to work with a variety of different patient populations. On a daily basis, he is able provide care to everyone from infants to expectant mothers to geriatric patients. A typical day's cases might range from outpatient knee arthroscopies and pediatric ear tube placement to epidurals and cesarean section for child birth, or even heart and brain surgeries. He is an integral part of the process before, during, and after the operation.
"Before the surgery, we take the patients' history, review their labs and X-rays, and making sure they're medically stable to proceed with the surgery. Once we get into the operating room, I monitor the patient throughout the operation and am able to respond to acute changes that may take place during the surgery. Then in the post-anesthesia care unit (PACU), I help control the pain and make sure the patient is stable for discharge home or to the hospital floor."
Upon earning his Doctor of Medicine from SGU, Dr. Brownrigg began his anesthesiology residency at St. Luke's Hospital in Kansas City in 2007. Paving the way to matching with his chosen specialty and location was an outstanding performance on both Step 1 and 2 of the United States Medical Licensing Examination (USMLE). Dr. Brownrigg finished in the 98th percentile for each exam.
Prior to Match Day, he was confident that he would be paired with his one of his top three residency choices. In fact, he had to turn down a number of residency interviews.
"The fact that I scored so well on the USMLE Step 1 and 2 exams was directly related to the quality of the professors at St. George's and how the classes are structured," Dr. Brownrigg said. "I never came across a professor that wasn't willing to help you any way they could. They are at St. George's purely to teach and it shows."
He has paid it forward by performing student interviews for the University and attending information sessions in the Kansas City area.
"I'm very grateful that St. George's gave me the chance to pursue my dream, and as a result I feel it's important to give back to the school," Dr. Brownrigg said.
A native of Ottawa, KS, Dr. Brownrigg earned his Bachelor of Science in biology from the University of Kansas in 2003, graduating with highest distinction. While in college, he worked as a nurse assistant at a local hospital and performed a variety of volunteer work in the community.
Dr. Brownrigg is certified by the American Board of Anesthesiology and is a member of the American Society of Anesthesiologists, Missouri Society of Anesthesiologists, and Kansas City Society of Anesthesiologists. He and his wife, Kara, a nurse at St. Luke's Hospital, reside in Kansas City, Missouri.
Published January 2013
Find out if St. George's University is right for you.
https://www.sgu.edu/wp-content/uploads/2020/02/sgu-logo-grenada.svg
0
0
Erin Shaw
https://www.sgu.edu/wp-content/uploads/2020/02/sgu-logo-grenada.svg
Erin Shaw
2016-12-07 19:58:07
2021-01-21 20:32:43
Tanner Brownrigg, MD