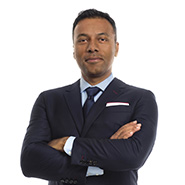 Tanzid Shams, MD
Graduation Date: 2008
Bangladesh
Johnson City Medical Center/Ballad Health, Johnson City, TN
Director of Neurology
Undergrad: Harvard University
Residency: Pediatrics, New York Medical College at Westchester Medical Center (2008-2010); Neurology, Columbia University Medical Center (2010-2013)
Fellowship: Clinical Neurophysiology, University of Texas Health Science Center
Why did you choose neurology for a career path?
"There are so many different things you can get into. For me, I was passionate about brain health and sports medicine, so concussion is the perfect overlap. I had done two years of pediatric training at Westchester Medical Center and three years of neurology at Columbia University Medical Center as part of a combined program, and that's when some of the stories surrounding the NFL and how football players were demonstrating long-term psychological and neurological derangements."
What have you done to expand health care coverage for the population in your region?
"When I joined three years ago, I was the only hospital-based neurologist for a 13-hospital network. We have since merged with another group, so we are now providing care for 29 counties in Tennessee, southern Virginia, and North Carolina.
Over the course of the last three years, we have been able to transform our hospital from primary to comprehensive stroke center. Out of 5,000 or so hospitals in the United States, only 72 others have this designation. It's very meaningful. The patients in Tennessee are so appreciative, and that really has a huge impact on your work-life balance. From the beginning, what I liked about this job is that it was an opportunity to build something from the ground up."
How does rural health care differ from what you experienced growing up?
"I was raised in Bangladesh and went to high school in New Jersey. My time in the US has been in three big cities—New York, Boston, and San Francisco—so to work in Tennessee is eye-opening for me. Growing up in the northeast, I had no idea how underserved some parts of America are. If you're in the northeast, you can choose from hundreds of neurologists. Here, it's very meaningful to provide care to patients who don't have a lot of access to medicine."
You have said that you enjoying launching new projects. Can you describe some of your recent initiatives?
"I have been working on incubating several healthcare startups. The first one is called concussiontriagenetwork.com. The concept is that if a mom or dad is on the sidelines and their son or daughter takes a tough hit and looks groggy, they can use an app or iPad to dial up a neurologist and have a video assessment done within three to five minutes. Right now, it's in a healthcare incubator and we have seed funding launch the company.
"My second startup is called Sentinel Healthcare, which is at a more advanced stage. Because it's hard to predict who's going to be sick, we built a health care platform that can take data from your blood pressure monitor at home, and we can monitor it remotely. We recently won the Seattle Angel Investor startup competition, beating out 64 other startups. We've been able to raise about $200,000 to this point and hope to build momentum toward Serie A financing."
In what direction do you see digital health going in the future?
"Right now, I think it's just the tip of the iceberg. One day I think that you'll likely see health care data readily available to health care companies so that when people are at home and they're hypertensive or suffering from sleep apnea or COPD, a system is set up so we don't have to wait until people are sick. We'll be able to see who's getting sicker and give them the care they need immediately. It's just a matter of how we can scale this process for 100 or 1,000 patients, how we can leverage technology, analyze the data, and make better health care decisions."
Published July 2018
Find out if St. George's University is right for you.
https://www.sgu.edu/wp-content/uploads/2020/02/sgu-logo-grenada.svg
0
0
bpmauser
https://www.sgu.edu/wp-content/uploads/2020/02/sgu-logo-grenada.svg
bpmauser
2018-07-20 20:47:44
2021-01-28 21:24:36
Tanzid Shams, MD