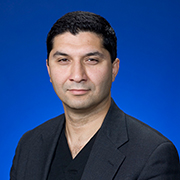 Teimour Nasirov, MD
Graduation Date: 2000
Azerbaijan
As a thoracic surgeon, he has had a profound impact on the lives of his patients, but Teimour Nasirov, MD '00, the medical director for the pediatric and adult congenital cardiothoracic surgery program for Sutter Health in California, is the first to admit that his patients have had a profound impact on him.
"It truly is an inspiration," Dr. Nasirov said. "You're able to affect patients' lives for years and even decades. You can change their lifespan, and that's an incredible feeling."
Through Sutter Health, a family of doctors and hospitals covering cities and communities in northern California, Dr. Nasirov and his team performs open- and closed-heart surgeries on patients of all ages, from newborns to the elderly. In addition, he is a clinical assistant professor in the Stanford University School of Medicine's Department of Pediatric Cardiothoracic Surgery, working with students and residents at Stanford University Medical Center and Lucile Packard Children's Hospital at Stanford.
Dr. Nasirov was born and raised in Azerbaijan, growing up in a family of pediatricians and surgeons. He earned a scholarship to attend North Carolina State University, from where he garnered his bachelor's degree. When it came time to choosing a medical school, SGU stood out as a terrific opportunity.
"I had read about quality of education, and I knew several physicians who had graduated from SGU, so I was convinced that I would come out on the other end as a well-rounded, well-educated physician," Dr. Nasirov said.
Upon attaining his Doctor of Medicine, he completed his residency in general surgery at the University of North Dakota. He had always wanted to be a surgeon, but his residency steered him toward cardiac surgery in particular.
"Cardiothoracic surgery is an ever changing and growing field, and given its wide spectrum, it's very interesting and challenging," Dr. Nasirov said. "It's rewarding to see immediate results, with a very sick patient getting better and being able to go home to his or her family within four or five days."
He has worked with some of the pioneers in the industry. In 2005, he went on to a cardiac surgery fellowship at the Loma Linda University, working under Dr. Leonard Bailey, a pioneer in infant heart transplantation surgery.  In 2008, Dr. Nasirov began his journey at Stanford with a congenital heart surgery fellowship and appointment as a Clinical Instructor in pediatric cardiac surgery. He has worked alongside top pediatric cardiothoracic surgeons in the field, including Drs. V. Mohan Reddy and Frank Hanley.
All of his experiences have shaped him into the surgeon he is today. He is pleased that the path he took to his successful career made a stop in Grenada.
"The experience at SGU was everything that I expected and much more," he said. "There truly is this culture of pride within the University. Everyone wants the students to succeed, and everything possible will be done to help them become a successful physician. That's why I am where I am today."
Find out if St. George's University is right for you.
https://www.sgu.edu/wp-content/uploads/2020/02/sgu-logo-grenada.svg
0
0
Erin Shaw
https://www.sgu.edu/wp-content/uploads/2020/02/sgu-logo-grenada.svg
Erin Shaw
2016-12-07 19:59:50
2021-01-21 20:38:46
Teimour Nasirov, MD