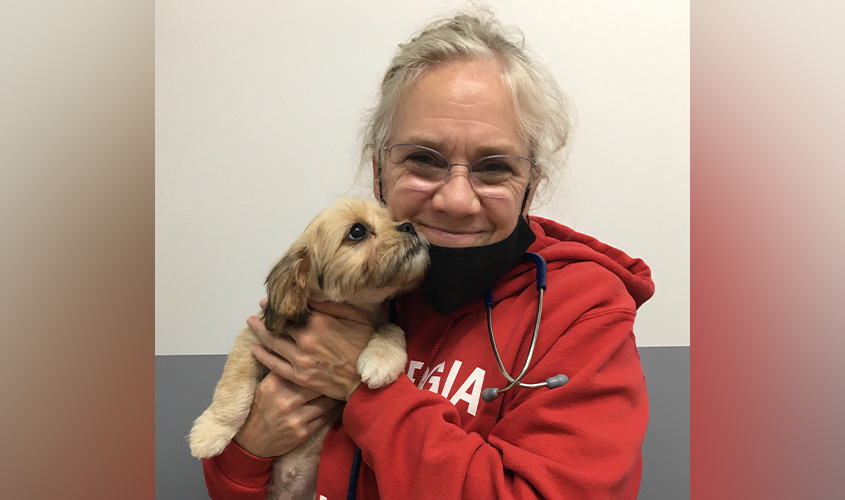 Traveling relief veterinarian and self-taught artist, Dr. Laura M. Boggs, is a 2012 cum laude graduate of St. George's University School of Veterinary Medicine. Her painting titled "Cat Kneads a Friend," was featured on the March cover of the Journal of the American Veterinary Medical Association (JAVMA). She shared with SGU News her motivations for submitting the painting to JAVMA and why she is grateful for her education at SGU.
St. George's University: Is this the first painting that you have done for JAVMA?
Dr. Laura Boggs: Yes, this is the first painting for JAVMA, and I am hoping it is not the last.
SGU: What was the motivation for submitting the painting?
Dr. Boggs: I have always admired the artwork displayed on the cover of JAVMA. As soon as I receive my copy, I thumb through directly to the cover insert to see if the artist is also a veterinarian.  The majority of my paintings involve animals, of course, so I took a chance and submitted a few paintings for review. My grandfather would say, "You'll never catch a fish if your hook is not in the water." I use this bit of wisdom when I need to muster up bravery to put myself out there. I caught a big one this time.
SGU: How does it feel for one of your creations to be on the cover of a prestigious journal such as JAVMA?
Dr. Boggs: I was more than ecstatic when I was informed one of my paintings was accepted. I was also kind of baffled because it is not one of my more technically accurate paintings. It is always fun to see the diversity of preferences out there. This was an acrylic painting I created of my pets. I was practicing a mixed media technique of overlaying tissue paper on the background to create a sense of texture.
SGU: What are your responsibilities as a relief veterinarian and why did you choose this particular field?
Dr. Boggs: I've been a relief veterinarian for three years.  Previously, I owned a rural mixed animal clinic. I enjoyed the work but as a single mom I found my work-life balance challenging. Being a relief veterinarian allows me to choose my own schedule and more time to pursue painting as well.
I take my responsibilities as a relief veterinarian very seriously for each animal hospital I enter.  Sometimes I work in emergency medicine, spay/neuter clinics, high end urban clinics, and small low-income community clinics.  I enjoy the diversity of work.  I get to travel to places I never would have visited previously. It challenges me to be creative and adaptive.  Every hospital has their own protocols, pharmacy drug selection, and anesthetics. I do my best to stay current on drugs and procedures.
SGU: What was your experience at SGU?
Dr. Boggs: I am enormously proud to be a St. George's University graduate. I am an excellent veterinarian, and I owe it to SGU for the opportunity for my education. Animal hospitals who hire my relief services know their patients, clients, and staff are in good hands. I have an adaptive personality, which is required in my position, but it was also a nice trait to have as a student away from home in Grenada. I had some wonderful classmates that I miss along with the island lifestyle.
— Laurie Chartorynsky
https://www.sgu.edu/wp-content/uploads/2021/03/Laura-Boggs-845-x-500.jpg
500
845
lchartor
https://www.sgu.edu/wp-content/uploads/2020/02/sgu-logo-grenada.svg
lchartor
2021-03-09 16:34:16
2021-03-19 13:19:02
2012 DVM Grad and Self-Taught Artist Lands Cover of JAVMA