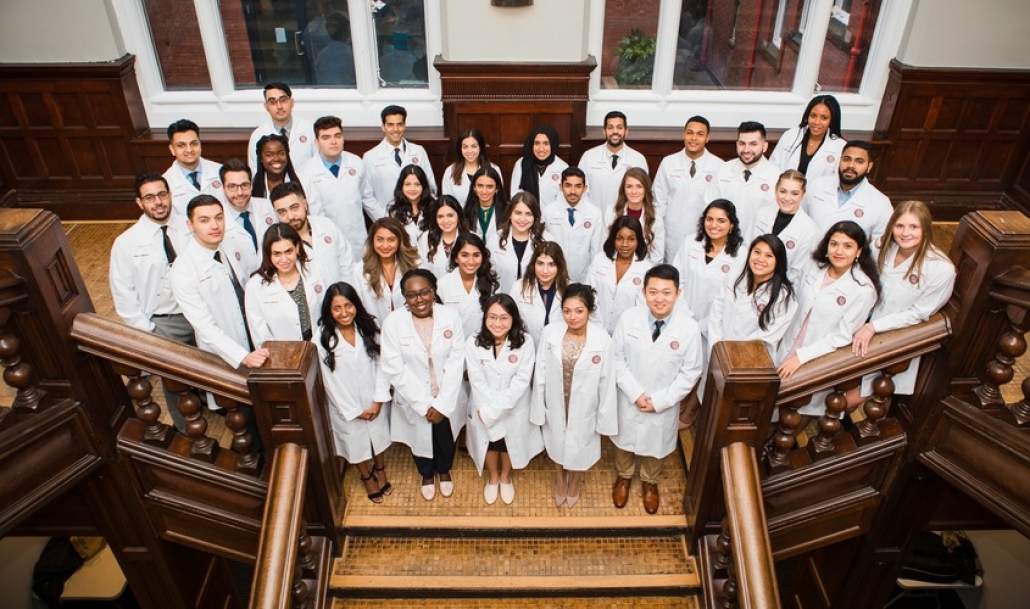 With last month's White Coat Ceremony, the 38 students in the St. George's University of Grenada School of Medicine/Northumbria University Four-Year MD Program not only committed themselves to the medical profession but, through their training, putting themselves in a unique position in society.
"You will develop the skills for close and intimate contact with patients during some of their most difficult times," said Dr. David Heymann, director of the Center of Bioethics and Humanities, University of Colorado, the evening's keynote speaker. "You will have their full trust. From your interaction with them and their families, you will see the world in a way that many others cannot. If you take advantage of this special gift of trust, you will gain insight that only the medical profession can provide."
This year's class joined a network of more than 1,800 SGU students who began their studies at NU's campus in Newcastle, United Kingdom. The class includes 37 students from countries such as the United States, Canada, the UK, Uganda, Thailand, and Australia. The students were robed in their white physicians' coats – symbolizing their entry into the medical profession—and took an oath of commitment to uphold the highest ethical and professional standards of "duty and trust."
"The next four years will help mold you into the doctor you will become," said Jonathan Ashcroft, MD/MSc '10, deputy lead microbiologist for the UK's Public Health Rapid Support Team, who emceed the ceremony. Dr. Ashcroft began his own studies at SGU as part of the program, then the Keith B. Taylor Global Scholars Program. "While the lectures, practical labs, and clinical skills workshops will provide you with the critical and indispensable knowledge and skills, it is the lessons you learn from interactions with your patients that will always remain with you and truly shape what sort of physician you will be."
Dr. Richard Liebowitz, vice chancellor of St. George's University, harkened back to his own medical school journey, and spoke of how the experience changed his life. Like the 2020 entering class will do, Dr. Liebowitz spent the first two years learning the basic sciences, but it wasn't until his clinical rotations that he fully grasped the connection that physicians make with patients and their families.
"I learned that being a physician was much more than being somebody who knew how the body operated," he said. "I was exposed to a number of people from varying backgrounds, which helped me understand that you are granted access that no other profession has. You're there at the happiest times—with birth—and also at the most trying times—with death. It's important to be professional. Being given the opportunity to partake in this part of people's lives puts a responsibility and a demand on us, and being professional as a physician is critical as you go through training and your practice."
The SGU/Northumbria joint program, formerly the Keith B. Taylor Global Scholars Program, was founded in 2007 to create a pathway for highly qualified international students to pursue a medical education by spending the first year of their physician training with SGU at Northumbria, before going to Grenada to continue their studies.
"Today is a very special occasion as we recognize the start of our new students' learning journey on the way to becoming qualified doctors," said Professor Andrew Wathey, Vice Chancellor of Northumbria University. "Our partnership with St. George's University is a clear example of both institutions' global perspective in action, and our shared vision for building on our international reputations for academic excellence."
Photos by Caed Parker, Class4studios.com
https://www.sgu.edu/wp-content/uploads/2020/02/UK-whitecoatceremony-Jan2020-845x500-1.jpg
500
845
lchartor
https://www.sgu.edu/wp-content/uploads/2020/02/sgu-logo-grenada.svg
lchartor
2020-02-05 20:35:53
2022-05-03 12:38:29
2020 SGU/NU Entering Class Begins on Path Toward Unique Role in Society