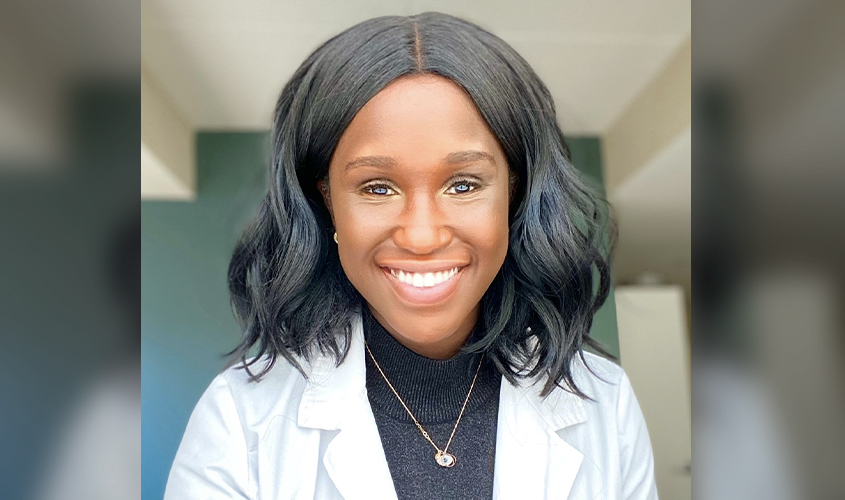 Ololade Akinfemiwa, MD '21 (expected), is enjoying her challenging internal medicine rotation as a fourth-year student at a clinic affiliated with Kingsbrook Jewish Medical Center.
Originally from Toronto, Canada, she chose St. George's University because, after speaking with a number of graduates practicing in the US and Canada in various specialties—all encouraged her to apply. "I am glad I did," she said.
Hoping to inspire more black women to go into medicine, Miss Akinfemiwa is active within the Student National Medical Association (SNMA), serving as vice chair of the national chapter's Community Service Committee. SNMA is committed to supporting current and future underrepresented minority medical students by addressing the needs of underserved communities, and increasing the number of "clinically excellent, culturally competent, and socially conscious physicians."
Get to know Miss Akinfemiwa below.
1. What are you learning right now in your internal medicine rotation?
Ololade Akinfemiwa: I am currently on an outpatient rotation and I am learning the importance of effective communication of health-related information. It makes a huge difference when patients have a good understanding of their medical conditions and how to manage them.
2. What is the most surprising or exciting lesson/case learned while in clinical rotations?
Akinfemiwa: I saw a patient with Lyme disease with the classic rash that looks like a bull's eye. I had so many questions about it and was excited to actually see it in person.
3. Do you plan to go into primary care or specialize?
Akinfemiwa: I plan on going into emergency medicine and I have an interest in global health.
4. Favorite rotation/elective so far?
Akinfemiwa: Emergency medicine, of course!
5. What do you miss most about Grenada?
Akinfemiwa: I miss the warm weather, beaches, and Umbrellas Beach Bar.
6. What has been the most challenging part of clinicals?
Akinfemiwa: Right now, the most challenging part of clinicals has been seeing the devastating effects of COVID firsthand.
7. What has stood out to you most about the role of physicians during this pandemic and how has it affected the type of doctor you aspire to be?
Akinfemiwa: This pandemic has highlighted the need for more doctors and revealed the vulnerabilities in the healthcare system. Knowing that things could have gone better has only inspired me to be a part of making that possible.
8. February 3 is National Women Physicians Day. What does it mean to you to be a black woman about to enter the medical field? What do you hope to accomplish as a doctor?
Akinfemiwa: Black female doctors represent only about 2 percent of physicians in the US. I decided to go into medicine to help fight for health equity. I hope to inspire more black women to pursue medicine because we are truly needed. Black physicians are essential to achieving equity in medical care and I look forward to supporting and advocating for patients as an emergency medicine physician.
9. Best piece of advice about clinical rotations for basic sciences med students?
Akinfemiwa: Take care of yourself and listen to your body. If you love to take naps like me, take those naps!
— Laurie Chartorynsky
https://www.sgu.edu/wp-content/uploads/2021/01/OloladeAkinfemiwa845.jpg
500
845
lchartor
https://www.sgu.edu/wp-content/uploads/2020/02/sgu-logo-grenada.svg
lchartor
2021-01-14 15:30:23
2021-01-14 15:35:43
9 Questions with MD Student Ololade Akinfemiwa