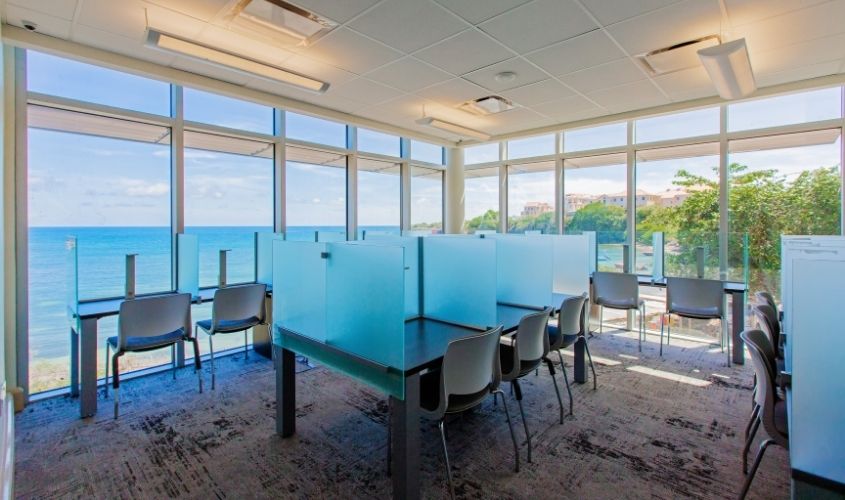 St. George's University's campus is ready for students to return by making several enhancements, and it will have a new look when they arrive.
SGU has continued to support its growing campus community with several expansion and redevelopment projects to be completed in the 2021-2022 academic year. When construction is complete, the campus will feature greater capacity for individual and group study spaces as well as new technologically advanced clinical skills laboratories.
"We are extremely excited to make these improvements to our campus, and truly believe that they will greatly contribute to our students' success," said Charles Modica, chancellor at St. George's University. "We eagerly await their return and, with it, the return of our vibrant campus."
Enhancements include:
New Eric Gairy Pavilion: Outside of Eric Gairy Hall, this open-air pavilion welcomes up to 282 students to convene for outdoor study, a tried-and-true setting to further absorb coursework. Scheduled to be completed by August 2021.
New Beachfront Pavilion: On the hill connecting upper and lower campus, this new pavilion will have the capacity for 324 students to conduct group study, all with backdrop of True Blue Bay. Scheduled to be completed by early fall.
Renovated indoor study spaces campus-wide: Students can really stretch their legs with 52 percent more individual study spaces thanks to new carrels in Founders Library, Lower Modica Hall, Lower Taylor Hall, St. David's Hall, St. Andrew's Hall, and St. John's Hall. Scheduled to be completed by August 2021.
Additional clinical skills labs: After recently updating the existing 56 clinical skills rooms with the newest technology, SGU is also adding another 28 rooms as well as a new control center that will help provide an optimal simulation experience with standardized patients. Scheduled to be completed in early 2022.
The improvements were put in place as SGU prepares to welcome back fully vaccinated students, faculty, staff, and administrators later this month, with in-person classes back in session this August.
"When our students, faculty, and staff are all on campus together, it truly is a magical place to learn, study, and to enjoy each other's company," said Glen Jacobs, provost at SGU. "These additions and renovations only add to the unique and enriching student experience here in True Blue."
– Brett Mauser
https://www.sgu.edu/wp-content/uploads/2021/06/new-study-spaces-845.jpg
500
845
lchartor
https://www.sgu.edu/wp-content/uploads/2020/02/sgu-logo-grenada.svg
lchartor
2021-06-04 13:57:46
2021-06-04 19:41:47
Campus enhancements await students returning to Grenada