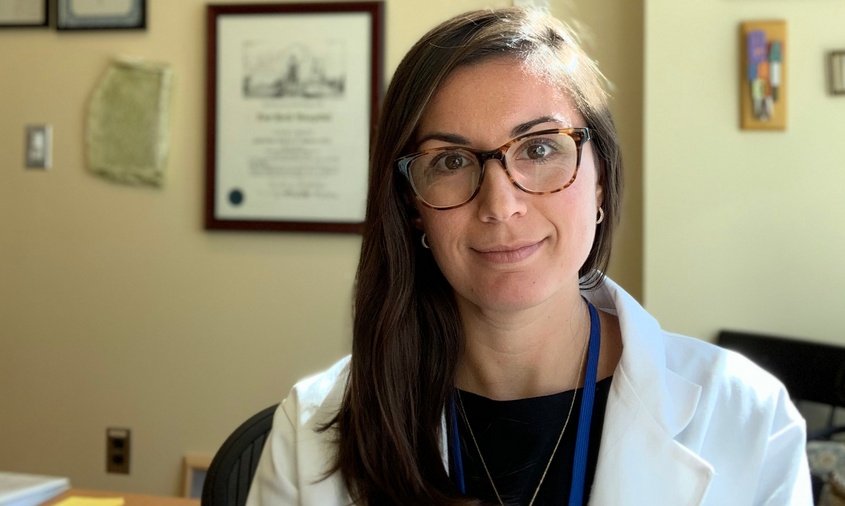 Working as a breast medical oncologist at world-renowned Memorial Sloan Kettering Cancer Center, Julia Brockway-Marchello, MD '12, has returned to where her journey toward a career in medicine began. As a child she was diagnosed with cancer in one of her salivary glands. Successful surgery at MSKCC to remove the tumor, and her positive experience there and during follow-up radiation treatments in Boston inspired her to become a doctor.
"I decided early on that I wanted to take care of patients like me," said Dr. Brockway. After completing preclinical studies and earning her undergraduate degree in community health at Brown University, Dr. Brockway's first job out of college was as a research study assistant within the Breast Surgery Service at MSKCC, her first encounter with breast cancer which solidified her specialty of choice.
As an assistant attending physician with MSKCC's breast medicine service, including at its newest Long Island location, the St. George's University graduate visits with patients at all different stages of diagnosis. Some are coming in for a second opinion, some have been referred by their surgeons for chemotherapy and other treatments, while others are seeking eligibility for clinical trials.
"From the moment a person is told they have cancer, their life will never be the same," said Dr. Brockway, 35, who adds that her own experience with cancer gives her a unique perspective when treating patients. "A critical part of my job is to ensure that my patients and their caregivers feel supported and confident, from the time of diagnosis through treatment and beyond."
"Sometimes the answer is no treatment, and when we can no longer treat the cancer, we focus on managing symptoms," acknowledged Dr. Brockway, who is still adjusting to the weight of responsibility felt with terminal patients. "Those are the hardest conversations, but thankfully I had strong training in palliative care during my hematology/oncology fellowship. Patients really appreciate seeing empathy, compassion, and that you're in it with them as a doctor and as a person."
As a breast oncologist, having strong support from colleagues and staff, remaining grounded, and having outlets to channel various emotions following difficult days is paramount.
"I feel grateful for the opportunity to do this work and to care for patients, but also to be able to go home to my family, to be able to do the things I love with the people I love," including her husband and 2-year-old son, she said.
"A critical part of my job is to ensure that my patients and their caregivers feel supported and confident, from the time of diagnosis through treatment and beyond."
Learning skills to effectively and compassionately communicate with patients is a core part of fellowship training, according to Adriana K. Malone, MD, director of the Mount Sinai Hematology/Medical Oncology Fellowship Program.
"It's a crucial aspect for oncologists in training because we use these skills each day with our patients and also throughout our careers," Dr. Malone said.
"What I think distinguishes Julia from other trainees is how exceptionally caring and empathetic she is," she said. "Also, it is very important for an oncologist to have strong communication skills and Julia is a skilled communicator who is really gifted at being able to build a rapport with both patients and families. Additionally, Julia is extremely hard working and always considers how to improve the patient care experience."
But the job isn't always so gloomy. Advances in cancer detection and treatment, including new approaches to chemotherapy and managing side effects, means that most days Dr. Brockway can tell a patient that, while he or she has cancer, it is curable. Advancements such as genomic testing for early-stage estrogen receptor-positive breast cancer to determine whether a patient would benefit from chemotherapy in addition to anti-estrogen therapy, identifying tumor mutations and tailoring a patient's treatment, and immunotherapy for metastatic breast cancer treatment, can all help improve patient survivorship rate.
"That's really when the job is the most rewarding—to be able to say that cancer is treatable and we're going to get through this," she said.
One of the most common questions she and her colleagues hear—"Am I going to lose my hair?"—can even be addressed through cold cap therapy, a process that freezes the hair follicles to prevent hair loss during chemotherapy.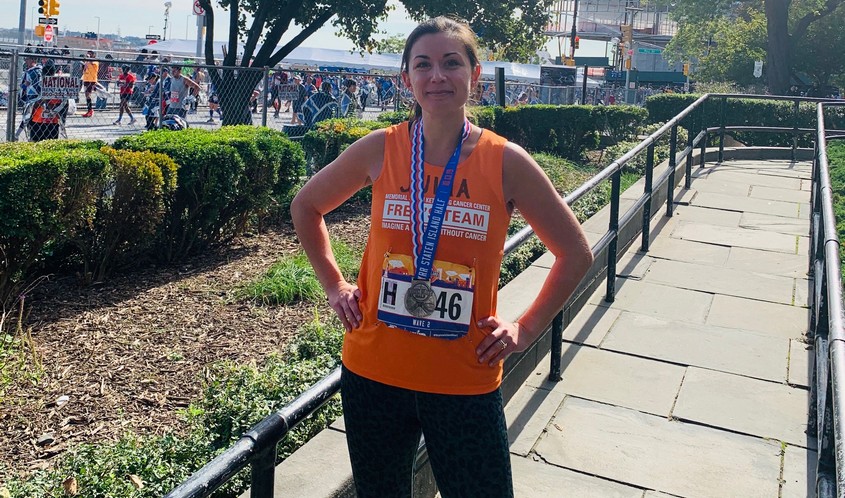 In between seeing patients, studying for her board exams, and spending time with family, Dr. Brockway finds the time to give back. This spring, she ran the Brooklyn Half Marathon as part of MSKCC's running program, Fred's Team, where members don the iconic orange tops and participate in athletic events worldwide to raise money for cancer research. In honor of Breast Cancer Awareness this month, she completed a second half marathon in her hometown of Staten Island, NY.
Dr. Brockway credits her strong medical training, including her first year of med school in the United Kingdom as part of St. George's University of Grenada School of Medicine/Northumbria University Four and Five-Year MD Program (formerly the Keith B. Taylor Global Scholars Program), for getting her to where she is today. Following her internal medicine residency at the Icahn School of Medicine at Mount Sinai Beth Israel, Dr. Brockway continued her studies as a hematology and oncology fellow at Mount Sinai before starting at MSKCC this past August—allowing her to come full circle.
"Coming back to work at Memorial Sloan Kettering was always a hope and a dream for me," she said. "It's a wonderful place to work and being here feels like being part of a family committed to a common purpose. It still doesn't feel real."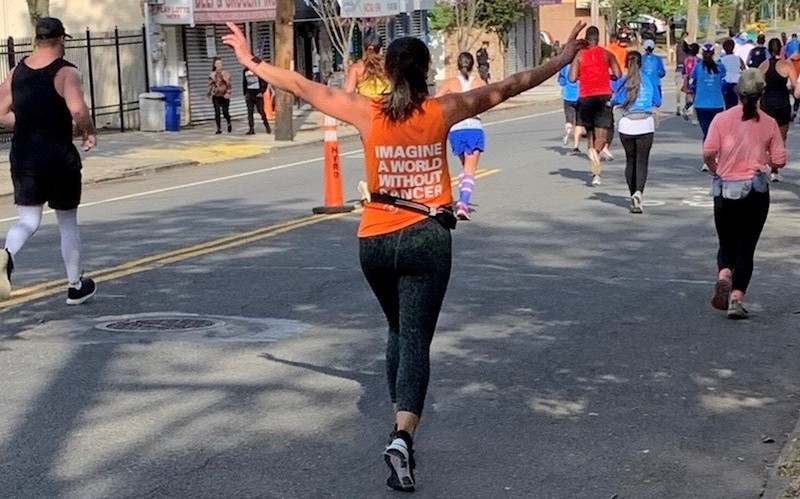 – Laurie Chartorynsky
https://www.sgu.edu/wp-content/uploads/2019/10/Julia-Brockway-web-845.jpg
506
845
lchartor
https://www.sgu.edu/wp-content/uploads/2020/02/sgu-logo-grenada.svg
lchartor
2019-10-17 21:19:28
2021-02-25 21:16:01
Cancer Scare Inspires Grad to Become Oncologist at Memorial Sloan Kettering