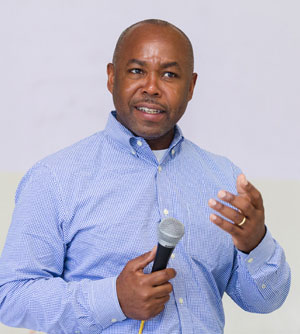 Clinical endocrinologist and SGU Alumnus Dwight Matthias, MD, SGU '92 captivated an audience of medical practitioners, allied healthcare providers and pharmacists with a riveting presentation over a two-day workshop on diabetic prevention, diagnosis and care.
According to Dr. Matthias, "Diabetes is a progressive condition, and if it's not detected early or managed adequately, it can result in a number of health-related complications." Nevertheless he affirmed that, "Diabetes can be controlled, and its prevalence reduced, and that's why it's always a pleasure to empower and dispel information on diabetic care that can potentially impact the Grenadian community."
Dr. Matthias provided an update on diabetes evaluation and management, following his last visit in March 2011 and discussed the epidemiology and natural history of Type 2 diabetes mellitus (T2DM), reviewed the American Diabetes Association (ADA) and the European Association for the Study of Diabetes (EASD) Position Statement for management of Hyperglycemia in T2DM and looked at patient-centered treatment involving individualized A1C (Glycated Hemoglobin) target adjustments for patient and disease factors, lifestyle strategies and noninsulin and insulin therapies.
Throughout the second day participants discussed diabetic cases, and were given the opportunity to make recommendations towards improving hyperglycemia management. They were also privy to a demonstration involving the use of some devises used by Dr. Matthias to measure glucose levels at his practice in Virginia. These included glucometers/continuous glucose sensors, insulin delivery pens, insulin pumps and V-GO device.
The Chief Medical officer (CMO) attached to the Ministry of Health, Dr. George Mitchell stated, "Chronic non-communicable Diseases is one of the most common causes of death throughout the Caribbean region. It is a group of conditions that affects us adversely, and together with St. George's University, who we proudly associate with, we are trying to manage this condition and create positive outcomes."
According to the CMO, "The Ministry of Health spends approximately 60-65 cents of every dollar on medication to treat chronic non-communicable diseases such as diabetes, and if we were to continue down this path, very soon the country will not be able to sustain it."
It is in this vein Dr. Mathias urged the participants to be the conduit that educates the public on the need for diabetic prevention and management, as the mantle has now been placed in their hands.
Upon completing his medical education at St. George's University, Dr. Dwight Matthias completed his residency in Endocrinology at Stanford University, and is currently the president and medical consultant at Tidewater Endocrine Consultants, PC in Chesapeake, Virginia.
https://www.sgu.edu/wp-content/uploads/2016/10/news-dwight-matthias.jpg
334
300
VS
https://www.sgu.edu/wp-content/uploads/2020/02/sgu-logo-grenada.svg
VS
2013-04-08 18:57:12
2017-01-18 00:30:24
Alumnus Dwight Matthias Speaks on Diabetes Care and Management in Grenada