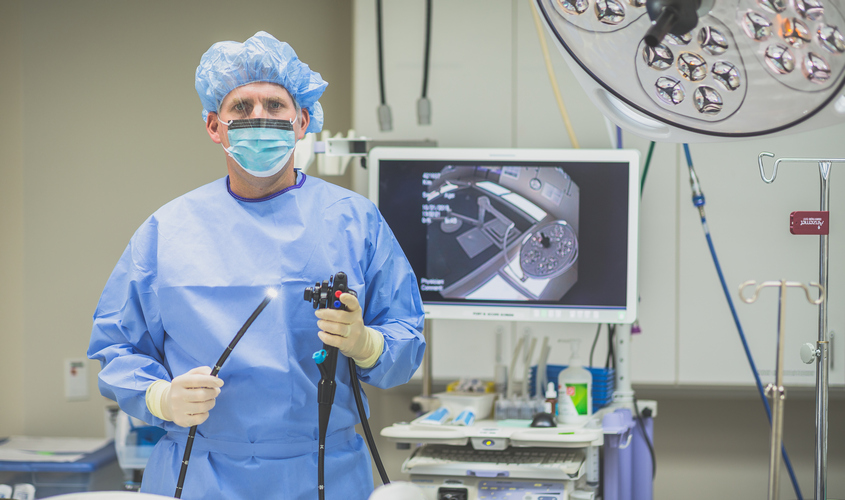 Gastroenterologist Andrew K. Roorda, MD '04, is thrilled when he holds an endoscope in his hands. He is likely helping a patient suffering from any number of symptoms affecting his or her digestive tract. From a person who has food stuck in his esophagus, to those who are bleeding or managing chronic illnesses, such as irritable bowel syndrome, Dr. Roorda encounters patients with a wide variety of ailments.
"What's nice about gastroenterology is you can be in the endoscopy suite in the morning, the emergency room during your lunch hour, and assessing patients in the office in the afternoon," he said. "I love the multiple settings of my job."
Originally from San Francisco, Dr. Roorda has been practicing in the Silicon Valley since 2012 and is affiliated with three Northern California hospitals—El Camino Hospital, Good Samaritan Hospital, and Stanford University Medical Center. He also performs outpatient endoscopy at the Silicon Valley Surgery Center.
Thanks to advancements in technology, the field is evolving to become more interventional, allowing Dr. Roorda and his peers to diagnose and treat more complex cases.
"Technology is helping the field in many ways," Dr. Roorda said. "Both endoscopes, such as the newer high-definition ones, those with a wider field of view, as well as their endoscopic accessories are in a constant state of development. Artificial intelligence is on the horizon in many fields, including endoscopy, and we anticipate that it will be used to help us identify polyps during colonoscopy. The more options we have in our endoscopic toolbox, the more we are able to offer our patients during their procedures."
EARLY BEGINNINGS
Dr. Roorda credits his early interest in becoming a doctor after reading Erich Segal's "Doctors" during a summer vacation. The book follows a group of fictional characters through their training at Harvard Medical School, and it gave Dr. Roorda an in-depth look into what medical school is like. "I saw how almost super-human those characters were and thought this would be something really cool to do," he said.
In college, Dr. Roorda got his first chance to be a superhero himself when he helped stopped a person from committing suicide. Seeing how he could contribute to saving someone's life moved him. "We were there to help somebody who really needed it and we changed the outcome," he said. "While doctors don't get to do that every day, there are definitely times that I still get to feel that way."
While he didn't immediately set off to medical school. Dr. Roorda graduated from the University of California San Diego with a bachelor's degree in history and considered becoming a history professor. But his interest in medicine was never far from his mind. Going to SGU "was initially a leap of the faith, but I got over that very quickly," Dr. Roorda said. "When I got down to Grenada, I started to see the caliber of students who were there and began to learn more of the success stories, so I knew things were going to work out."
"St. George's made me resilient," he added. "In your clinical years, you get to go to a lot of different hospitals. It taught me how to adapt quickly to new settings which helped me to be flexible during rotations in my residency and fellowship."
Dr. Roorda, who is 6'6″, originally wanted to be a surgeon. However, his height posed a problem when standing for long periods of time during operations. He became interested in gastroenterology after realizing he still could do plenty of procedures that were shorter in duration.
SECURING A RESIDENCY IN A COMPETITIVE SPECIALTY
Obtaining a residency or fellowship in a competitive specialty like gastroenterology is not easy. Students who take the extra step to make themselves stand out will likely be more successful in securing a position, recommends Dr. Roorda.
For GI, it was identifying mentors who conducted research. "I was very fortunate—I learned how to write papers and I presented the research as posters at conferences. That stood out on my resume."
Dr. Roorda completed his internal medicine residency at St. Mary's Medical Center in San Francisco, CA. He then went on to become a clinical fellow in gastroenterology at West Virginia School of Medicine in Morgantown, WV.
Dr. Roorda has published research in scientific journals including the New England Journal of Medicine, Digestive Diseases and Sciences, Diseases of the Esophagus, and Practical Gastroenterology. In between seeing patients, he also teaches at Stanford University School of Medicine as an adjunct clinical assistant professor in the school's Division of Gastroenterology and Hepatology. Sharing his knowledge with aspiring doctors is important to Dr. Roorda.
"The science cannot really advance unless people are teaching it to a new generation of trainees," he said. "I love the exchange of knowledge and in the process I learn new things myself. The trainees ask questions that keep you on your toes."
– Laurie Chartorynsky
https://www.sgu.edu/wp-content/uploads/2019/10/Andrew-Roorda-web-845x500.jpg
500
845
lchartor
https://www.sgu.edu/wp-content/uploads/2020/02/sgu-logo-grenada.svg
lchartor
2019-10-31 16:07:12
2021-02-25 21:16:02
Clinician, Teacher, Researcher: Silicon Valley Gastroenterologist Kept "On His Toes"