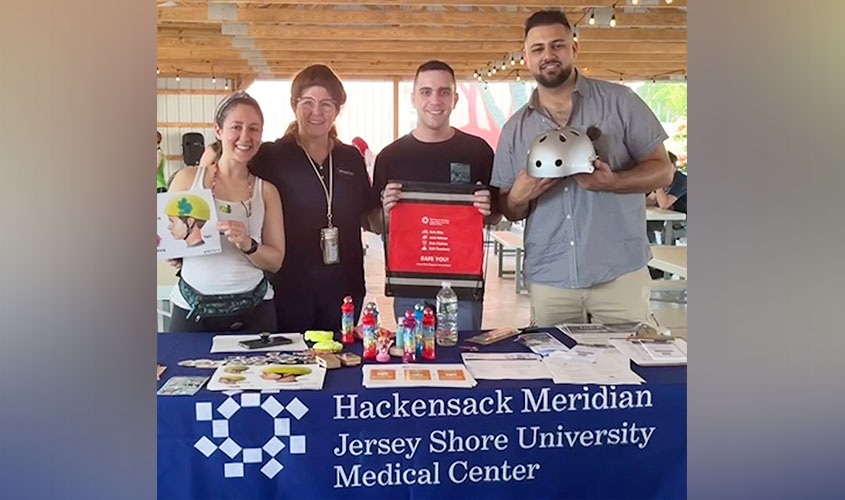 A volunteer experience can be eye-opening and educational for aspiring physicians, according to three St. George's University clinical students.
Third-year SOM students Zekeria Sawaged, Natalia Cardona, and Peter Killian, who are currently doing rotations at Hackensack Meridian Jersey Shore University Medical Center, recently attended a Children's Mental Health Day event at Allaire Community Farm in Wall Township, NJ. Run by the state's Children's Inter-agency Coordinating Councils (CIACC), the event brought together many agencies who work to serve children with mental health needs.
Ms. Cordona, Mr. Sawaged, and Mr. Killian assisted at the hospital's "Trauma Injury Prevention" table and offered information to visiting families about the importance of wearing bike helmets. They also had the opportunity to speak to other agency representatives attending the event to learn about the work that these advocates are doing in the community, and meet with county officials and organizers of the event. At the end of the day, the students had a chance to relieve some stress by feeding goats who live on the farm.
"Children's Mental Health Day was as much of a learning experience for the children and families as it was for us," said Mr. Killian, an aspiring emergency room physician. "There are so many programs available to the general public that healthcare providers are not familiar with. As a potential ER doctor, learning about resources that help to prevent injury, self-harm, and eventual emergency room visits was eye-opening."
The students were able to take part in the event through the hospital's "Med-Students Making a Difference" program, started in 2020. Students are invited to choose a community project that they have a passion for and participate in various outreach programs offered by the hospital, according to Tracy Nerney, BS, RN, MMBA, the trauma injury prevention coordinator at Jersey Shore University Hospital.
According to Ms. Nerney, the program:
Raises student awareness about many aspects of healthcare
Gives them the opportunity to develop their presentation skills
Provides accomplishments they can add to their portfolio.
"They also develop a positive sense of self as they see the impact they can make and collaborate with other students while having some fun! Zekeria, Natalia, and Peter did a great job in representing our organization and they plan to share what they learned with other medical students," she added.
As for the students, they felt the day was valuable for their training as future physicians.
"Being a part of the community is integral to my training as a future psychiatrist, as the interactions and the bonds built are priceless," said Mr. Sawaged. "As doctors in training, we have a responsibility to continue engaging with the communities that trust us to better their experience. This event allowed us to expose children and their families to mental health resources, while also providing outlets for those who are in need."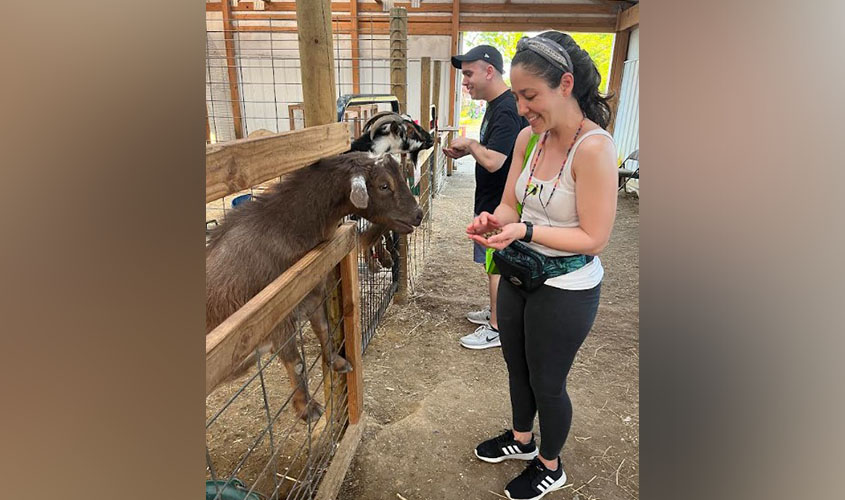 Added Ms. Cardona: "Participating in Children's Mental Health Day was a humbling experience. We got the chance to educate children and families about the importance of taking care of themselves physically and mentally. As a future pediatrician, I believe that going into the community and educating children early will be the key to leading healthier adult lives."
— Laurie Chartorynsky
Related Reading
https://www.sgu.edu/wp-content/uploads/2022/06/jersey-shore-clin-students-in-community-845.jpg
500
845
lchartor
https://www.sgu.edu/wp-content/uploads/2020/02/sgu-logo-grenada.svg
lchartor
2022-06-28 09:04:14
2022-06-28 09:05:00
Community volunteering helps clinical SOM students see big picture