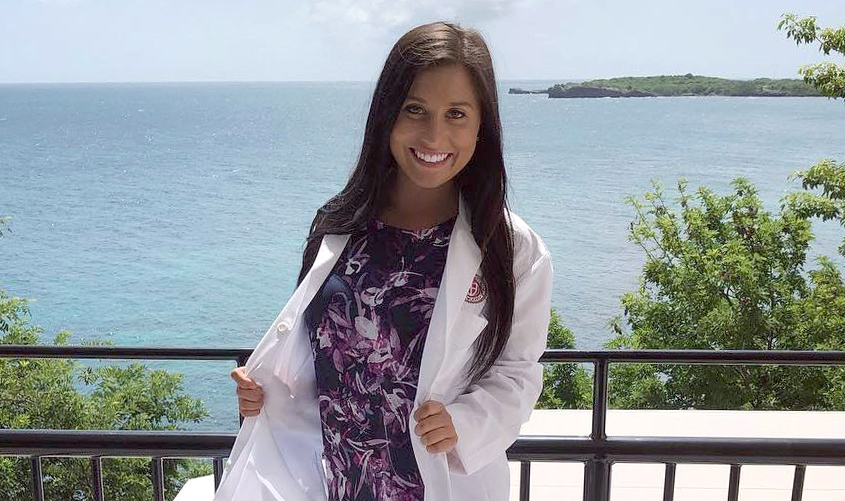 For only the second time in the history of St. George's University, a veterinary student has been elected president of the Student Government Association. Maria Coppola, a Term 6 student from Pittsburgh, PA, will serve as a leader and voice for students from all schools within the University for the Spring 2021 term.
SGU seems to run in Ms. Coppola's blood. Her parents met at the University as medical students and graduated in 1984. Her mother, Carmela, now specializes in neonatology at the University of Pittsburgh Medical Center, while her father, Matthew, practices internal medicine with a focus on geriatrics. The lineage continues with her brother, Matthew, a current SOM student who is expected to graduate in 2023.
Ms. Coppola is no newcomer to the SGA, having joined in her first term and joined the SVM executive board in Term 4. SGU News caught up with her as she began her tenure as the organization's president.
St. George's University: How does it feel to be only the second SVM student to be elected as SGA president?  
Maria Coppola: It is a great honor. I hope that SGA's presidency becomes more diverse over the years and there will be more SAS and SVM presidents to come after me.
SGU: What are some of your top priorities in your new role? 
MC: As SGA president in this online environment, my goals are different than what they would be in person. I want SGA to be more than an outlet to voice school-related concerns, and to be an organization that is there for students. It is important to check in with students and help them with motivation and accountability throughout the term. Our executive board is holding weekly office hours, a daily virtual study hall, and an amazing study buddy locator resource. We hope to host some events throughout the term to promote wellness and boost morale.
SGU: How will you incorporate the concerns and issues of students of all schools? 
MC: Our executive board positions help me to incorporate the concerns and issues of all SGU students. I check in weekly with the presidents of each school's affairs to make sure all concerns are being addressed. I also check in with our graduate school SGA representatives to help where I am needed.
SGU: What are the qualities you believe a student needs to have in order to be in this type of leadership position?  
MC: Passion, courage, and embracing teamwork. An SGA president must be passionate about student concerns and needs in order to succeed in this role. You must have the courage to speak with administration and professors to advocate for the student body in an effective and professional manner. Also, you need to be able to delegate tasks, and to work and communicate with SGA, your colleagues, and administration to make a positive change at SGU.
SGU: How did your prior SGA experience prepare you for the role?  
MC: I joined SGA my first term in SVM. I immediately joined committees to get involved, and later joined the executive board in my fourth term. My prior experience on the SGA executive board as vice president of SVM affairs enabled me to see what it took to be president. I was able to see the collaboration of all schools, and the areas that could be improved. I work really hard to make sure that all schools feel equally heard and appreciated.
SGU: What prompted you to pursue this position, and what influence do you hope to have? 
MC: I wanted to be a voice for students and to join an organization that encompasses all schools. I hope that I influence other SGA representatives to have a strong voice and to continue to work for positive change on campus.
SGU: What are your career aspirations?
MC: In May, I will start my clinical year at Virginia-Maryland College of Veterinary Medicine, where I will track Small Animal Medicine. My expected graduation is June 2022. I plan to practice small animal medicine in Georgia or Florida after graduation.
SGU: How will being SGA president help you in your career?  
MC: My role as SGA president has helped me improve the leadership and interpersonal skills needed to be a successful veterinarian. Veterinarians are team leaders at the hospital and should possess these skills to lead a successful and encouraging team. As with many other careers, veterinarians rely on their team to efficiently get things done. I am thankful to be in this current leadership position to continue improving my skills.
– Laurie Chartorynsky
https://www.sgu.edu/wp-content/uploads/2021/02/Coppola-845-3.jpg
501
845
lchartor
https://www.sgu.edu/wp-content/uploads/2020/02/sgu-logo-grenada.svg
lchartor
2021-02-12 20:45:03
2021-03-12 21:17:12
Coppola Becomes Second-Ever Vet Student To Serve As SGU SGA President