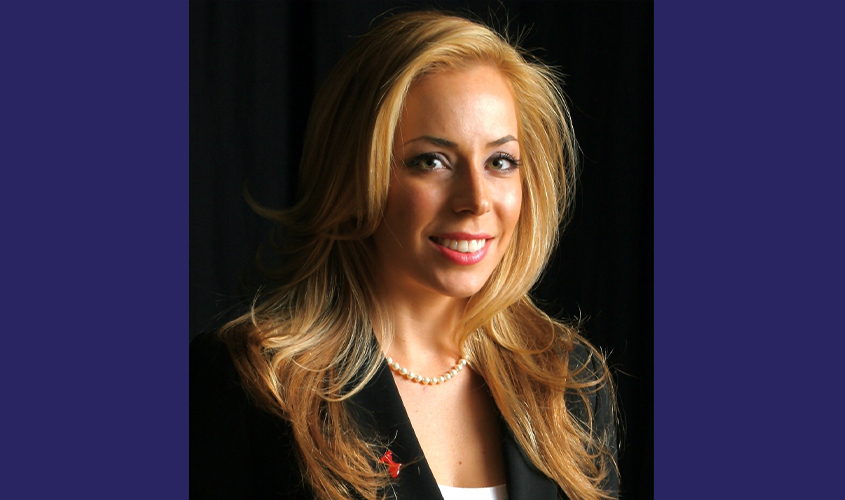 Her future as a cardiologist was as bright as a fresh white coat, her list of achievements in just a short time both long and staggeringly impressive. Alexis D'Elia, MD '08, was a rising star in medicine, deeply committed to her practice, medical research, and the well-being of her patients.
Only cancer—a difficult opponent for many—could hold her back, and even then it couldn't. Diagnosed with a rare and aggressive form of breast cancer in 2012, Dr. D'Elia continued to practice and teach and help all of those around her for nearly four years, before passing away on October 26, 2016, at just 34 years old.
To honor their dear friend and roommate, St. George's University graduates Christine Goette, Panagiota Korenis, Anuradha Naidu, and Francine Scaffidi have created the Dr. Alexis D'Elia Memorial Scholarship Fund. With Alexis' parents, Joseph and Ann D'Elia, and the fund's board of directors, they hope to provide funding for a future generation of physicians to attend SGU and conduct potentially life-changing biomedical research.
Dr. Goette said that the ideal candidate not only exhibits a passion for medicine and publishing research but also a zest for life.
"This scholarship is a way to continue to honor Alexis' passion by continuing her legacy of supporting others, of striving for excellence, contributing to important research, and helping others reach their goals," said Dr. Goette, an internist with San Rafael Medical Center in California. She added that the board aims to make the scholarship "bolder, bigger, better, and touch even more people" in hopes of it mirroring the ambitions of that for whom it was named.
"We couldn't be prouder of all that Alexis accomplished in her time as a physician," added Daniel Ricciardi, MD '81, dean of US clinical studies for St. George's University. "She was one of those people who lit up a room and who you never forget. With this scholarship, we look forward to helping other bright students realize their own dreams and make a positive impact on countless patients in the world of medicine."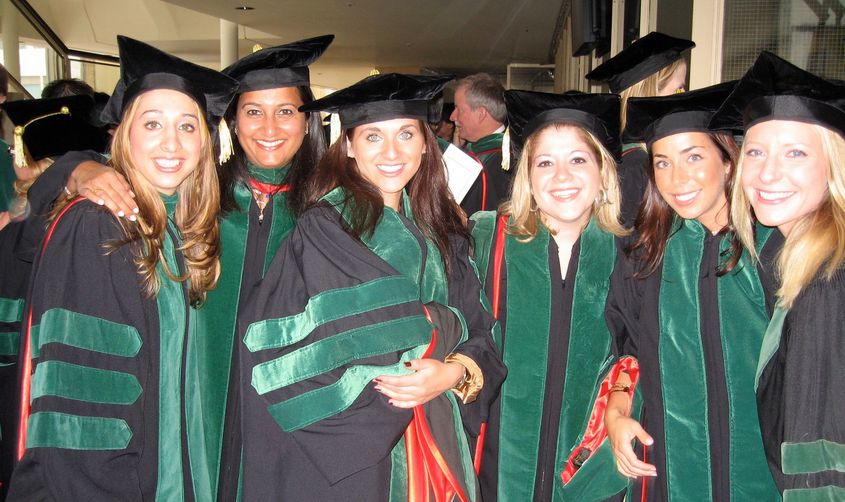 A Commitment to Excellence
Alexis D'Elia grew up in a family of lawyers—her grandfather a State Supreme Court judge, her father a magistrate judge, and her brother, Justin, a lawyer as well. Yet she was drawn to medicine from a young age, according to her family.
"She just had a passion for it," said Ann D'Elia. "She did very well in her science courses. It just clicked with her more so than business or law."
Dr. D'Elia graduated from Connecticut College with a 4.0 grade point average, with degrees in neuropsychology and psychobiology. During that time, she saw the first of her many research articles published while just a junior in college. Dr. D'Elia was accepted to two osteopathic schools in the United States but opted to pursue a Doctor of Medicine degree at St. George's University.
While in Grenada, she dove into her studies, and became part of a close-knit student community. Upon graduating, Dr. D'Elia made a quick ascent in cardiology, completing an internal medicine residency and cardiac fellowship at New York University Winthrop Hospital—the hospital where she was born. It was in her second year of her fellowship that she was diagnosed with stage 2 metastatic breast cancer. After major surgery and nine months of chemotherapy and radiation treatment, she returned to her fellowship and caring for patients.
"As long as she could do it, she was going to do it—that's just who she was, that's who we remember, and that's who this scholarship award is named after," Joseph D'Elia said. "She was an extraordinarily talented woman."
Her drive led her to finish her cardiac fellowship at Montefiore Hospital Albert Einstein College of Medicine, and take on a second fellowship in cardiac imaging. Then, at the behest of world-renowned cardiologist Mario Garcia, she applied for and was accepted into a vascular fellowship at the prestigious Cleveland Clinic in Ohio.
Shortly after arriving in Cleveland, however, Dr. D'Elia was forced to return home to continue her battle with cancer, yet she still managed to work as a cardiologist at Montefiore.
"She was an extremely caring person, and despite the difficulties she faced personally, she was 100 percent devoted to her patients," said Dr. Garcia, chief of the Division of Cardiology at Montefiore. "I think she worked until probably the last day she could stand on her feet. It was quite a moving experience for all of us to see what she had to endure. Even until the last moment, she was dedicated to her profession, her patients, and her peers."
Dr. D'Elia was often accompanied her mother or father on long drives to the Bronx, sometimes through snowstorms, to care for patients.
"I remember asking her when she got out of the car one day, 'don't you think you've put in enough? Maybe it's time to sit back," Mr. D'Elia recalled. "She said to me, 'I've been given a bad hand. I did everything I wanted to do. I'm going to see people in there today who may have never seen a cardiologist in their life. I need to help them.'"
Finding a Cure
In reviewing her own diagnostic imaging, Dr. D'Elia was the first to identify the tumor that spawned a four-year battle with cancer. She and her family visited and consulted with hospitals and cancer institutes around the country—Memorial Sloan Kettering, MD Anderson, New York University, the Cold Spring Harbor Laboratory, and many more. However, her form of breast cancer—HER2-positive disease­—was both rare and aggressive, resistant to customary cancer treatment drugs Herceptin and Perjeta.
For the D'Elia family, their voyage forward is less about treatment than it is finding a cure for their rare condition. Through the scholarship in their daughter's name, they hope to inspire future physicians to aim high in their own research, to solve the kinds of mysteries in medicine that Alexis D'Elia was primed to find herself, if given more time.
"We've dedicated ourselves to this," Mr. D'Elia said.
The D'Elia family presented the inaugural scholarship award last fall to Matthew Peachey, MD/MSc '20. Dr. Peachey, who began an internal medicine residency at The Brooklyn Hospital Center in July, was honored with the $10,000 scholarship at a dinner in Dr. D'Elia's honor.
"I was beyond flattered to receive the award," said Dr. Peachey, who hopes to serve as a hospitalist in the future. "I keep the award on my desk, and during my most trying days, it is a reminder that things could be exponentially more difficult, and someone believes in me."
Interested in learning more information or applying for the scholarship? Contact Dr. Panagiota Korenis Rios at korenismd@gmail.com. 
— Brett Mauser 
https://www.sgu.edu/wp-content/uploads/2020/08/DElia-845-x-500.jpg
500
845
lchartor
https://www.sgu.edu/wp-content/uploads/2020/02/sgu-logo-grenada.svg
lchartor
2020-08-06 20:40:40
2020-08-14 14:28:02
D'Elia Memorial Scholarship Established to Honor Late SGU Graduate