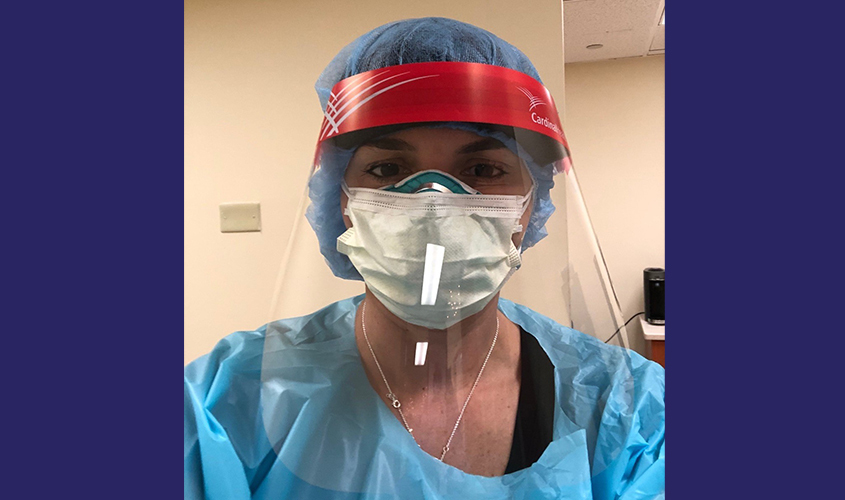 Shortly after the coronavirus disease (COVID-19) pandemic intensified, Megan Kwasniak, MD '08, an emergency medicine physician at Saint Mary's Medical Center in West Palm Beach, FL, took part in her hospital's swift action to ensure it was ready to address sick patients.
To test patients, the hospital set up a tent outside of the emergency department to accommodate and screen any potential COVID-19 patients. Those showing more serious symptoms were quickly identified and then sent to the main emergency department for further treatment. Less sick patients were evaluated fully in the tent and discharged home to minimize the risk of exposure to the rest of the staff and other patients, she said.
Since early March, the hospital has seen and treated more than 1,000 patients who potentially had coronavirus. Almost all of those who indeed had the disease have since recovered.
"We have been able to fine-tune our treatment process and now feel much more confident in handling the disease. I have hope that this will continue to improve with time," said Dr. Kwasniak, who pursues her interest in photography during her free time. She has also captured photos of how she and her colleagues were responding to the healthcare crisis on her blog, This Photography Life.
While COVID-19 has presented physicians and healthcare workers with tremendous challenges, Dr. Kwasniak acknowledged that her training as an emergency physician helped her to effectively "handle the unpredictable and the life threatening."
"In any unknown situation, we are trained to go back to basics: airway, breathing, circulation. In that manner, COVID has been no different," Dr. Kwasniak said. "No matter what course the disease would eventually take, the role of the emergency physician is to stabilize the sickest patients first and to begin a course of treatment that hopefully will affect the final outcome in the best possible way."
The crisis also provided an opportunity for increased communication between healthcare workers, she said. Especially in the early days of the disease, "there was a frequent exchange of information among all physicians through various social media groups and within individual facilities," she noted.
"I feel as though, for the first time ever, we have truly come together in the medical community," she added. "The support we've shared has carried us through this pandemic and has definitely been the silver lining in an otherwise daunting situation. I have never before felt this connected to my fellow doctors, nurses, and all of the emergency department staff."
Dr. Kwasniak offered new and aspiring physicians some words of advice while training: "By the time you start your residency, you will already have learned so much and be so much more prepared that you think you are. My greatest and most important advice to any medical student is this—get involved. Don't wait on the sidelines, don't be merely an observer, but take initiative and be proactive in your learning process. The best way to learn is through experience."
Are you an SGU doctor succeeding in your career? Send us your story ideas. You can also share your story with us on social media by tagging SGU or using the hashtag #WeAreSGU and #SGUAlumni. 
–Laurie Chartorynsky
https://www.sgu.edu/wp-content/uploads/2020/06/Kwasniak-845-x-500-copy.jpg
500
845
lchartor
https://www.sgu.edu/wp-content/uploads/2020/02/sgu-logo-grenada.svg
lchartor
2020-06-03 19:58:55
2020-06-03 20:00:24
Florida Emergency Medicine Doctor Shares Silver Lining of COVID-19