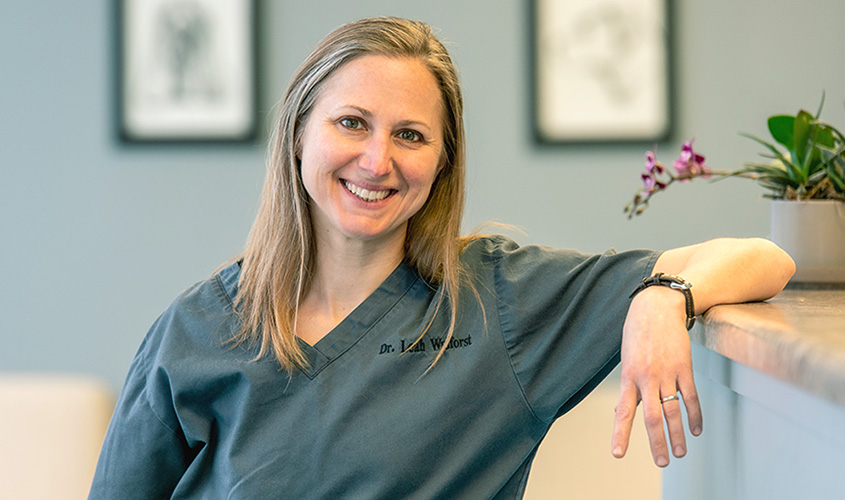 As a companion animal veterinarian in Knoxville, TN, Leah Wulforst, DVM '05, has seen her fair share of emotional pet owners who have been forced to make tough decisions about their pet's health. And it's her responsibility to assist in coming to the right conclusion.
One memorable case involved a young dog named Lexi, who was brought to Dr. Wulforst showing symptoms of a fever, decreased appetite, and discomfort in its left eye. Despite medication, Lexi's health worsened and within 48 hours she developed glaucoma. A urine test revealed that she had blastomycosis, a type of fungal infection dogs can get from inhaling spores from the ground.
After a heartfelt discussion with the pet's owners, Lexi's left eye was removed, and when similar symptoms emerged in her right eye, it had to be removed as well. Lexi continued the fight against blastomycosis with the help of medication for almost a year. The owners were aware that removal of her eyes was only the first step to treatment, and there was no guarantee that she could clear the infection, but they decided to move forward, step by step.
While Lexi had a poor prognosis then and her condition required expensive medication, today she is vibrant, happy, and free of infection.
"At some point, all owners of a pet are going to have to make a difficult decision regarding the pet's well-being," Dr. Wulforst said. "As veterinarians, we hope that we can make these decisions easier."
Today, Dr. Wulforst is the owner of Riverside Veterinary Clinic in Knoxville, making a name for herself in the close-knit community. Dr. Wulforst made Knoxville News Sentinel's 40 under 40 Class of 2017; she also was featured in People magazine and a local news story when her office took in an orphaned alpaca.
She treats a variety of household pets and the occasional backyard animal including goats, chickens, and pheasants, setting aside a portion of her day for any surgical appointments or emergencies. Dr. Wulforst also works closely with several local cat and dog rescue groups.
"What I love about being a vet is seeing the client's face when the pet gets better, how relieved they are, and how appreciative they are," she said. "It's that look on their face that I really enjoy."
She added: "I also enjoy the challenge of it. [Veterinary medicine] is always evolving and I am always learning. From research to disease processes, we're finding out so much more information from genetic testing and cancer testing. As long as you keep reading and researching, you are always going to improve."
Dr. Wulforst opened her clinic in 2017 after she realized she wanted to set her own protocols for her patients and dictate their quality of care.
"I want to make sure I keep striving to do what's best for the client and for the patient," she said. "Clients want definitive answers, but sometimes that takes a lot of money or is just not possible. I want to be able to have all options placed in front of them and help them decide what's going to work for them and their budget, and what will be the best care for their pet."
ARE VACCINES ALWAYS THE ANSWER?
One example is household pets don't always need annual vaccines. Some can be given every few years, based on individual exposure levels, which should be discussed with the client, she said.
"It's very important as a puppy, for example, to get baseline vaccines that can protect them against diseases such as parvo," she said. "But the other thing we know is that some vaccines last a lot longer than we think—in fact anything we inject into our body, like extended release antibiotics, can stimulate the immune system or create injection-site sarcomas. So, it's important to get baseline protections and from there many times we can check titers, specifically for distemper, parvo, and even rabies, depending on state laws."
Dr. Wulforst is also optimistic about using certain alternative medicine in vet practice, including supplements that help joint support, turmeric as an anti-inflammatory and for mild pain relief, cold laser therapy to stimulate blood circulation and help arthritis, and even specific probiotics to reduce anxiety and other behavioral disorders in pets. "I do feel there has to be evidence-based research to show proof on how it works and that it's safe," she said.
TO KNOXVILLE AND BACK AGAIN
After graduating SGU, Dr. Wulforst moved to the Knoxville area with her husband to start her professional career in nearby Seymour, TN. Yet in 2007, they relocated to Long Island, NY (where Dr. Wulforst grew up) to be closer to family. Seeking a slower-paced lifestyle, the couple returned to Knoxville in 2013 with their son, where she worked briefly for an area veterinarian before striking out on her own.
Dr. Wulforst hasn't forgotten how her SGU roots helped her become the vet she is today. She was among one of the early graduating classes of SGU's School of Veterinary Medicine, which opened in 1999.
"I loved the change in scenery and since it was a [relatively] new program I felt like there was a lot more flexibility," she said, referencing the program's adaptability to course topics and tracks.
Additionally, she is very thankful for the direct mentorship and individual attention she received from faculty and hands-on learning while in Grenada. "I definitely felt the hands-on experience I got at St. George's was so much more than I have seen from some of the students coming out of the universities in the US," she said.
Yet being a business owner is not without its challenges. While she plans on adding another full-time veterinarian as well as a part-time vet in the next few months to accommodate her growing caseload, finding employees who are a good fit with her philosophy is the hardest part of a running a business.
"A lot of this was a learning process," which includes being closed on the weekends, she said. "My goal is to have a good work-life balance for myself and my staff."
–Laurie Chartorynsky
https://www.sgu.edu/wp-content/uploads/2020/03/Leah-Wulforst-845-x-500-main.jpg
500
845
lchartor
https://www.sgu.edu/wp-content/uploads/2020/02/sgu-logo-grenada.svg
lchartor
2020-03-05 19:47:18
2020-03-05 19:47:33
From Orphaned Alpacas to Puppy Care: Knoxville Veterinarian Dishes on What It's Like to Own a Vet Clinic