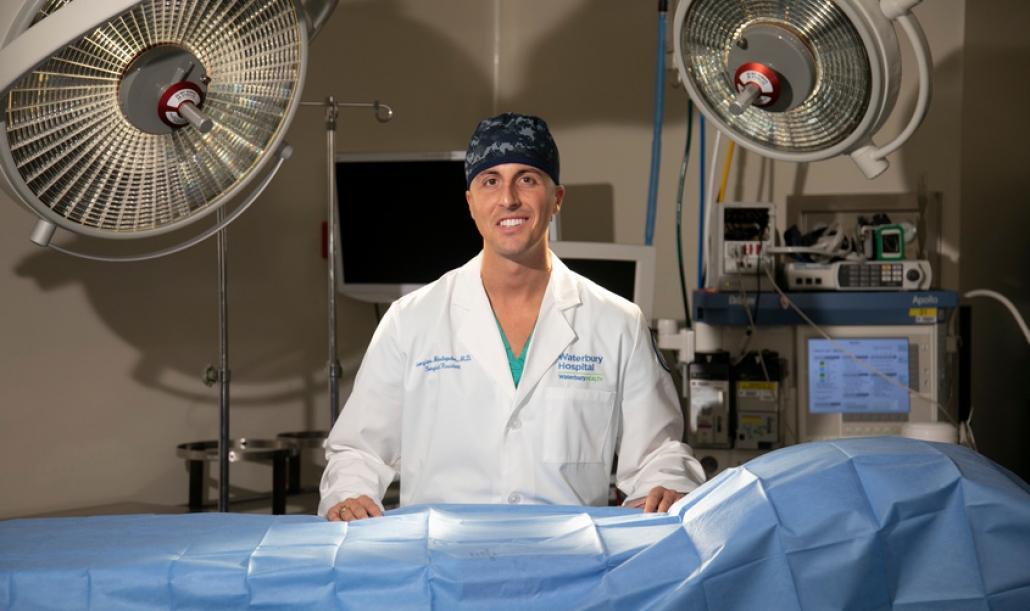 A high-pressure environment. Critical problem solving. A wide array of challenges. The operating room was exactly the type of workplace atmosphere that Georgios Mihalopulos, MD '18, set out to find when he began working toward a career in medicine. It also mirrored his life as an officer in the Canadian Navy, a position that he held before and during medical school.
"I always say I love stress and I hate sleep, so that's why surgery is the perfect field for me," said Mihalopulos, a second-year surgery resident at Waterbury Hospital in Connecticut. "It just seemed like the most natural thing in the world for me to do."
His military career began in 2008 when, while completing his undergraduate degree at the University of Western Ontario in London, he joined the Canadian Navy Reserves, convinced by a friend that it would be "the greatest adventure of a lifetime."
He wasn't wrong.
"I thought this was something I would do just for two or three years while I was at university," Mihalopulos said. "But after I graduated, I took an additional two years off and worked for the Navy full-time. I just fell in love with it—the atmosphere, the training commissions, and the unique opportunity that it was. It was a great experience and I think it was the one thing that prepared me the most for medical school."
Dr. Mihalopulos joined the St. George's University of Grenada School of Medicine/Northumbria University Four- and Five-Year Program, which offered him the opportunity to learn a new healthcare system, enjoy smaller class sizes, and immerse himself in European culture. As an added bonus, he was able to work with the British Navy, with a naval reserve unit only a 10-minute walk from the NU campus.
"Through our embassy and theirs, we were able to coordinate an exchange program where I got to work with British sailors, do a couple of exercises and learn how they do things, as well as show them how we do things in Canada," he said.
Dr. Mihalopulos spent 10 years in the Navy, graduating to become a fully qualified naval warfare officer responsible for the day-to-day navigation of the ship, coordinating its activities, and managing inter-ship operations. He has drawn comparisons between the operating room and his military background in how they function day-to-day. The bridge of the ship and the operating room are a lot alike in gathering information, working with a team to coordinate the best course of action, and making critical decisions within a short space of time.
After residency, he will look to complete a fellowship in plastic surgery, and hopes to work with fellow surgeons and medical personnel to coordinate a multi-disciplinary approach to upper- and lower-lip trauma.
"What we've found in our research is that if you can have the best people from multiple disciplines approach a problem together you get better results," he said. "It's amazing to take muscle or bone from one part of the body and use it to reconstruct another part of the body. You really have the ability to change somebody's life.
"There's a saying: 'the general surgeon can save your life while the plastic surgeon can give you your life back,'" he continued. "You see it especially with breast cancer, which is such a life-changing experience for the patient. I enjoy doing anything that helps get patients back to where they were and get their confidence back."
–Ray-Donna Peters
https://www.sgu.edu/wp-content/uploads/2020/01/GeorgiosMihalopulos_2020-01-845x500-1.jpg
502
845
lchartor
https://www.sgu.edu/wp-content/uploads/2020/02/sgu-logo-grenada.svg
lchartor
2020-01-24 17:37:50
2020-01-24 17:38:35
From the Navy to the OR: SGU Grad Trades Uniform for White Coat