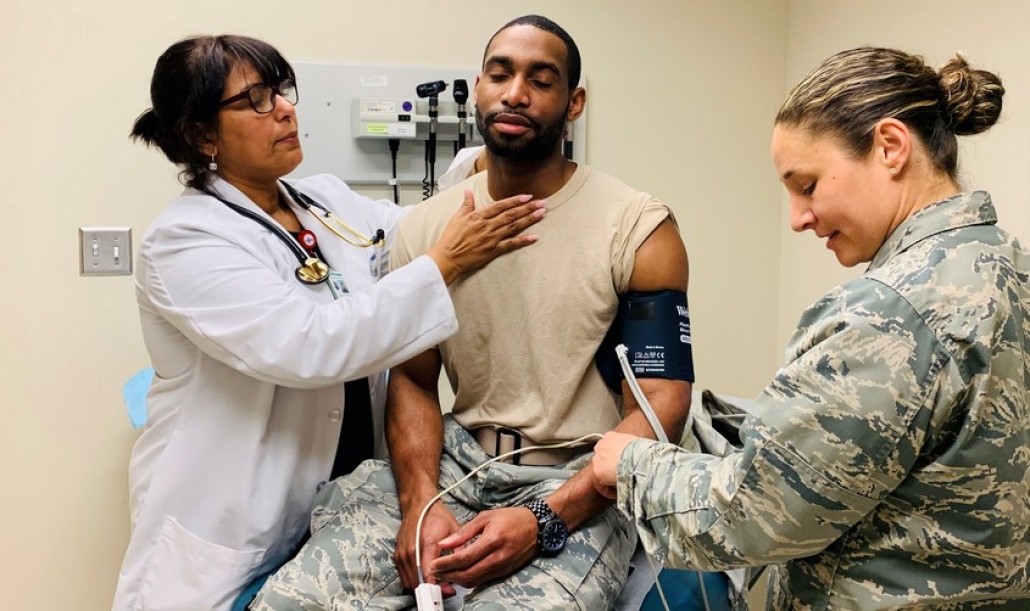 During her time serving in active duty in the United States Air Force, Maj. Mayra Zapata, MD '07, has participated in her fair share of humanitarian and disaster relief missions in places like Peru, West Africa, as well as across the US. But it is the people and cases she sees close to home as an internal medicine physician at the Joint Base Langley-Eustis in Virginia, and as a flight surgeon for the 911th AF Reserve unit in Pittsburgh, that make her proud to be a military doctor.
"As an officer in the Air Force, you have the opportunity to touch the lives of many young adults who need your guidance in a positive way. This is the reason why I love this job," said Dr. Zapata. "I love being able to use my skills as a doctor to help someone understand what is going on with their health and what's happening to their bodies."
As an active duty internal medicine physician from August 2011 to August 2015, Dr. Zapata was stationed at Langley Air Force Base in the base's clinic, where she treated those in service as well as their dependents for a variety of ailments and chronic illnesses.
In 2013, during a trip to Peru on a humanitarian mission with the Air Force, Maj. Zapata worked with a flight surgeon who asked her to join her team. She agreed and through the military she learned aerospace medicine and its effects on pilots and the flying crew.
"To be a flight surgeon, you need to understand the changes in physiology that occur when the flying crew are exposed to different environments, such as flying thousands of feet above ground," Dr. Zapata said. "The job is important since we use our medical knowledge and knowledge about aerospace to decide if a military member is fit to fly or not."
Added Dr. Zapata: "I have grounded pilots when they have a common cold for the simple reason that they might not be able to clear their airways when flying at high altitudes, which can cause oxygenation difficulties, trauma to their ears, and additional safety concerns."
Today, as a civil services internist in the operational clinic at Joint Base Langley-Eustis, she serves the active duty population, doing what she loves. As a reservist, she travels to Pittsburgh once a month to fulfill her requirements, which gives her a more balanced lifestyle in order to take care of her four children while still serving the military in some capacity.
"As a reservist, I can get orders to deploy and serve my country any time, and I am up for the challenge," she said. "I do not see a better way to thank the country which adopted me and has given me the opportunity to be who I am today as a doctor and as a human being."
Col. Jennifer Brooks, USAF, MC, a family health flight commander at Joint Base Langley-Eustis and Dr. Zapata's supervisor, echoed her dedication to her job. "Dr. Zapata is compassionate and thorough—she clearly cares about her patients and goes above and beyond to do the right thing for them," she said. "She is always thinking about how a patient's condition will affect his or her military duties and ability to deploy. She never loses this focus. This attribute is crucial to be an excellent military physician."
PATH TO MEDICINE
Originally from the Dominican Republic, Dr. Zapata moved to the Bronx, NY, with her family when she was a teenager. She learned English and received her bachelor's degree in psychology from nearby Lehman College. Having an interest in medicine, Dr. Zapata took pre-med classes at Columbia University, but put med school on hold after she got married and had her oldest two of four children. After working for a few years as an HIV case worker in the Bronx, she sought out advice from her student advisor at Columbia on how to get into med school. The advisor recommended she consider international med schools. She applied to St. George's University and began in January 2003, bringing her children with her to Grenada.
"The school made me and my family feel welcomed, and SGU's faculty, notably Dr. CV Rao and his wife, Dr. Vijaya Chellapilla, were very important in my success," said Dr. Zapata.
Following her internal medicine residency at Lutheran Medical Center in Brooklyn, NY, as she was contemplating her next step, Dr. Zapata came across an officer of the US Air Force who encouraged her to look into military medicine. Being in her late 30s, she was concerned she was too old to go into the military. However, there is no age limit to enter the military as a physician.
She contacted a medical recruiter for the USAF, and after a lengthy eight-month process and background check, Dr. Zapata was commissioned as a USAF medical officer. She took her medical boards in August 2011 and just days later left for basic training in Alabama. The experience has only strengthened her medical knowledge and skills.
"In the Air Force, I have worked with many doctors from Ivy League schools, and as a graduate from SGU, I do not see any difference," she said. "As a doctor, I feel as competent and as effective. SGU was an amazing experience for me."
–Laurie Chartorynsky
https://www.sgu.edu/wp-content/uploads/2020/02/Zapata-2-845x500-1.jpg
502
845
lchartor
https://www.sgu.edu/wp-content/uploads/2020/02/sgu-logo-grenada.svg
lchartor
2020-02-05 15:27:48
2020-02-11 16:55:08
Grad Serves Her Country as US Air Force Physician and Flight Surgeon