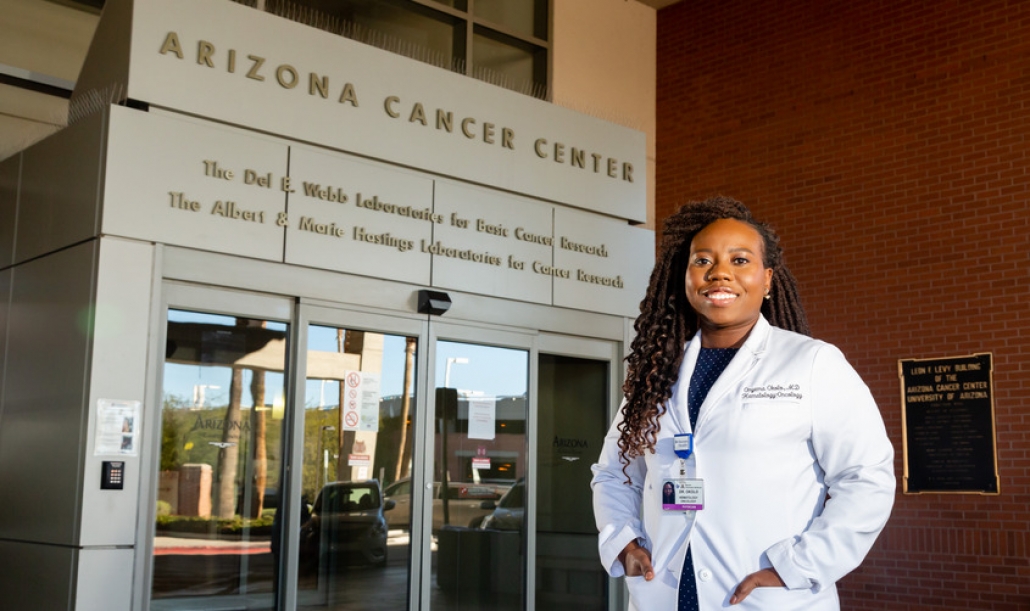 Onyemaechi Okolo, MD '15, feels a strong affinity to the world of pathology.
"I love looking at cells under the microscope—they're actually really beautiful," said the Nigerian-born doctor, who is a dual hematology-oncology fellow at The University of Arizona Cancer Center, a National Cancer Institute-designated comprehensive cancer center, and an integrative medicine fellow at The University of Arizona Andrew Weil Center for Integrative Medicine.
But she admits it wasn't until late in her clinical rotations while at St. George's University that she had clarity on what type of doctor she wanted to be. "What I loved the most in basic sciences was pathophysiology and learning about normal and abnormal cells; I was particularly intrigued by how cancer cells hijack your body," she said. "In the clinical setting, it was my experiences with the patients during my hematology-oncology rotation that connected the pathophysiology and clinical aspects of oncology for me. I actively looked forward to learning more every day."
She furthered solidified her path to medicine while doing her internal medicine residency at The University of Arizona Medical Center. Dr. Okolo became interested in learning preventative health, meditation, and other forms of holistic medicine to further help patients with serious illnesses like cancer and blood disorders.
"I wanted to learn about not only how to treat patients, but how I can help them live better," she said. "I really enjoy learning both traditional and holistic medicine so that I have a lot more tools in my toolbox to help my patients."
By completing her fellowships concurrently—she is expected to be finished in the summer of 2021—her goal is to obtain the knowledge and tools necessary to assess and treat patients' "whole health," not just the symptoms that brought them to see her in the first place.
"When you tell people they have cancer, their first reaction is 'I don't want chemotherapy,'" said Dr. Okolo. "I want patients to know that they have an entire team working for them whose goal is to help heal their bodies, minds, and spirits."
As a dual fellow, Dr. Okolo spends her days at the Arizona Cancer Center where she actively treats and manages patients with a variety of blood disorders, sickle-cell anemia and hemophilia, as well as tumors and blood cancer. As part of her Hem/Onc fellowship, she is learning how to utilize newer treatment methods, especially stem cell transplants and immunotherapy. That includes CAR T-cell therapy, which involves engineering a patient's immune cells to recognize and attack specific cancer cells. Right now, Dr. Okolo said that the treatment is approved for use in acute lymphoblastic leukemia and diffuse large B-cell lymphoma. However, "it's looking like CAR T-cell therapy is going to be translatable to a lot more cancers, so it's really exciting that we're also learning how to treat cancer with it."
At night, she alternates between reviewing her patient cases or working on her integrative medicine nodules that, similar to an online classroom, include instructors and chapter assignments.
"Integrative medicine is more of a healthy philosophy," she said. "It tends to be more individualized, and we use evidence-based medicine alongside complementary practices from a range of cultures such as following certain diets like the Mediterranean diet. We also stress the benefits of things like yoga, meditative movement, aerobic exercise, and herbal medicine.
"Integrative medicine is especially important in oncology because it's important for physicians to know what supplements or practices patients should avoid when on certain cancer therapies due to interactions or lack of safety data," Dr. Okolo added.
FINDING HER PATH TO BECOMING A DOCTOR
Dr. Okolo, who moved with her family to Texas from Nigeria when she was 9, was not always interested in medicine. She originally wanted to major in art, but as first-generation immigrants, her parents wanted her to enter a more traditional profession, such as a doctor, she said. Dr. Okolo graduated from Johns Hopkins University with a bachelor's degree in cognitive sciences, but still needed a gap year in Spain where she taught English, to think about if she truly wanted to pursue medicine.
"It was probably the most illuminating year of my life," she said. "I returned to the US and was ready to go to med school."
However, by the time Dr. Okolo came back to US, she had missed the application cycle for US schools. She didn't want to have to retake her MCATs, so family members suggested she look into SGU given its January and August admissions cycles.
"My SGU interviewer sealed the deal," Dr. Okolo recalled. "She was an attending psychiatrist and she was honest and said 'You're going to a Caribbean med school. You have to be the person who determines if you will be successful. If you want to be a doctor and plan on working hard and want a little bit of adventure, then this is the school for you.' For me, going to an international med school was exciting."
CREATING MEANINGFUL RELATIONSHIPS
As a physician, Dr. Okolo attributed honesty, courage, empathy, and resilience as the most important qualities of a good physician, especially in the field of oncology.
"You're going to have to look someone in the eye and be able to tell them a lot of difficult news including 'This is not a curable stage anymore.' I've been in situations where you don't want to extinguish hope, but you want to be able to prepare them for what is coming," she said.
"It's a hard field. You definitely share in their joys, but also their heartbreaks. You have to remember to go home and be present in your life and be with your own family," added Dr. Okolo, who is recently married.
In order to be able to do both fellowships concurrently, Dr. Okolo formed a strong support system while at Arizona Cancer Center. Ravitharan Krishnadasan, MD, FACP, an associate professor of clinical medicine in the department of hematology and oncology at the University of Arizona Cancer Center, is one of Dr. Okolo's mentors and an attending physician.
"Integrative medicine is one of the things that Onyema has a passion for," said Dr. Krishnadasan, who is also an SGU graduate. "It makes her more of a comprehensive physician because she is not closed off to other treatments or medication to help decrease, for example, the anxiety that comes along with a diagnosis of cancer."
Yet Dr. Krishnadasan noted that it is Dr. Okolo's strong rapport with patients that will make her an excellent physician. "In oncology, you really do have the opportunity to have relationships that are so much deeper because a patient looks to you to really guide them to what they're going to face in the future. If you handle it correctly, as a physician, it can make your life so much more rewarding," he said.
Dr. Okolo credits her early experiences at SGU as helping her form a good patient-doctor bond.
"SGU really exposed me to variety," she said. "When you go into St. George's Hospital, there were some people who were incredibly grateful to have the students there and other patients who were there and you could feel the distress immediately. I definitely learned how to read a patient when you first walk into the room and understand where they are coming from. If you're sensing distress and mistrust, it's your job to help them understand you want the best for them. People can tell if you are being honest or not with them."
– Laurie Chartorynsky
https://www.sgu.edu/wp-content/uploads/2020/02/Onyema-Okolo-1-845x500-1.jpg
502
845
lchartor
https://www.sgu.edu/wp-content/uploads/2020/02/sgu-logo-grenada.svg
lchartor
2020-02-05 21:50:00
2020-02-06 14:57:58
Grad Tackles Hem/Onc and Integrative Medicine Fellowships to Treat Patients' "Whole Health"