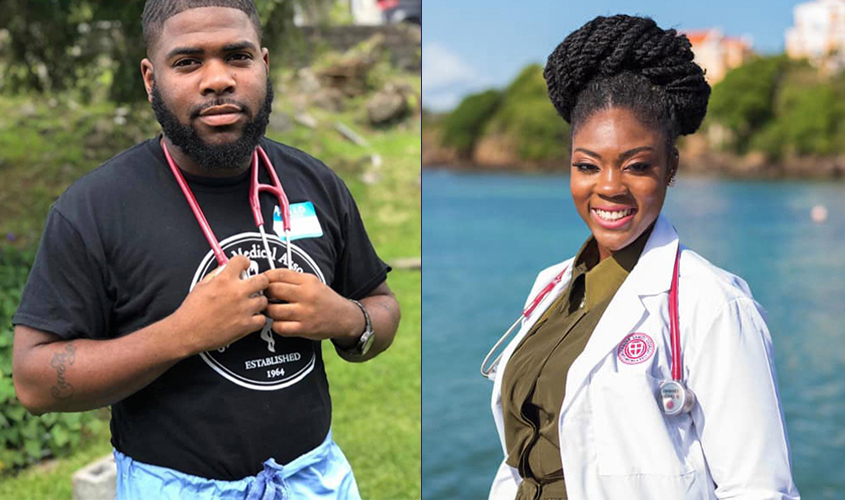 The Student National Medical Association (SNMA) is a national association that is committed to supporting current and future underrepresented minority medical students by addressing the needs of underserved communities, and increasing the number of "clinically excellent, culturally-competent, and socially-conscious physicians." SNMA chapters are based at allopathic and osteopathic medical schools throughout the US, with programs designed to serve the health needs of underserved communities and communities of color.
In addition, SNMA is dedicated both to ensuring that medical education and services are culturally sensitive to the needs of diverse populations and to increasing the number of African American, Latino, and other students of color entering and completing medical school. The SGU chapter of the SNMA has nearly 200 members and implements programs that benefit underserved communities in Grenada.
We spoke with SGU Chapter President Tom Diamond II, a soon-to-be Term 5 student and aspiring cardiologist, and Vice President Jhanae O'Guin, a Term 3 student and aspiring OB/GYN, who shared their perspectives on the importance of the organization's mission, not just now but year-round, and how students can get involved.
What is the overall mission for the Student National Medical Association?
TD: Our mission is to simply diversify the face of medicine, both at the physician level by increasing the number of minority physicians and physicians of color, and also at a socioeconomic level, where physicians use their skills to treat people in low-income and underserved areas—areas that are so-called medical deserts.
What does the organization do to champion equality in healthcare career throughout the year?
JO: We do a lot of mentoring. It can be a very hard road as a physician, period, but as a minority physician, it can be even harder. So being able to reach out to someone who took that class or that session before you, who can give you valuable advice that you can trust, who is walking a similar pathway to you, is a big part of what we do. We are hoping to ramp up our mentoring program even more this semester than ever. We think it's very important because, as Tom was saying, these physicians are going to go into these medical deserts and it's critical that we talk about the importance of how patients see their doctors—if they feel like they can identify with them, they are more likely to have better health.
Can you share examples of the activities that the SGU chapter has done on the island to enhance medical services to underserved communities?
JO: We partner with local Grenadian schools to mentor local children and we call it "mini med school." The goal of that activity is to get local Grenadians interested in medicine. And we also know that in general, if we can bolster these programs and also create these pathways for these students, that the healthcare system in Grenada could stand to be improved that way.
Another program that we do is we raise money to support JJ Robinson Trust scholarships for children. That's important because we know, in general, educational outcomes are associated with good health outcomes. We typically do a game night to raise the money for a scholarship program.
Lastly, and probably most notably, is our diabetes clinic. I had the pleasure of being the diabetes clinic coordinator this past semester. This particular program is so important because it targets diseases that are impacting minorities at a disparaging rate. So, during these clinics we do high blood pressure monitoring; diabetes monitoring; we check vision deficits; and we counsel on nutrition and good overall health. And we give Grenadians an opportunity to also consult with SGU-trained physicians, who we partner with to do this event. Every year, we go to a different parish and it gives Grenadians the opportunity to interact with us, for us to get some hands-on experience, and of course help the community.
Why is it important to showcase diversity within the medical profession?
TD: In medicine, one of the things we learn about is contributing factors and its impact on health prognosis. A contributing factor to a diagnosis may be miscommunication. If a person cannot relate to you or there's any type of communication barrier that impacts the prognosis, that impacts the probability of a healthier, better outcome. If you don't understand what a patient's lifestyle is, if you are not able to communicate with them about their eating habits, where they live, the environmental stressors that they face, you're going to miss how to assess and how to interact with that patient. That's why it's so important to diversify the face of medicine. We need people who understand medicine and who will be able to relate to patients.
How do you feel that the campus' overall diversity has contributed to your academic experience? How do you think it will help you in your eventual careers?
TD: SGU has physicians and facilitators from all over the world. I'm going to quote one of my favorite professors, Dr. Kesava Mandalaneni who said that "Accent is the paint brush of life. And that gives us the color to how we live." You become used to speaking with patients who may not sound like you, who may not pronounce the same words the way you do, who may not have the same cultural background as you, but on a daily basis, we meet people from different countries and you learn to communicate with them.
JO: I agree 100 percent with that. And it does make you more attentive to people when they're speaking, because you want to try to do your best to catch what they're saying. And I think it's important as a doctor to be a good listener. So being able to de-code what someone's saying is an essential tool as a great physician.
I would also say that being at SGU, the students are coming from many backgrounds, countries, and cultures. And I think that has been enriching experience. And while there are more initiatives for diversity that can be implemented, including increased workshops, possibly a selective on health disparities affecting communities of color, and inclusion of minority students on decision-making boards, I believe that this experience at SGU in particular will contribute meaningfully to a career as a future physician because we're interacting with different cultures already and getting some basis for what their cultural norms are.
This also highlights the meaningfulness of SNMA at SGU because we are an organization that is trying to encourage different cultures to come together. And I always like to use the example that when I came to SGU and I joined SNMA, that's where I met Tom. Tom saw me studying in Taylor Hall and offered to help on me on a topic I was studying. This interaction empowered me to forge a relationship with him and ask him to be my mentor. And now he is my mentor. Without the SNMA, I probably would not have had that opportunity.
In what ways have the recent events in the US reinvigorated you on your path to becoming a physician?
TD: That's probably the biggest question of today for the answer is multi-faceted. Many people like me set out as first-generation physicians of color, first-generation physicians of our family, and first-generation physicians in our communities. It's not that blacks and African Americans don't want to get into medicine—there is some kind of invisible barrier that stopped them from being able to move in.
There are four historically black colleges or university medical schools in the United States…for a population of people that represent 13 to 16 percent of the nation. So, there is no equality at the level of even physician training. And then you look at what's happening in the world right now. It's just a reminder that racism is still present. Unfortunately, it's ingrained into American society in some ways to the degree that people don't even understand how their actions affect others, because they're so used to doing it.
One of the things that's been damaging to myself and students all across the country and, and especially SNMA nationwide—we have medical students right now who are having to focus on rigorous curriculums while being online, and on top of all that they're experiencing trauma (from the recent news of George Floyd's death). Without letting it bog you down or mentally deter you; it should light a fire under you and invigorate you to understand that I have a part to play in eradicating racism. We all do. But more specifically, I have a part to play in eradicating racism and health disparity for people of minorities and for everybody by giving people healthier lives, by standing up to institutions that deny people access from basic need of health. And so as hard as it is, especially at moments like this to focus, it's your responsibility, it's your burden. You feel a charge to produce these outcomes for yourself in order to be able to impact the community at large.
JO: I'll just follow up and say, maybe you're not able to be on the front lines, doing your part in that way, but in a lot of ways, being in medical school as an African American, that is doing your part, because you want to be in a position where you can pour back into your community. So if anything, when it's hard and you're taking that class or you're getting ready for that test, and you're seeing this happening, you can't give up, not only in yourself, but because you have people counting on you to be the change that people are so desperately on the front lines fighting for.
What inspired you to become a doctor? What are your future career plans?
TD: I'm from Jacksonville, FL. I am a graduate of Florida A&M University in Tallahassee. One of the things that inspired me to become a physician is that, in the area of the city where I grew up, there is a major health disparity as far as simply just it's a medical desert. There is one hospital that sits centrally located that is supposed to service the entire north side. You have quarter of a million people who live in this area that have one hospital.
The second reason is just the lack of representation that I saw growing up. And I knew that this is an area of concern. African Americans lead nationwide in cardiac disease, hypertension, diabetes—those kinds of things. I have a passion for helping people. And so, it led me here, and thank God it led me to SGU because the school is allowing me to chase my dreams. I want to go into internal medicine and eventually enter a fellowship in cardiology.
JO: When I was in kindergarten, I got this Mason jar that my teacher said I shouldn't open until I graduate. Well, graduation came and went, I had already completed a semester of undergraduate college, I was already involved in a medical academy, and I finally opened it and found this piece of paper. My teacher asked me what I wanted to be—I told her I wanted to be a doctor. It even surprised me because I don't remember wanting to be a doctor. I thought I wanted to be a teacher before, but apparently when I was in kindergarten, I wanted to be a doctor. So, this pathway is in a lot of ways for me a self-fulfilling prophecy derived as a kindergartener.
I am from Houston, TX. I went to Prairie View A&M University. And then after that, I continued my education to get my master's degree in public health in health promotion and health education with a concentration in maternal and child health, bolstering my passion for women's health. There are just a lot of disparities, including infant mortality and low birth-weight babies that are affecting people of color and just bad maternal outcomes for women of color. So, a lot of that has been a catalyst for me wanting to go into obstetrics and gynecology. If not that, I know that I want to work in primary care. I can impact the most people in helping with these chronic diseases and ailments that are impacting my community. And so, all of that's very important to me because I believe that women's health is the foundation of good family health. Because when we have healthy mothers, we have healthy children and healthy spouses.
The SGU chapter of the SNMA is actively welcoming new members for the August semester and will be transitioning many of their programs to a virtual setting. Students who are interested in joining are welcome to reach out to the organization via its Facebook and Instagram pages.
–Laurie Chartorynsky
https://www.sgu.edu/wp-content/uploads/2020/06/SNMA-leaders-2020-845-x-500.jpg
500
845
lchartor
https://www.sgu.edu/wp-content/uploads/2020/02/sgu-logo-grenada.svg
lchartor
2020-06-05 20:59:58
2020-06-05 21:00:12
Highlighting the Student National Medical Association: A Conversation with Leadership of the SGU Chapter