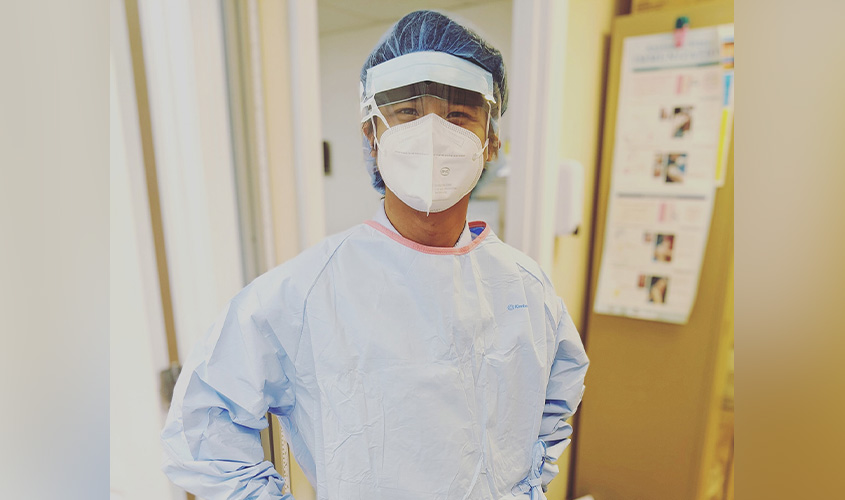 Jeremy Aguinaldo, MD '17, looks at disease not only from up close—with each individual patient—but from a bird's eye view. A board-certified public health physician for Compass Care in the Georgia Department of Public Health, Dr. Aguinaldo identifies risk factors and problem areas for large populations, and implements programs to improve community health.
"The improvement of an individual's health also requires improving the entire healthcare system," said Dr. Aguinaldo, who recently completed his public health and preventive medicine residency at Morehouse School of Medicine.
While countries around the world deal with the coronavirus disease (COVID-19) pandemic, Dr. Aguinaldo is addressing a problem that continues to plague his community—the human immunodeficiency virus (HIV).
How serious is the current HIV problem in the United States?
More than a million people in the United States are living with HIV, and in 2018, there were about 36,000 new cases. Contracting HIV is no longer considered a death sentence as it was before. With the continued advancements of antiretroviral drugs to manage the virus, HIV had become a chronic illness, similar to how diabetes and blood pressure are managed.
What measures are you taking to help prevent the spread of HIV in your community?
When a patient initially tests positive for HIV, he or she is immediately sent to the clinic where they are linked to care and started on antiretroviral treatments. Patients who start on medication soon after diagnosis have shown to have better outcomes compared to those start much later. By taking the prescribed medications, the viral load (the amount of HIV in the body) is reduced. By reducing the viral load to such a level, it becomes undetectable by standard blood tests.
Patients who maintain an undetectable status will continue to be healthy and prevent transmission, which is referred to as "treatment as prevention." This is key in preventing HIV spread in the community. The clinic also promotes the use of Pre-Exposure Prophylaxis (PrEP), which, when taken daily, is successful in preventing infection with HIV, greatly reducing the risk. It's also important to raise awareness and educate the community on the benefits of using PrEP.
What social or economic trends are tied to HIV cases and transmissions?
There is a significant risk of HIV infection in those with mental health illnesses. The common conditions include depression, anxiety, bipolarity, post-traumatic stress disorder (PTSD), schizophrenia, and dementia. These issues make drug adherence much more difficult to comply with and increase high-risk behaviors such as illicit substance use and unprotected sexual activities.
Many individuals in the community I serve are homeless, unemployed, or lack health insurance and thus struggle to make ends meet. They consider their HIV status less of a priority until their own basic needs are met. This is where addressing those social factors, as well as managing them, clinically come into play.
Why has public health become the focus of your career?
When I was getting my master's degree in public health, I learned from nurses, doctors, statisticians, researchers, engineers, and others who all shared a common goal: to improve the health of the population. Healing is more than just prescribing a simple pill but also collaborating with a team of multiple disciplines to help the patient.
https://www.sgu.edu/wp-content/uploads/2021/03/Aguinaldo-845.jpg
500
845
bpmauser
https://www.sgu.edu/wp-content/uploads/2020/02/sgu-logo-grenada.svg
bpmauser
2021-03-11 15:30:45
2021-03-11 15:39:12
MD Grad Is Addressing Another Major Public Health Issue—HIV