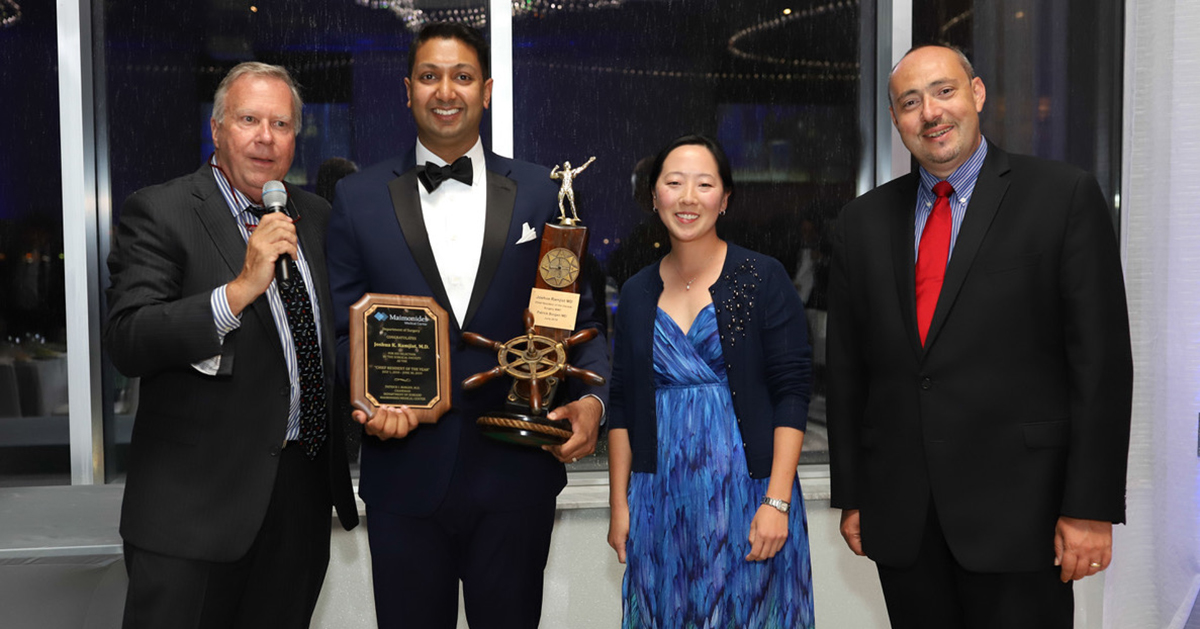 Dr. Joshua Ramjist was both humbled and surprised as the crowded room—full of his peers and mentors—rose to its feet. Just moments earlier, he had been announced not only as Maimonides Medical Center Department of Surgery's Chief Resident of the Year but its Chief Resident of the Decade.
The 2011 St. George's University alum was presented the award by Dr. Patrick Borgen, Surgery Chair at Maimonides, at the department's graduation ceremony held at Above Rooftop on Staten Island in June. Dr. Ramjist was recognized for his impact not only with patients but on the hospital and the education of the residents and medical students he oversaw.
"In the audience were chief residents who were there when I was a medical student. Coming into the program, they were my heroes; I wanted to be like them," said Dr. Ramjist, who began a pediatric trauma fellowship at The Hospital for Sick Children in Toronto this month. "To be acknowledged by them and to see the pride they had in helping me become who I am was incredible."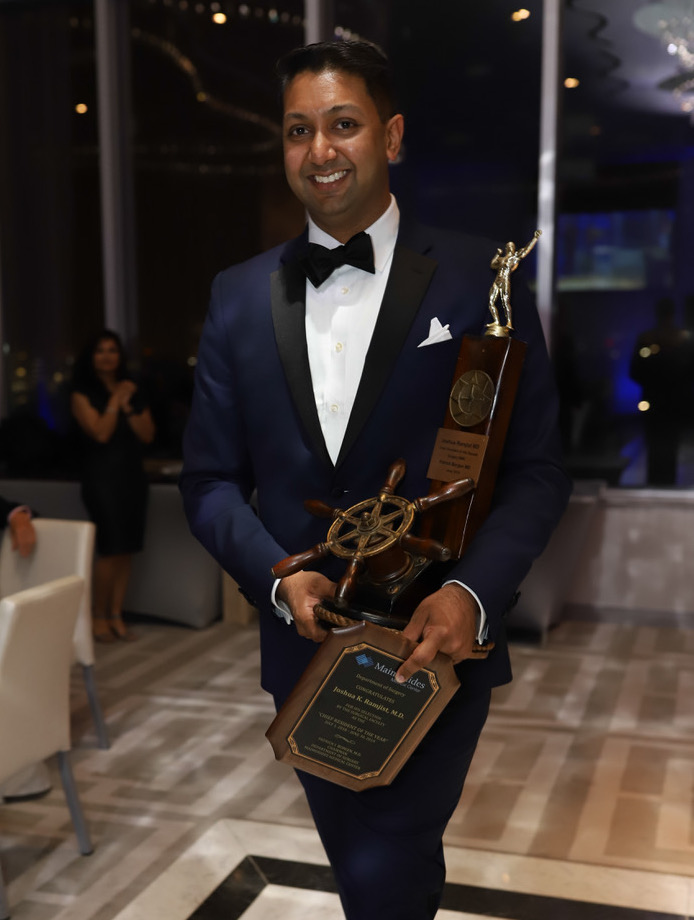 Dr. Ramjist estimated that there have been between 50 and 75 chief residents in the department over the past decade.
"It was a complete surprise," he said. "It was surreal to get a standing ovation. I was hoping to Chief Resident of the Year and thought that would be great, but this upped the bar significantly."
In applying for residencies, Dr. Ramjist was drawn to Maimonides, where he had rotated during Year 3 as an SGU student. He not only enjoyed his clinical experience there, but also cited the hospital's affinity for SGU grads as well as its history in surgery as deciding factors. Maimonides was the site for the first heart transplant in the US, and the intra-aortic balloon pump, a key innovation in cardiac procedures, was developed in its research lab.
"Maimonides is always pushing the needle," he said. "It's full of this rich history that is woven into the tapestry of Brooklyn and of America as a whole."
Dr. Ramjist trained as a resident at Maimonides through 2019, a tenure that also included a two-year research stint at Toronto's St. Michael's Hospital, from which he earned a Master of Science. In addition, Dr. Ramjist obtained his Master of Business Administration in Multi-Sector Healthcare Management from SGU.
"Much of what I did for changing the face value of the department came from what I learned in the MBA program," he said. "How I wanted us to be structured as an organization from a residency perspective stemmed from identifying leadership, establishing a chain of command, maintaining checks and balances, and applying the principles of leadership and management."
Dr. Ramjist has also given back to his alma mater, conducting student interviews as well as mentoring students as an advisor in SGU's Office of Career Guidance and Student Development.
– Brett Mauser
https://www.sgu.edu/wp-content/uploads/2019/07/Ramjist-CR-of-the-Decade-845-x-500.jpg
500
845
bpmauser
https://www.sgu.edu/wp-content/uploads/2020/02/sgu-logo-grenada.svg
bpmauser
2019-07-23 15:58:48
2021-02-25 21:15:56
MD Grad Recognized as Chief Resident of the Decade at Maimonides