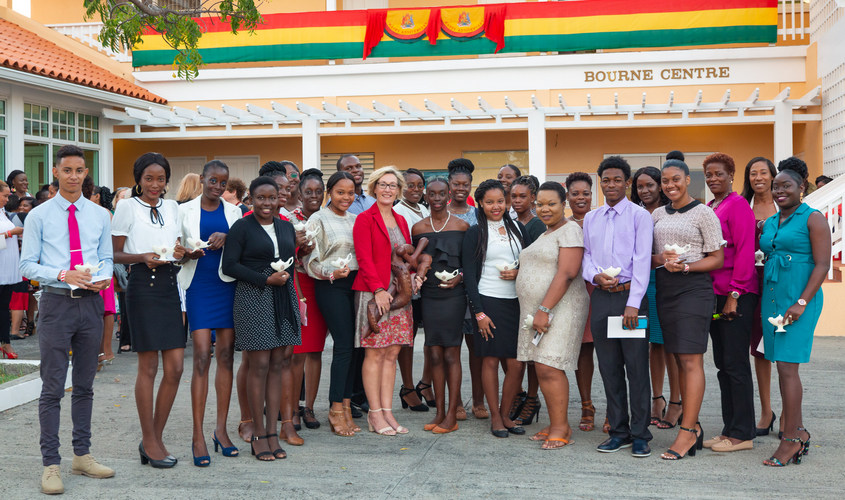 It had been three years since St. George's University alumnus and keynote speaker, Tahira Adams, BSN '19, attended her own spring nursing induction ceremony, signifying her entrance into the nursing profession. Three years since she had sat in those very same seats at Bourne Lecture Hall and felt the excitement of being one step closer to fulfilling her dream of becoming a nurse. Yet, she remembers the words of her mentor Dr. Jennifer Solomon, chair and director of the Nursing Department, as if it were yesterday: "Stay on the train. Do not allow it to leave without you."
Nurse Adams took those words to heart. As the semesters passed by, the workload got heavier and more challenging, some passengers got off the train. But for those who stayed on, they became each other's keeper. They learned how to take care of each other and, by extension, how to take care of their patients.
"There are days when the train ride will feel overwhelming and endless, and you'll feel like getting off," shared Nurse Adams. "There will be days when the train itself malfunctions, but through good communication and collaboration, you will overcome these adversities."
Quoting author Corrie ten Boom, "when the train goes through a tunnel and it gets dark, you don't throw away your ticket and jump off. You sit there and trust the engineer," Nurse Adams urged the incoming class to trust their engineers—the remarkable faculty at SGU—their greatest resource. She encouraged the future nurses to use them, for they will help them reach their full potential, just as they had done for her and her cohort.
"Our journey had not only prepared us academically for the world of work," said Nurse Adams. "It molded us into strong, mature, efficient, independent, confident, young women. Therefore, please do enjoy your ride. Have a little fun but let self-discipline be your guide, perseverance your compass, and a strong support network to keep you motivated."
A highlight of the evening's ceremony was the presentation of the Outstanding Service Award to Ann Hopkin, OBE by St. George's University President Dr. G. Richard Olds. The award recognizes people who contribute to and shape nursing education and inspire others to promote health wherever they go. Mrs. Hopkin, a tireless advocate of health, had built a 62-year career in health professions, a career so highly regarded that she was awarded the Order of the British Empire (OBE) by Her Majesty Queen Elizabeth II in June 2014.
"She is a woman of substance, one who strives to empower patients and their healthcare workers, taking great pride in the next generation of nurses who will care for the nation," praised Dr. Olds. "It is an honor to present  Mrs. Ann Hopkin with this award."
Graciously accepting her award at the podium, Mrs. Hopkin implored the new nursing inductees to be compassionate, have integrity, follow instructions, and to not just be an "okay" nurse but to be an excellent nurse.
Upon being presented with lamps, a symbol of the care and devotion administered by nurses, and reciting the International Council of Nurses Pledge along with the practicing nurses in the audience, Dr. Solomon left the future nurses with a few last words of wisdom.
"We have witnessed the transfer of nursing education to universities," said Dr. Solomon. "We have seen nurses extend and expand in their role to meet the challenges in delivery of healthcare in a continuously changing world.
"In 1881 Florence Nightingale wrote, 'let us value our training, not that it makes us cleverer or superior to others but insomuch as it enables us to be more useful and helpful to our fellow creatures—the sick, those who need us most. Let it be our ambition, good nurses, and let us never feel ashamed of the name nurse.'"
St. George's University School of Arts and Sciences Nursing Program features many aspects of interdisciplinary learning and teaching. Uniquely structured, it allows the students to be taught by professors from both the Schools of Medicine and Arts and Sciences, as well as visiting professors from outside of Grenada. Their training experience will include working at the General Hospital, lab work at SGU's Simulation Center, and community work. At the end of their training and with the completion of their regional and international licensing exams, the students will become fully fledged Registered Nurses as approved by the Caribbean Nursing Council.
–Ray-Donna Peters
https://www.sgu.edu/wp-content/uploads/2020/02/nursing-induction-j20-845x500-1.jpg
500
845
lchartor
https://www.sgu.edu/wp-content/uploads/2020/02/sgu-logo-grenada.svg
lchartor
2020-02-14 20:04:20
2022-09-02 08:26:22
Newest Class of Nursing Students Encouraged to Communicate and Collaborate