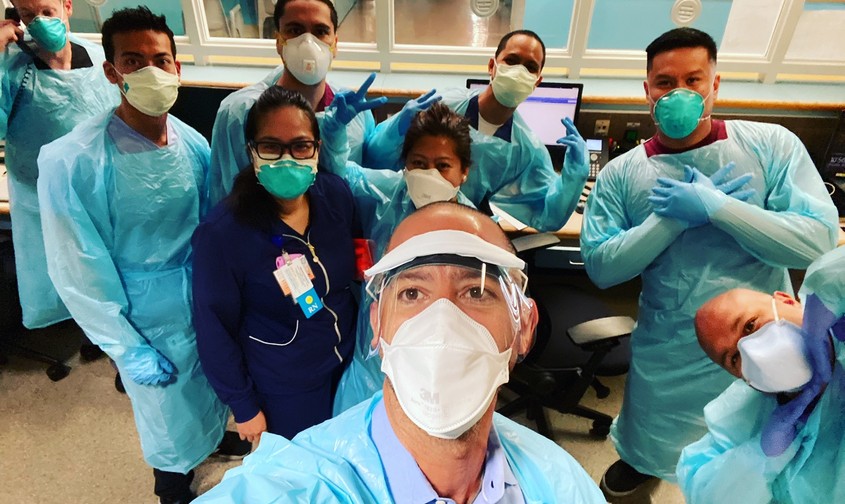 Ryan Salahi, MD '04, lead ER physician and chief of medical staff for the San Diego Psychiatric Hospital, describes the strong connection with his team that has made caring for their patients, many of whom are now COVID-19 positive, a little easier.
"Finding a balance during these stressful times can be difficult, but I work with great colleagues, administrators, nurses, social workers, and other staff, and we're like a family—which helps immensely. I'm grateful for them," Dr. Salahi said.
While a number of patients having been diagnosed with COVID-19, the hospital faces unique challenges due to the nature of his patient cohorts: it's difficult for many of them to follow instructions, such as social distancing; and they are not allowed to be given masks for fear of wearing them inappropriately or risk of hurting themselves.
To help staff, the hospital has implemented new protective measures, including: the building of entry COVID-19 screening tents; the creation of a decontamination room/ante-room in the entrance to its quarantine/isolation unit where all staff are required to don full PPE and remove properly to decontaminate upon exiting the unit; separating patients who are positive COVID-19 from those who are not; temporary suspension of family visitations; and other changes. In addition, the hospital is able to get direct access to prioritized testing and PPE distributions from San Diego County's Emergency Operations Center, and other helpful resources.
Dr. Salahi and team have been using extra lengths to educate their patients about the coronavirus. "Interestingly, our psychiatric patients, while often times difficult and argumentative, were extremely open to learning about COVID-19 and we were able to successfully test 100 percent of our inpatients with no refusals," he added.
Many St. George's University graduates like Dr. Salahi are on the front lines of the COVID-19 pandemic, using their expertise to treat those who are critically ill, joining teams searching for short- and long-term solutions, and contributing in many other ways to help patients in need. SGU is sharing a number of these stories, with the hope that by hearing the experiences of others who are making a difference around the world, we can help reaffirm our students and doctors' commitment to the medical profession.
"I've always known I wanted to be a doctor. As doctors, we care for sick people. It's what we're trained to do," he said.
How are our doctors helping during the COVID pandemic? Send us your story ideas. You can also share your story with us on social media by tagging SGU or using the hashtag #WeAreSGU and #SGUAlumni. 
– Laurie Chartorynsky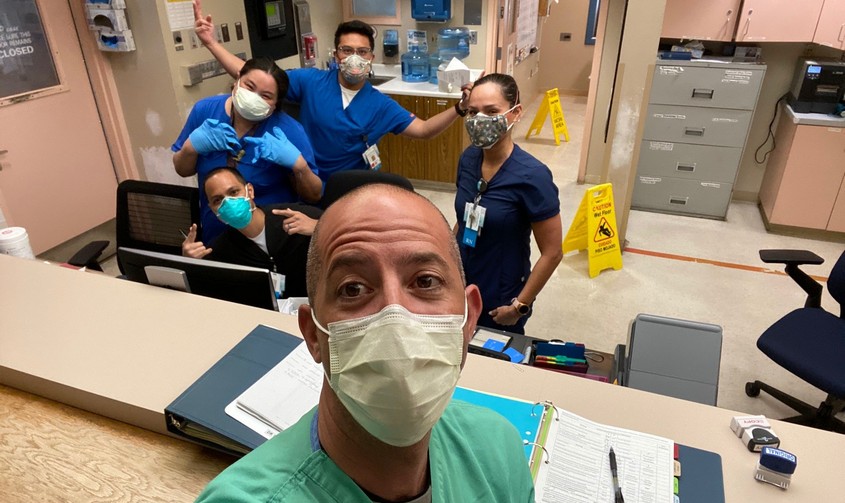 https://www.sgu.edu/wp-content/uploads/2020/04/Salahi-3-845x500-1.jpg
504
845
lchartor
https://www.sgu.edu/wp-content/uploads/2020/02/sgu-logo-grenada.svg
lchartor
2020-04-17 15:33:49
2020-04-17 15:34:45
On the Front Lines of COVID-19: SGU Grad Shares Experiences Inside Psychiatric Hospital