For development pediatricians like Tara Matthews, MD '99, being a good physician comes down to more than just a diagnosis, or knowledge, or treatment. Because of the unique patient population for which she provides care, she must emphasize learning what brought the patient to her office to begin with, and what makes him or her tick.
"In medical school, learning to care about patients and being compassionate is as important, and possibly even more important, than getting straight A's," Dr. Matthews said. "You need to listen to the patient because if you hear the clinical history and story from the patient, you will be able to figure out what's going on with them."
That is especially the case in her role as a developmental behavioral pediatrician at Children's Specialized Hospital in Mountainside, NJ, yet it is not always easy. "Children are not little grownups," she said. "You have to make the child feel comfortable and get down on their level." Taking parents' concerns and questions seriously is also imperative to success.
Since graduating from SGU, Dr. Matthews has spent the past 20 years working with young children in a variety of social, educational, and clinical settings, and has a special interest in Autism Spectrum Disorders. She focuses on children with a variety of development delays and behavioral issues, including children with autism, attention deficit hyperactivity disorder (ADHD), or other learning disabilities. The hospital network also offers outpatient therapies of all kinds for special-needs children.
In addition, if there is suspected behavior that warrants a medical investigation or neurological testing, the hospital is considered a first step for an evaluation, said Dr. Matthews, who is also the medical director of the fetal alcohol spectrum disorders program at the FAS Regional Diagnostic Center at Children's Specialized Hospital.
According to the Centers for Disease Control and Prevention (CDC), one in six children aged three to 17 years were diagnosed with a developmental disability, during a study period of 2009 to 2017. These disabilities included autism, ADHD, blindness, and cerebral palsy, among others, as reported by parents.
"I was really drawn to children with special needs, particularly those with autism. I somehow understand these kids, I get them, and these children are more relaxed with me."
Following her pediatric residency at Newark Beth Israel Medical Center, Dr. Matthews worked as a hospitalist for seven years and held a short stint in private general practice. After seeing several patients in the practice who had autism, it bothered her that she couldn't give children with developmental issues the extra individualized care they needed.
"I was really drawn to children with special needs, particularly those with autism," Dr. Matthews, who is an aunt to several children, including one with autism who holds a special place in her heart. "I somehow understand these kids, I get them, and these children are more relaxed with me."
At the time, Rutgers Robert Wood Johnson Medical School/Children's Specialized Hospital had just restarted a fellowship in developmental behavioral pediatrics. Dr. Matthews was the first fellow in the program.
Dr. Matthews acknowledged that the COVID-19 pandemic has been a challenge with treating some patients. While some have accepted virtual telemedicine as a way to see their doctor (and for their doctor to see the children in their home environment), for others it has been more taxing.
"I miss seeing patients in person; many draw pictures for me. My patients tend to hug me all the time, so I miss the personal touch," she said.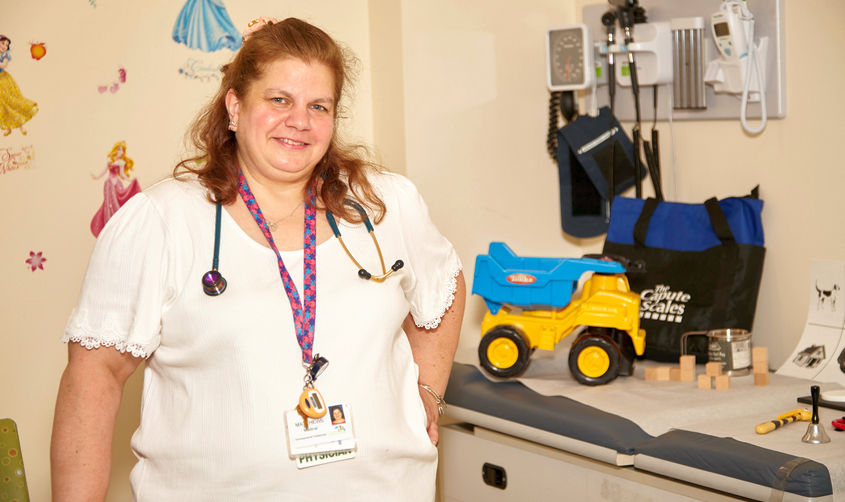 DEFINING HER CAREER PATH IN PEDIATRICS EARLY ON
Dr. Matthews credits her time at St. George's University to help define her career path, with a strong background in pediatrics.
"At SGU, I feel like we really learned medicine," she said. "When I was there, I don't even think they had an MRI machine. We really learned how to diagnose clinically as opposed to relying on all kinds of tests."
During clinical rotations, "St. George's gave me the opportunity to rotate at a variety of different hospitals that exposed me to so much more than many of medical schools in the US," she added. "As a medical student, I saw a large variety of patients who had unique needs."
While in Grenada, Dr. Matthews also volunteered at the local orphanage, which provided her first exposure to children with special needs.
"My experience going to the orphanage every weekend really taught me a lot," she said. "You could already see some children who were developmentally delayed—from having poor nutrition, for example. You could also see the emotional effects of being abandoned and then growing up in an orphanage. I learned that children are so different developmentally and so many factors play into it."
ALUMNI REFERRAL
Dr. Matthews believed so much in her path to becoming a physician that she took advantage of SGU's Alumni Referral Grant program to nominate her medical scribe, Earyn Calvis, who will start Term 1 in August.
Ms. Calvis "reminds me a little bit of myself in that she is very good with children. The kids really take to her. She puts her whole heart into the work. She was always willing to go the extra mile to stay later with me and to learn about the patients," Dr. Matthews said. "She's has the right motivation for being a physician."
While it is still early in her medical education, Miss Calvis is considering a career in pediatrics, partially as a result of her inspiring experience with Dr. Matthews.
"I think from the first day I met her I could tell that she was always willing to put the patient first," Ms. Calvis said. "It set her apart from other physicians I worked with in the past. Even when she was getting their history or updates, you could tell she really connected with the kids and that's especially hard in pediatrics. You have to make sure that the patient, as a child, really trusts you."
"Dr. Matthews had a good gauge of what to expect in her interactions with patients," she added. "It was so great to watch because that's the type of doctor I want to be."
Do you know of someone who is hoping to fulfill their dreams of becoming a doctor? SGU has launched a new referral program for deserving candidates to support their medical school journey—accepted School of Medicine students who are referred by our grads are eligible to receive a financial scholarship of up to $20,000 towards tuition. With online classes ready to go, SGU is welcoming new students for the Fall 2020 term, which starts on August 17. Learn more or refer a candidate today.
–Laurie Chartorynsky
https://www.sgu.edu/wp-content/uploads/2020/07/Tara_Matthews_07-845x500-1.jpg
504
845
lchartor
https://www.sgu.edu/wp-content/uploads/2020/02/sgu-logo-grenada.svg
lchartor
2020-07-09 15:17:31
2020-07-09 17:43:45
Pediatrics Specialist Wins Patients' Hearts By "Getting Down on Their Level"