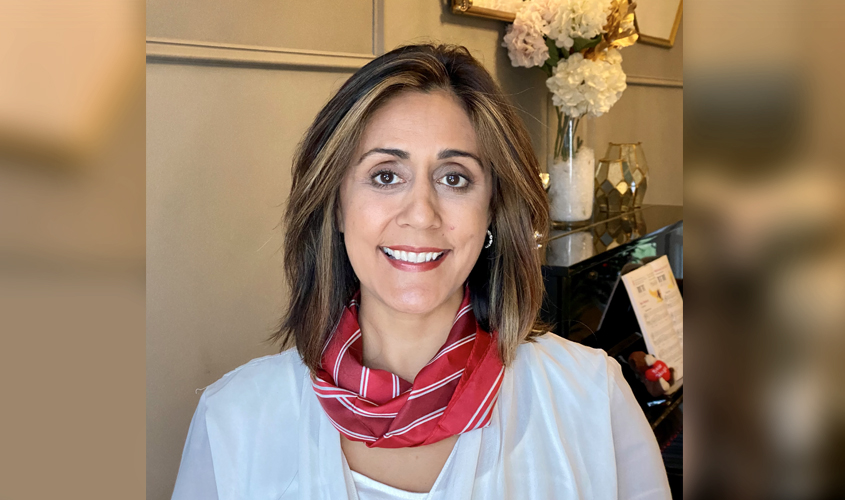 This month's faculty spotlight is on Dr. Sherry Singh, a 2000 graduate of St. George's University and associate dean of SGU's US clinical studies program. She also is the director of the US Onsite Clinical Student Support Program.
In her current role, Dr. Singh has her hands in many facets of the clinical student's journey to graduation, including visiting SGU's clinical sites, overseeing curriculum, ensuring academic standards are met, as well as participating in the development and implementation of clinical student support modalities. She also enjoys interacting directly with students to offer guidance as they navigate their clinical years.
Among the topics she discussed with SGU News—advocating for women in healthcare as well as the need for students to prioritize self-care during the COVID-19 pandemic.
St. George's University: Navigating clinical studies is an important time. What advice do you have for students?
Dr. Singh: I consider the third year of medical school at SGU the toughest year of their medical studies but also the most rewarding as they apply their basic sciences knowledge directly to patient care.
The third year will require a daily diligent commitment to learning both in the clinical environment as well as study time. I encourage students to keep an open mind as they approach each specialty and consider these years an opportunity to learn about all medical specialties, many of which they may not get a chance to experience directly once they enter into their chosen residency.
The fourth year is a time to strengthen their knowledge as they prepare to enter into residency. With such a tremendous network of clinical sites, I encourage students to take this opportunity to diversify where they do their electives.
SGU: You are a strong supporter of student wellness initiatives at SGU. Why it is important for medical students to take self-care seriously, especially during the pandemic?
Dr. Singh: "Wellness" has become somewhat of a buzz term in today's world, yet it is not necessarily embraced by those in the world of medicine. As caregivers, it is very difficult to remember to care for yourself. With the pandemic adding yet another layer of complexity, physician burnout—and the number of healthcare workers as a whole—is on the rise. The perseverance with which our students have withstood these difficult times is a testament to their abilities.
Nonetheless, it is critical they manage their time and make self-care a priority—be it exercise, connecting with others, or learning and practicing mindfulness. Learning how to incorporate and build on these skills will lead to a more resilient physician in the long run. Students should take advantage of the various services SGU has to offer available via the University Portal (The Well and through BCS Group).
SGU: National Women's Physician's Day is Feb. 3. How has the landscape of medicine changed over the recent years for women physicians?
Dr. Singh: Women are now a majority in medical schools which is helping to balance the ratio of physicians in the workforce. As a result, there continues to be increased awareness of the issues that female physicians face, including work-life balance, compensation discrepancies, and gender equity. Women have taken on roles in both the medical world as well as in leadership positions to help fuel change. In addition, with increased awareness, more men are also helping to equalize the opportunities for men and women. As we recognize and continue to discuss the issues women in medicine face, it is imperative to develop amenable solutions to ensure their success and impact in healthcare.
St. George's University School of Medicine Alumni Association will be hosting a virtual event to celebrate National Women Physician's Day on February 3 at 9 pm ET. Students are encouraged to log on to the Facebook Live event that will be held simultaneously. 
SGU: As part of the Advisory Council for the Women Business Collaborative, you recently hosted the first Healthcare Forum for WBC. What were some of the key takeaways from that discussion?
Dr. Singh: This was a very exciting opportunity to connect with several leaders in healthcare. With SGU being the largest provider of physicians to the US workforce, hosting this forum was a very important start for me.
Key points of discussion were:
The ongoing need for mentorship for women (from both women and men), not just awareness but acceptance of the specific issues that women face in striving for work/parenting/life balance;
The need to find ways to support women physicians in innovative ways and remove barriers so they can continue successfully as physicians as well as leaders in healthcare; and
The positive impacts on patient care from women physicians.
SGU: How can female med students implement these lessons? 
Dr. Singh: Our female students should continue to strive for excellence in all fields of medicine. I encourage them to seek out mentorship as well as lead the way for others toward their goals. Embracing diversity and inclusion and procuring a sense of belonging along the way are essential as we work toward a more equitable environment. This is true for all students, not just our female students.
SGU: How has your career in medicine influenced your role in academia?
Dr. Singh: My career in medicine has been a strong influence on my role in academic medicine by allowing me to bring my own experiences from my teaching roles in understanding the complexities that clinical students face and the particular skill sets they must develop.  By understanding the practice of medicine in our ever-changing world, it has allowed me to contribute to the ongoing refinement of our clinical program at SGU with the goal of continuing the essential and positive impact our students continue to have in the US and around the world.
SGU: What is your best memory from attending SGU?
Dr. Singh: I am often reminded of the surreal excitement I felt as a student arriving in Grenada—in particular, at our White Coat Ceremony. Just as fondly, I recall the overwhelming feeling as I entered Lincoln Center in New York City for the commencement ceremonies with my classmates. Those friendships have long endured. For me, I not only get to pay it forward but to share those moments of excitement as I help new students put on their white coats and, during commencement, hood our deserving graduates. It is truly the best gift!
— Laurie Chartorynsky
https://www.sgu.edu/wp-content/uploads/2021/01/SherrySingh-846x500-1.jpg
500
845
lchartor
https://www.sgu.edu/wp-content/uploads/2020/02/sgu-logo-grenada.svg
lchartor
2021-01-13 19:44:52
2021-01-14 16:43:13
Prioritizing Student Support During Clinical Rotations: Faculty Spotlight on Associate Dean Dr. Sherry Singh