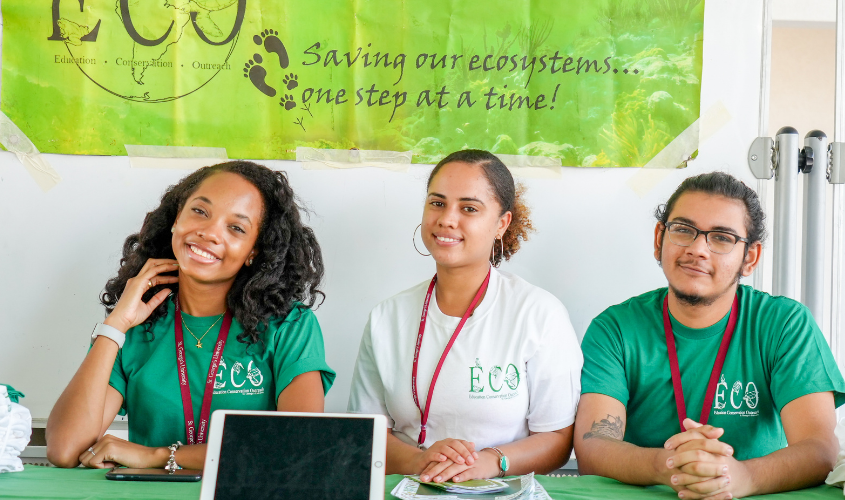 Earth Day is an opportunity to reflect on the impact that all humans have on our planet, but the School of Arts and Sciences' Education, Conservation, Outreach (ECO) student organization strives to do this year-round by raising awareness about the environment to the St. George's University community and to the wider Grenadian population.
As one of SGU's more than 60 student organizations, all students—regardless of school—are welcome to join the ECO club. The group's main activities center on curating visiting lecturers and scientists to speak with students about issues affecting marine and terrestrial ecosystems. They also host movie nights, environmental cleanups, and collaborate on events with other student clubs. These and other activities organized by the group create a genuine connection between students and Grenada's natural environment, leading to a greater appreciation of all the island has to offer.
There is also a strong tie to the Grenadian community as the group strives to highlight environmental issues, through methods like guest lectures, impacting the country, such as pollution, poaching, overharvesting of local species, and climate change.
SGU News spoke with ECO's current president, Rachael Steele, a third year Marine, Wildlife, and Conservation Biology student in the School of Arts and Sciences who is aspiring to be a marine biologist, to learn more about the organization's mission and why students should get involved.
St. George's University: What is the mission of ECO and what does it mean to you? 
Ms. Steele: ECO's mission is to spread awareness of pressing environmental issues we are facing today caused by human activities. We hope this leads to a change in the values, morals, and, ideally, the behavior of society toward nature. Environmental awareness is so important because we all inhabit the same planet, so we want to encourage more environmentally friendly behaviors.
SGU: Why should students get involved? 
Ms. Steele: "Saving the Planet, Saves Lives." ECO clubs are important at all levels of education because they foster more sustainable and environmentally friendly actions by their members—and communities at large.
Knowing more about the earth should be an essential part of our lives, just like how we learned to walk, write, speak, cook, etc.  That's why it's our mission to promote environmental awareness throughout the student body and general public. A healthy environment improves overall human health.
SGU: What are your goals for the organization as president?
Ms. Steele: My goal for ECO continues to be to increase the care and respect our members have for the environment. We'll do this through education, outreach programs, and participating in conservation activities.
SGU: If you could convey one message surrounding Earth Day and environmental conservation, what would it be? 
Ms. Steele: We often think being healthy involves only taking care of our physical and mental health. However, living in an unhealthy environment will undo all the work you have done to stay healthy. Beginning in the industrial era, there have been more cases of cancer and reported sicknesses/diseases due to the degradation of our planet.
I wish to convey the overall message to "take care of mother nature and she will take care of you." Planet earth is our home, the only known habitable planet to support life as we know it, and its health needs to be a priority for us all.
SGU: How can students become members of the club?
Ms. Steele: Students can join our organization through the University Portal.
When in the portal, they should follow the following steps:
Hover your mouse over student resource
In the drop-down menu, select student organizations.
Find ECO listed under the School of Arts and Sciences.
On the ECO page, there is a 'join here' button under the welcome section.
Complete and submit the form.
—Sarah Stoss
Related Reading
https://www.sgu.edu/wp-content/uploads/2022/04/MicrosoftTeams-image-11.png
500
845
sstoss
https://www.sgu.edu/wp-content/uploads/2020/02/sgu-logo-grenada.svg
sstoss
2022-04-22 15:07:35
2022-05-11 10:11:29
Promoting Environmental Awareness Year-Round: Here's Why You Should Join the ECO Student Club