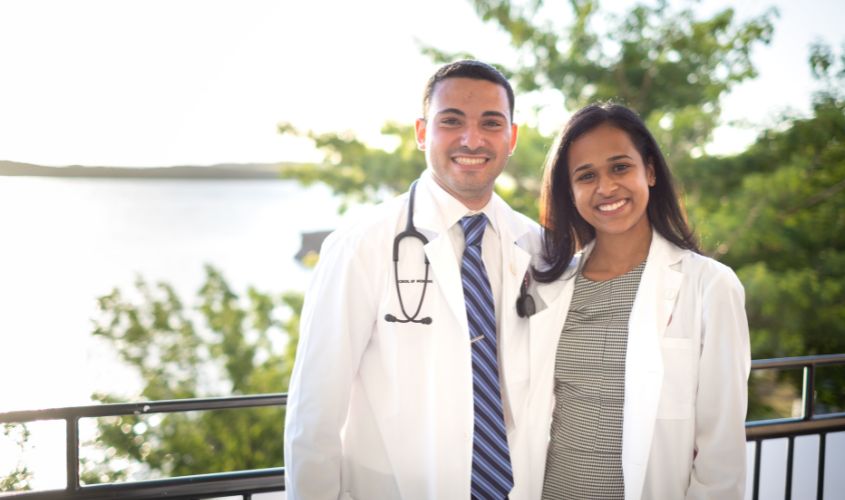 The COVID pandemic has had a significant impact on many people's mental health, Dr. Laurence Dopkin, MD, FAPA, DFAACAP, assistant dean of students, US-Clinical, shared tips on how School of Medicine students can manage stress and anxiety.
Stress and anxiety are emotions that we all experience, and they tend to worsen in times of uncertainty. For those of us who already grapple with stress and anxiety:
Recognize the sources of your stress.
Focus on the things you can control. Keep using the mitigation measures such as masking, social distancing, handwashing, and vaccination. We know these reduce transmission, and these are things we can all control.
Stay connected to others especially when feeling isolated or alone.
Schedule regular "me time" to do things you enjoy in a safe way. Stay on top of your medical care. Avoid self-medicating.
Ask for help if you are struggling. Many people have a tough time with this but think about the satisfaction you get from helping others—it might be your turn to let someone else be a "helper" and experience that same satisfaction.
What resources are available for students to seek additional help?
Counseling services are available for all students via the Psychological Services Center. Telehealth counseling is also available for School of Medicine students via the BCS Group.
There are also multiple smartphone apps that can help with meditation, breathing, mood monitoring, and other stress-reduction techniques.
– Laurie Chartorynsky
https://www.sgu.edu/wp-content/uploads/2022/10/Untitled-design-2022-10-07T160933.398.jpg
500
845
lchartor
https://www.sgu.edu/wp-content/uploads/2020/02/sgu-logo-grenada.svg
lchartor
2021-10-01 15:59:06
2022-10-07 16:16:45
Recognizing World Mental Health Day: October 10