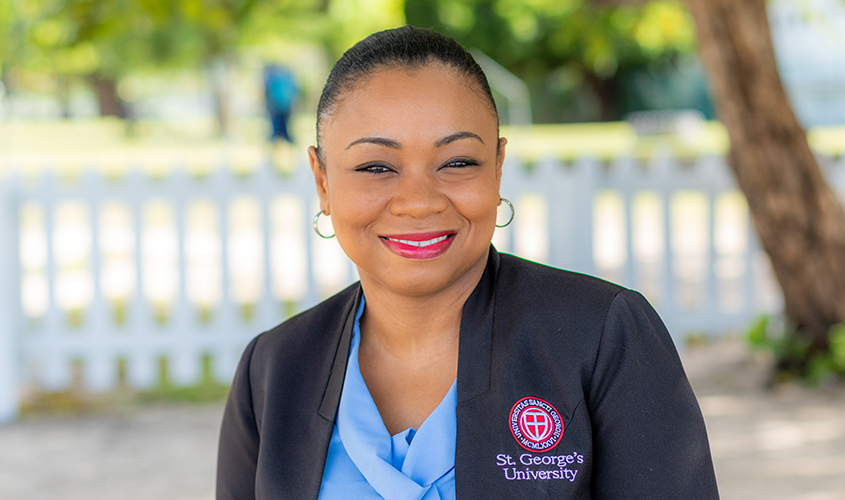 When Adel Hagley Ollivierre boiled down her career aspirations, two necessities became clear to her—to be in a position that she enjoys while also making a difference in the lives of others. As the current assistant administrator for the Office of the Dean at St. George's University's School of Arts and Sciences, she feels she has accomplished just that. 
A Master of Business Administration helped equip her with all the tools for success in that role. The 2018 SGU alumna explained why pursuing an MBA was one of the best career decisions she made, and why she would recommend it to entrepreneurs. 
St. George's University: Why did you choose to pursue an MBA at SGU? 
Adel Hagley Ollivierre: I envisioned my decision to pursue an MBA would allow me to enhance my knowledge and hone critical competencies across several managerial disciplines, which I felt would create opportunities for career advancement. It was also ideal because of its online mode of delivery, as I could complete my program while at the same time balancing family life and a full-time job. 
SGU: How has this MBA made a difference in your life? 
Hagley Ollivierre: It has brought immediate value to me as an individual. It has proved useful in giving me the confidence to make a major career change. I often felt that I had greater potential and could be more impactful in my career. Acquiring new knowledge tends to change your perspective and initiate other interests. Additionally, it served as an avenue that fostered enduring friendships with colleagues of my graduating class and the exemplary faculty and staff of our program, who provided the requisite knowledge and guidance. 
SGU: You previously worked in the Grenada Public Service. Why did you make such a major career change? 
Hagley Ollivierre: The decision to transition from the public sector to the private sector was a fairly easy one. My time with the Grenada Public Service allowed me to work with brilliant colleagues and develop the skill set and competencies that today serve as the foundation for future growth and development. Naturally, I felt I was at a stage in my career where I wanted to make a difference and simply enjoy what I did for a living. 
Joining the team in the Office of the Dean was the answer to my prayers. I finally had the opportunity to apply my theoretical knowledge and years of experience to a real-life situation. Here, my productive capabilities are demonstrated. I feel a sense of accomplishment as I execute my duties and navigate this dynamic and often unpredictable environment. 
I am fortunate to have a terrific manager who appreciates my contributions and provides the necessary support and guidance. I enjoy going to work and collaborating with our competent faculty and staff. It gives me a great sense of pride knowing that our collective efforts contribute to the success of our students and organization. 
SGU: 

Going back to your time as a student, how would you describe campus life for an MBA student? 
Hagley Ollivierre: My on-campus experiences generally involved attending residencies, or studying at the library or study spaces on weekends. St. George's University is one of the most beautiful places to visit in Grenada—it's simply the gold standard in my book. I feel extremely fortunate to have experienced its scenic ocean view, the refreshing environment, and the well equipped and comfortable facilities. 
SGU: Would you recommend SGU's MBA program to entrepreneurs? 
Hagley Ollivierre: The MBA-IB program is designed with an international perspective and is especially beneficial in terms of providing very practical case analyses. It culminates with the defense of a business-related capstone project. This component I believe is particularly useful for aspiring entrepreneurs, as it helps develop appropriate business acumen and provides practical experience. I would highly recommend it. 
– Tornia Charles
https://www.sgu.edu/wp-content/uploads/2021/01/Adel-Hagley-Ollivierre-845-x-500.jpg
500
845
bpmauser
https://www.sgu.edu/wp-content/uploads/2020/02/sgu-logo-grenada.svg
bpmauser
2021-01-28 15:24:54
2021-01-28 15:28:27
SAS Spotlight: Adel Hagley Ollivierre