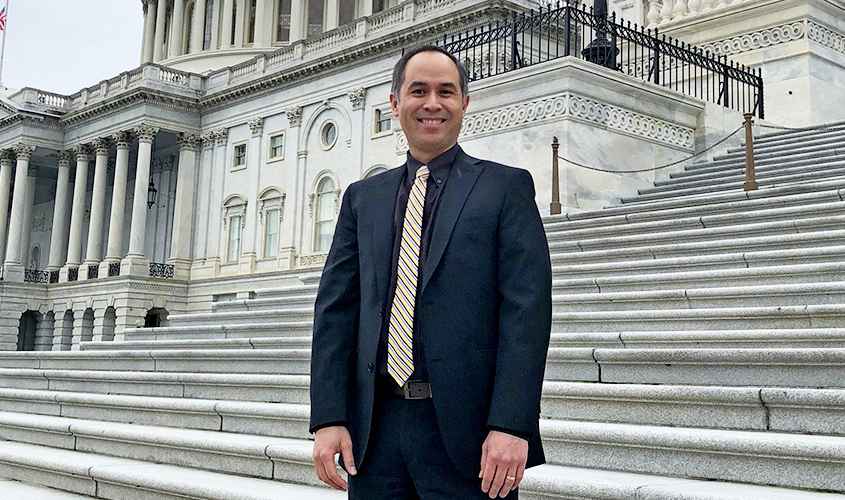 Advocacy seems to come naturally for Andrew J.P. Carroll, MD '96, founder, owner, and medical director of Atembis LLC, an integrated medical-behavioral family medicine practice in Chandler, AZ. As a St. George's University student in the early '90s, he had his first foray into advocacy by representing the University to ask the American Medical Student Association (AMSA) to allow the school to host the organization's first offshore chapter and ultimately secured a charter.
Nearly 30 years later, having been elected to sit on the board of directors of the American Academy of Family Physicians (AAFP) for 2019-2020, Dr. Carroll will be able to channel his talents as part of a group tasked with advocating on behalf of more than 134,000 family physicians and medical students across the United States. The appointment is a culmination of his experience in practicing family medicine for more than 20 years as well as his passion and dedication to primary care.
"The grassroots family physician hasn't been heard loud enough," Dr. Carroll said in a phone interview. "I want to be that loud voice."
Dr. Carroll started campaigning for the AAFP board position in 2018. He was elected during the AAFP annual Congress of Delegates which took place on September 25 in Philadelphia, PA. Among topics that are close to his heart: the nation's shortage of primary care physicians. Dr. Carroll attributes the issue to a financial dichotomy between high debt acquired by students during medical school and the low compensation typically received when practicing primary care, which deters students from entering the field and instead choosing higher-paying medical specialties.
"A lot of physicians have ideas for solutions, but we don't have a voice," Dr. Carroll said. "The AAFP affords us that position. It's important to have someone at the table who is actively speaking on everyone's behalf. That's the reason I did it."
Dr. Carroll has been actively involved in supporting family practitioners in his state. In 2010, he was elected to represent the Arizona Academy of Family Physicians (AzAFP) at the AAFP's annual Congress of Delegates—the organization's governing body. He has also served the chapter in various executive positions including its past president (2014-2015) and remains today as a Board Member.
"When I first met Andrew almost 14 years ago, I knew immediately that he would be a leader," said Laura Dearing, executive vice president of Arizona Academy of Family Physicians. "Dr. Carroll has always been giving of his time with our Board, to testify at the state legislature, and to promote leadership within the young physician community. His quick wit and empathetic nature have made him a superstar in the family medicine community in Arizona and in the US. Any state chapter executive would be honored to work with him because he is respectful, smart, funny, and most of all, nice."
Dr. Bill Thrift, a professional colleague of Carroll's through the AzAFP and a family physician in Prescott, AZ, said Dr. Carroll's progressive way of treating patients while running a successful private practice will be a big asset to the AAFP.
"He is right in the thick of it and so his perspective comes from the front lines—that's a good thing," Dr. Thrift said. "We are more than proud of Andrew and we know that he is going to not only represent Arizona physicians well but represent America's physicians well."
On a local level, Dr. Carroll has owned and grown into an integrated care practice since 2003, offering services ranging from chronic disease management, behavioral treatment, and wellness consultations to interventional procedures and pediatric care among others, all in one place. In addition to traditional payer patients, he also cares for uninsured patients, those without a private or employer health plan, and those who are not eligible for federal or state insurance benefits by providing cost-conscientious care and arranging for diagnostic studies to be done at or near cost.
"If someone is having low-risk chest pain, I want to be his first call, not a cardiologist," Dr. Carroll said. "It could be gas, it could be indigestion, it could be rib pain, etc., instead of a heart attack. We need to get back to the point in primary care where we have proven our worth to patients and they make us their first stop when something is wrong. We can only do that if we're easily accessible. The current payment system does not allow for this."
"The skill set we have as family doctors is suited for rural communities, but I am in the middle of a city," he added. "People who choose us like to say, 'hey, that's my doctor.' It's about giving them a small-town feel and touch as the community's physician—which is really what we are."
– Laurie Chartorynsky
https://www.sgu.edu/wp-content/uploads/2019/10/Andrew_carroll_AAFP-Board_web.jpg
500
845
lchartor
https://www.sgu.edu/wp-content/uploads/2020/02/sgu-logo-grenada.svg
lchartor
2019-10-15 19:09:48
2021-02-25 21:16:00
SGU Alum's Passion for Family Medicine Leads to AAFP Directorship