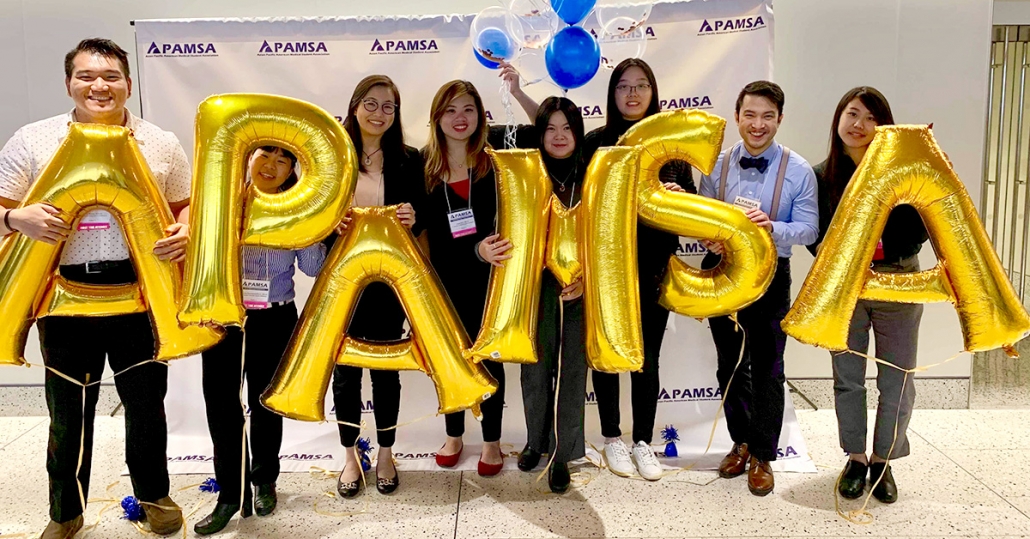 St. George's University's chapter of the Asian Pacific American Medical Student Association (APAMSA) was recently presented the Best Fundraiser Award at the 2019 APAMSA National Conference, held this year at the New York University School of Medicine. It marks the second consecutive year that the student organization has been recognized for its achievements in promoting diversity and awareness in Asian and Pacific Islander American (APIA) healthcare, having previously won the award last year for Best Chapter of the Year.
"As the first and only international medical school to be a part of APAMSA, we are extremely grateful for the recognition at the national level for two years in a row," said Kathy Guo, a fourth-year medical student currently completing her clinical rotations at Brooklyn Hospital Center. She is also a former president of the SGU chapter of APAMSA. "While studying in Grenada, we became really involved with the Mt. Airy Young Readers Literacy Program. In addition to our volunteer work tutoring the Young Readers, we received this award for our continued fundraising efforts in which we donate all event proceeds toward this program."
Themed "The Land of Opportunity: Breaking the Barriers in APIA Healthcare", this year's conference focused on the evolving landscape of healthcare and how representation of APIA physicians in leadership positions play an important role in this change. The three-day conference brought together pre-health and health students from across the country to share information on addressing and analyzing a variety of health topics in hopes of inspiring the next generation of leaders that advocate for APIA healthcare issues in their communities.
"We joined APAMSA's national organization in the US because we wanted our chapter's involvement to be part of something bigger," said Ms. Guo. "Many of us who attended this year's national conference were founding members of the SGU chapter—including our own Clara Sze, who was recently appointed to a national board position as the 2019-2020 Network Director.
"The conference provided invaluable interactions with other medical students from the US where we heard about their experience in med school and during their clinical years," added Ms. Guo. "They told us about what kind of adversity they encountered, ways to counteract that, and how to help educate our colleagues when navigating our future medical careers."
About APAMSA
The Asian Pacific American Medical Students Association (APAMSA) is a national organization of medical and preclinical students committed to addressing the unique health challenges of Asian and Pacific Islander American (APIA) communities. APAMSA serves as a forum for student leaders to engage these health issues and develop initiatives and projects addressing those needs. The local, regional, and national activities of APAMSA aim to promote the health of the APIA community and help healthcare workers understand how to care for APIA patients in a culturally sensitive manner. Finally, APAMSA provides an important venue for medical students to meet, exchange experiences, and develop personally and professionally through leadership and service.
– Ray-Donna Peters
https://www.sgu.edu/wp-content/uploads/2019/10/APAMSA-845-x-500.jpg
500
845
bpmauser
https://www.sgu.edu/wp-content/uploads/2020/02/sgu-logo-grenada.svg
bpmauser
2019-10-30 21:02:52
2021-02-25 21:16:02
SGU APAMSA Student Organization Recognized at National Conference