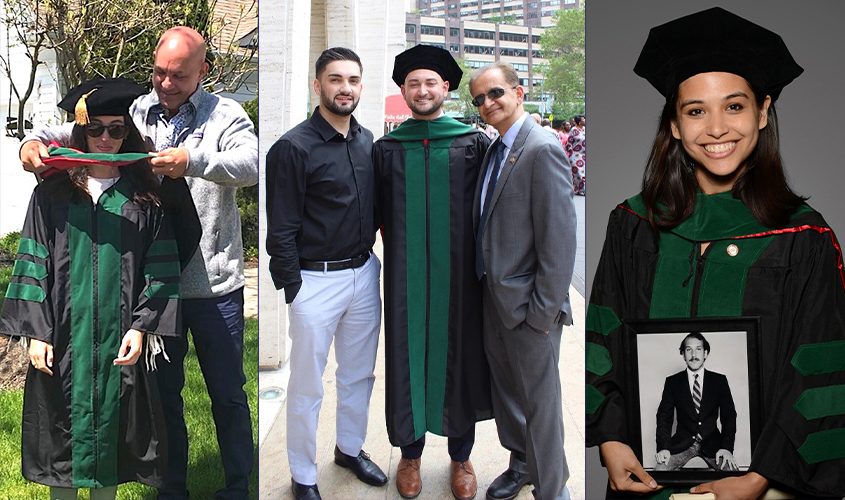 All of those who attend St. George's University are warmly welcomed to the SGU family. But for many, the pursuit of a career in medicine is truly is a family affair—fathers, mothers, and then years later, their children. There are also brothers and sisters, aunts and uncles, and many more familial connections that are linked in the history of SGU.
To commemorate Father's Day, SGU caught up with several physician graduates who either led the way for their children, or followed their father's path to medicine.
Michael ('88) and Alexandra Lacqua ('20)
All her life, family and friends told Alexandra Lacqua, MD '20, that she was just like her dad, Dr. Michael Lacqua, MD '88, a reconstructive plastic surgeon in Staten Island, NY. Except she didn't see it—at first.
The first inklings of her interest in medicine happened in high school, when she began to notice more often when patients would see her dad out in the community and thank him for his help. When Dr. A. Lacqua was in college, her dad founded a nonprofit organization—Healing Hands Abroad. The organization provides volunteer surgical care for underserved communities, scheduling trips to countries like the Dominican Republic, Ecuador, and Belize, among other places.
Dr. Lacqua, who is a triplet with two brothers and also has a younger sister, travelled to Belize several times with her dad to help with the mission work. It was during these trips that she began to envision herself in a career in healthcare.
"The first trip was the first time I saw him in that doctor role," she said. "It was the first time I was ever in an OR with him and that's when it started to click for me. I had always seen my dad as my dad, but now I was able to see him as the doctor everyone told me he was. And I could see he truly loved it."
Dr. Lacqua is about to start an internal medicine residency at Florida Atlantic University in Boca Raton, FL, on Monday. "The biggest thing I learned from him—especially on the mission trips—is to be an advocate for your patients," she added. "He speaks up for them and always make sure their voices and their concerns are heard and validated. Patients know that and they really value that. That's the biggest thing I want to take with me. I want patients to know that I am their doctor, and whatever it may be, we are going to work together to fix it."
Dr. Michael Lacqua actually recognized that his eldest daughter had an interest in medicine when she was just a little girl.
"When she was younger, she saw me excited about going to work and the stories I told. She always asked about my emergency room visits—how did it happen, is the patient OK, how many stitches, etc.," he said. "As I got into more elective surgeries, and she got older, she would ask more mature questions—they became more medically focused."
"I want patients to know that I am their doctor, and whatever it may be, we are going to work together to fix it."
And he noticed the dedication and perseverance in his daughter that it takes to be a good doctor.
"The best advice I could give her was to treat people as if they are your sister, brother, mother, or father, to treat them like they were your own family," he said.
Dr. M. Lacqua said St. George's University provided many opportunities—not only with the education but the exposure to variety and diversity on and off campus. "I began to realize that there is more to the world and appreciated more of what was happening in the world," he said.
He hopes one day that Alexandra will take over the Healing Hands Abroad organization and mission work—and offer additional ways to support underserved communities around the world.
Dr. A. Lacqua said going to SGU was an easy decision for her, after seeing the success her dad has had as a surgeon. "I knew I would be in good hands going to Grenada," she said.
Following her residency, Dr. Lacqua said she is considering specializing in endocrinology. "I like how comprehensive it is; I am interested in how hormones can really affect every part of the body—especially with diabetes and thyroid issues. I also like how you really get to follow your patients. l like having that time with the patient and being able to have those long-term relationships with patients," she said.
Two weeks ago, Dr. Lacqua marked her graduation from SGU by having a small graduation ceremony in at her grandmother's house with family, where her dad hooded her. Despite not being able to attend graduation at Lincoln Center due to COVID-19, "it was nice to mark to the day," she said.
Rajiv ('89), Samir ('19), and Karan Narula (Term 4)
Rajiv Narula, MD '89, is proud to keep the SGU legacy alive through both of his sons. His older son, Samir, is a 2019 graduate of the School of Medicine and a current surgical resident at Brooklyn Hospital Center in Brooklyn, NY. His younger son, Karan, is currently a Term 4 student at SGU.
"I am super proud to have them doing what they are and of course going to SGU," said Dr. Narula, associate section chief of occupational health at Mid-Hudson Regional Hospital and medical director of International Travel Health Consultants, located in Poughkeepsie, NY and New York City.
"SGU gets you ready for the real world of medicine by pushing you to succeed in a very competitive environment with all the needed resources, be it the physical layout of the school, access to study aides, clinical instructors, small study groups, etc.," he said.
According to Dr. Narula, his son, Samir, is enjoying his surgery residency, while his son Karan aspires to be a cardiologist. Dr. Narula also has a daughter finishing up her undergraduate degree who aspires to go into dental medicine.
"My wife is a nurse, so naturally we have a special interest in health issues," he said. "I am blessed to have gone to SGU and the life that it opened up to me. I showed them the positive sides of medicine—healing and comforting of people who are at a vulnerable stage in their life."
Dr. Narula began his career practicing family medicine and made the transition to occupational health. Through the move, he was able to show his children that, in medicine, one can always make a transition into other areas of interest as long as you continue to study and learn.
When asked about the changes between when Dr. Narula started residency and now, he said: "I started residency in June 1990 when healthcare was very different. Managed care was about to start and change the field from fee-for-service with its own issues, to the issues that we see now with insurance overreach into healthcare decisions etc."
He added: "Today, healthcare is driven by policy, the price of care, and technological advancements—everything is geared toward empowering the patient and toward the prevention of illness. Additionally, patients have much more access to information through the internet, and so it's much more collaborative now. It makes things easier in a way."
Despite all these issues in healthcare, the key relationship that matters is the special ones that exists between the doctor and the patient, he added.
Steven ('81) and Sarah Falk ('18)
When Sarah Falk, MD '18, sat in lectures at St. George's University, she was taught by some of the same professors who instructed her father, Steven, more three decades earlier as part of SGU's charter class. It was special for her. When she was just 9 years old, he passed away due to a spreading infection stemming from a hairline fracture in his tooth, and now she too was journeying into medicine.
"Because he passed away when I was so young, my connections with people who actually knew him are very few," she said. "It was such an honor to come to know people who knew him and were also part of my career path—like Dr. Rao, who remembered so much and said he used to ride motorcycles with him around Grenada. Every person I talked to had such a fondness for him. It was incredible to hear the memories they had of him."
Sarah Falk seemed destined to become a doctor from a young age—her father an internist, her mother a psychiatrist. Even at a young age, she remembers the impression that her father made on his staff at his convenient care clinic in St. Petersburg, FL.
"I didn't know the exact hierarchy there, but I do remember how much his staff just adored him," she said. "I know that he found medicine to be very fulfilling, and I'm just so happy to be walking in his footsteps."
March 12, 2018 was an emotional day for Dr. Falk—not only was it the anniversary of her father's death but also the Monday of Match Week. She rejoiced upon learning that she had secured a psychiatry residency at East Tennessee State University's Quillen School of Medicine in Johnson City, TN. This month, Dr. Falk completed her first two years during which residents provide inpatient care. For her third year, she will undertake outpatient services beginning this summer.
She hopes to further her career by entering a child and adolescent fellowship at this time next year. Dr. Falk is also passionate about fighting for equal healthcare access and rights for marginalized populations, including members of the LGBTQ community. She is proud to continue the legacy of physicians in her family.
"When I was young, I remember my parents coming home and how energized they were about how much they had helped their patients. And I wanted that," she said. "So when I was deciding what I wanted to do with my life, medicine was always at the top and I never kind of strayed away from that.
"I think about my dad frequently and hope that I'm making him proud."
– Laurie Chartorynsky and Brett Mauser
https://www.sgu.edu/wp-content/uploads/2020/06/Fathers-Day-copy.jpg
500
845
bpmauser
https://www.sgu.edu/wp-content/uploads/2020/02/sgu-logo-grenada.svg
bpmauser
2020-06-19 18:46:12
2020-06-25 19:18:08
SGU Legacies: Father-Child MDs Share Love of Medicine