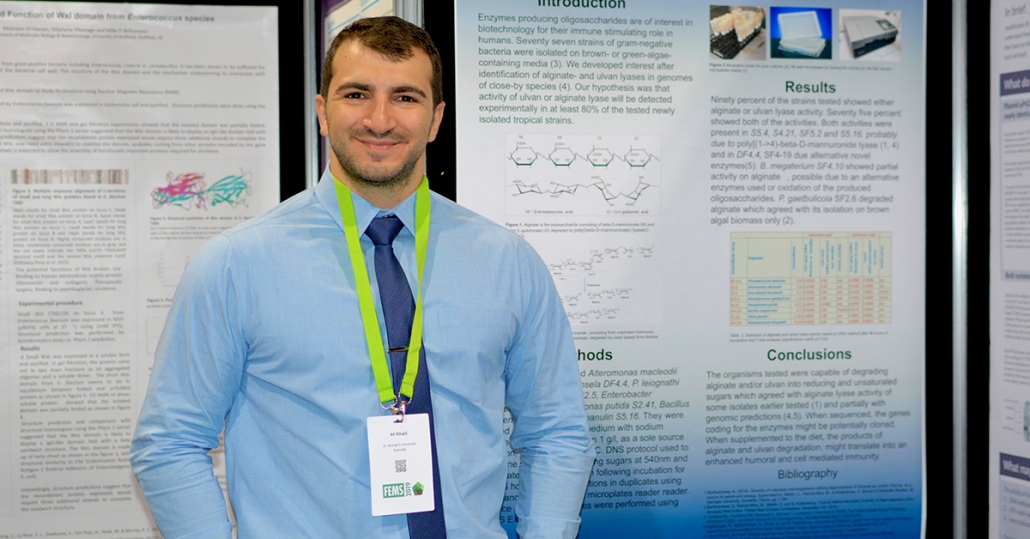 Ali Khalil, a second-year medical student at St. George's University, joined leading scientists across microbiology in presenting research at the 8th Congress of the Federal European Microbiology Society (FEMS) 2019 conference in Glasgow, Scotland. With his colleagues, Mr. Khalil unveiled novel findings derived from samples taken off the Grenadian coast and examined over a two-year period on SGU's True Blue campus.
"Every discovery in the field of microbiology is valuable and crucial for other scientists to build upon, no matter where they are in the world," said Mr. Khalil. "Attending FEMS2019, I was able to successfully represent SGU in my presentation and interact with scientists who seek new connections in the field."
Titled "Detection of Alginate Lyase and Ulvan Lyase Activity in Tropically Isolated Bio-degraders", the group research project was overseen by Dr. Svetlana Kotelnikova, an associate professor in the Department of Microbiology at SGU. Research began by isolating new strains of bacteria from the Caribbean ocean around the True Blue campus. After performing experiments on the capabilities of these bacteria to digest seaweed, the study concluded by detecting an enzymatic activity of a novel enzyme unique to the microbiology field.
"Along with a great team mentored by Dr. Kotelnikova, I had the opportunity to present a novel discovery that we accomplished right here in SGU's microbiology lab," said Mr. Khalil. "Our research garnered lots of interest from many scientists at the conference, as it gives them a new approach to understanding human gut immunity and promising techniques for treatment options.
"Our hope is that soon scientists all over will be able to replicate this enzyme and use it to enhance the metabolism of sugars," added Mr. Khalil. "The process will enhance the human gut microbiota and upregulate the immune response in what is called Peyer's patches in the intestines."
The FEMS Congresses were created to showcase the most recent developments and address some of the global challenges being faced today. They are among the only scientific meetings at the European and international levels providing a unique forum for interdisciplinary dialogue and discussion between all microbiological specialties ranging from basic research to applied, as well as, across all sectors—academic, policy, business, educational, and communications.
The 9th Congress of European Microbiologists (FEMS2021) will be held July 11-15, 2021 in Hamburg, Germany.
About FEMS
Established in 1974, the Federal European Microbiology Society is now an active and diverse federation of 53 European learned societies that includes around 30,000 professionals who are committed to advancing microbiology for the benefit of society. Located in 38 European countries, around half of these professionals are early-career researchers, and the remainder include industry scientists, established academics, educators, and campaigners.
– Ray-Donna Peters
https://www.sgu.edu/wp-content/uploads/2019/09/Ali-Khalil-FEMS2019-845-x-500.jpg
500
845
bpmauser
https://www.sgu.edu/wp-content/uploads/2020/02/sgu-logo-grenada.svg
bpmauser
2019-09-30 21:21:31
2021-02-25 21:16:00
SGU MD Student Presents at International Microbiology Conference