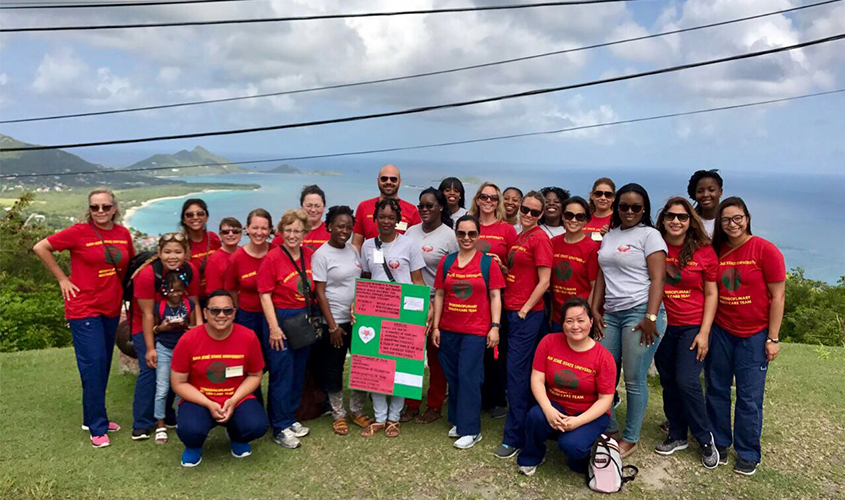 Traditionally, 15 to 30 nursing students from San Jose State University (SJSU) would have spent the summer honing their public health skills at St. George's University in Grenada as part of a more than seven-year partnership between the institutions. This year, however, with a global pandemic bringing much of normal activity to a halt, meeting in person was impossible.
However, with the support of leadership from both universities, the first-ever virtual service-learning placement was created, while still ensuring quality and parity were achieved.
"I thought long and hard about this decision," said Deborah Nelson, a nursing lecturer at the College of Health and Human Services, SJSU. "I felt a commitment to all the students, both universities, and the Grenadian community. We wanted to be sure to explore any and all possible solutions to maintaining this partnership before cancelling. Therefore, the online version had to not only meet the courses' and programs' learning outcomes but it had to be meaningful to all involved."
According to Ms. Nelson, this is one of the first programs of its kind in the US to offer credits towards a major global senior nursing practicum, while also granting the SJSU students the opportunity to graduate a semester earlier. Spearheaded by Dr. Tamara McKinnon, a lecturer in community health and research at the Valley Foundation School of Nursing at SJSU, she also played an integral part as one of the three faculty members involved in both the creation and execution of the new venture.
Though virtual this year, the course's main objectives still remained the same—including using evidence-based nursing to promote health, analyzing the influence of health policies on individuals, delivering education that impacts health literacy, and conducting environmental assessments. All classes and lectures were held jointly via Zoom, while coursework was integrated and joint projects evenly balanced with SGU and SJSU students partnering.
"COVID-19 continues to have an adverse impact on many," stated Ms. Nelson, "However, it is an amazing feeling to be able to say that all involved made it possible for these nursing students to not only participate in an intercultural learning experience but to stay on track for their graduation. This allows them to soon be able to join the global nursing workforce when they are most needed."
Among those who participated in the program was Chelsea Moreno, a part-time float nurse currently completing her final semester in the RN to BSN program at San Jose State. Ms. Moreno, who decided to pursue a career in nursing after witnessing her brother go through his first surgery as an infant, chose to participate in the virtual service-learning placement because it gave her the opportunity to both graduate a semester earlier and be a part of a group to do something different.
"Even with such short notice and a hurried transition to go from a physical faculty-led program to a virtual course, I definitely believe this class was a success," commented Ms. Moreno. "I learned about cultural awareness in a new way and I was a part of something never done before at SJSU. I was able to bond with nursing students from across the globe and was truly sad during our last meeting. We even started a group phone chat in hopes to one day meet in person and further deepen our understanding of each other and our different cultures."
Also attending the virtual course was Marci Yaeger, she too completing her final year in the BSN program at SJSU. After spending eight years in the field as a medical assistant, she was inspired by the nurses she worked with, whose knowledge and skills in medicine motivated her to do more.
"One of the main objectives of the program was to be able to communicate effectively in a cross-cultural setting," stated Ms. Yaeger. "By having small group discussions with the students from Grenada, I learned that what is natural for me—such as language, slang, or mannerisms—may be confusing to someone from a different culture. This really gave me a new perspective as to how I present myself to peers and to patients who may not share my culture, values, and experiences."
"As course directors, we had to be strategic in designing this virtual course," said Dr. Jennifer Solomon, chair and director of the Nursing Department at SGU. "We looked at how we could offer a course that met the objectives, while utilizing innovative teaching that would allow the students the opportunity to gain the experience and credits they needed without losing time."
As to be expected, having classes via Zoom included minor technical difficulties and the balancing of two different time zones between California and Grenada. Nevertheless, both students and faculty touted the virtual service-learning placement as a success.
"For me, the design and collaboration with my SJSU colleagues has been an extremely empowering and positive experience and showcases what can be achieved," added Dr. Solomon. "It may have been easier to cancel, but I am incredibly proud that we did not."
— Ray-Donna Peters
https://www.sgu.edu/wp-content/uploads/2020/08/San-Jose-845x500-1.png
500
845
lchartor
https://www.sgu.edu/wp-content/uploads/2020/02/sgu-logo-grenada.svg
lchartor
2020-08-07 07:56:47
2020-08-18 14:02:48
SGU Partners with San Jose State University for Virtual Nursing Experience