St. George's University pathology professor Shivayogi Bhusnurmath was honored last month with a lifetime achievement award by the Group for Research in Pathology Education (GRIPE), the organization that sets the standards in pathology education, providing educational development and resources for pathology educators worldwide.
Dr. Bhusnurmath was presented the Excellence in International Pathology Education Award, which is given to GRIPE members who have significantly contributed to pathology education globally by "enhancing the teaching of pathology at medical institutions in multiple locations outside of North America," according to the organization's website. The award was given to Dr. Bhusnurmath during the organization's annual meeting in San Antonio, TX, where he was invited to deliver the conference's keynote address to attendees that included pathology professors and course directors from North America.
"In many ways, Dr. Bhusnurmath set the high standards we have today in the first two years of medical school. His mixture of both classic and innovative teaching methods in the pathology course has been a major contributor to student's outstanding performance on USMLE Step 1," said Dr. Stephen Weitzman, Dean of the School of Medicine. "Dr. Bhusnurmath is truly a dedicated educationalist. This award is well-deserved."
Dr. Bhusnurmath's keynote highlighted examples of educational principles that he and his wife, Bharti, who is also a professor in pathology at SGU, implemented during their more than four-decade tenure teaching pathology to medical students and postgraduate residents across the world, including at SGU. As two of SGU's longest-tenured faculty members and co-chairs of the pathology department, the pair has significantly contributed to the School of Medicine's curriculum and teaching methods, coming to SGU in 1996. Dr. Shivayogi Bhusnurmath is also SGU's dean of academic affairs and director of SOM's clinical tutor teaching and research fellowship program.
Among the accomplishments that Dr. Bhusnurmath and his wife have achieved during their stints with SGU include:
Launched a formal international clinical tutor teaching fellowship program to recruit and train recent physicians from across the globe to serve as full-time faculty, helping to mentor small group learning activities in pathology. The program has grown from four tutors in 1997 to more than 260 tutors currently from India, Nigeria, Sudan, Caribbean, Turkey, The Philippines, Australia, UK, Guyana, and more. The method has become the foundation of all teaching activities in SOM's basic sciences.
Started a postgraduate certificate program in medical education for clinical tutors.
Introduced the personal response system—Clickers—in 2007 as a means of encouraging active participation by students in lectures by projecting questions to the whole class and getting a feedback instantly to correct any misconceptions during the lecture.
Helped create SGU's fourth-year elective in pathology—one of the few departments in North America that offer this—which is beneficial to those interested in a career in pathology.
Bhusnurmath run a two-week selective for SGU students—the India Medical Experience at Krishna Institute of Medical Sciences in Karad, India, every July and December, which helps train and inform students of the healthcare system in India.
Bharti Bhusnurmath started a medical pathology diagnostic lab on the campus in 1997, providing the University community and Grenada doctors with state-of-the-art quality-controlled diagnostic services. SGU is the only Caribbean school that provides such a facility.
Bhusnurmath have both been invited as consultants to review the medical school curricula at the University of Arizona as well as Creighton University in Nebraska.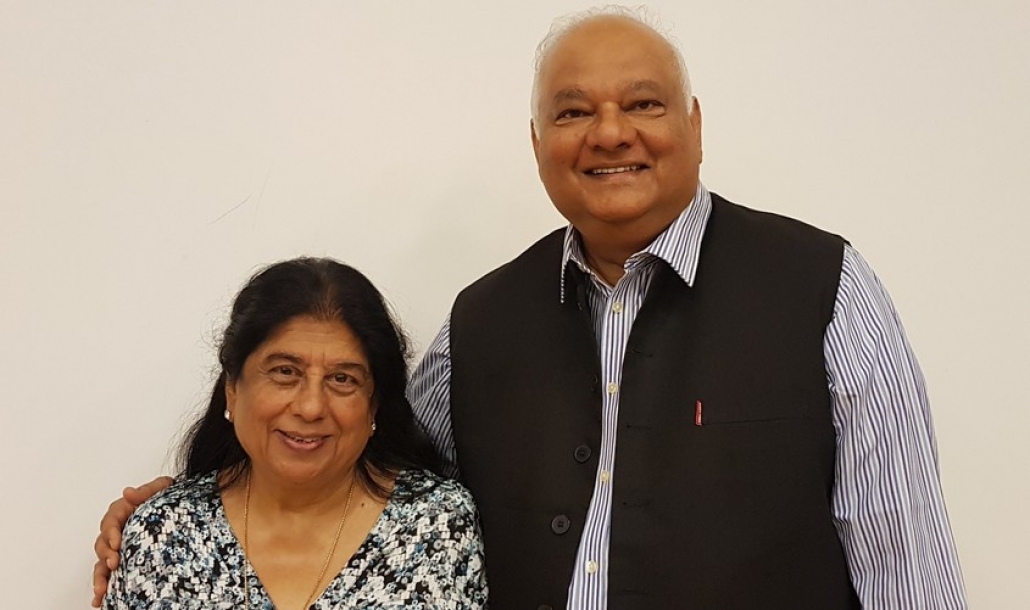 "Over 60 percent of the USMLE Step 1 is pathology. The questions are all clinical case analysis, interpretation, and problem solving," Dr. Bhusnurmath said. "With the changes we introduced to teach pathology as a basis for clinical medicine, our students have been tremendously successful on their USMLEs."
Added Dr. Bhusnurmath: "The knowledge they take from these courses are invaluable irrespective of which specialty they take up later on in their career. Many alumni confess that the pathology small-group learning was the one activity that stays as the most helpful activity in their basic sciences even years after they have moved on."
Dr. Bhusnurmath has held faculty positions in Oman, Canada, Nigeria, and India. He has also worked as a visiting professor in the US, the UK, Japan, Canada, Sudan, and several medical colleges in India. He has published more than 135 works on medical education and pathology, and presented at more than 250 workshops, seminars, and guest lectures on these topics.
-Laurie Chartorynsky
https://www.sgu.edu/wp-content/uploads/2020/02/Bhusnurmath-lifetime-achievement-award-845x500-1.jpg
503
845
lchartor
https://www.sgu.edu/wp-content/uploads/2020/02/sgu-logo-grenada.svg
lchartor
2020-02-07 17:01:21
2020-02-07 21:07:13
SGU Pathology Professor Receives Prestigious Lifetime Achievement Award