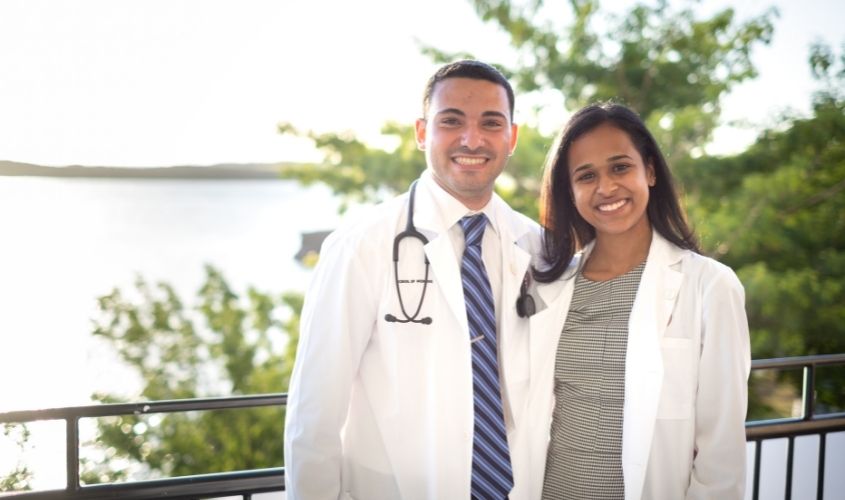 St. George's University President Dr. G. Richard Olds recently sat down with the Miami Herald for an interview about the state's physician shortage, the importance of international medical graduates, and the strong presence of SGU alumni working throughout the state.
The article, titled "Can't find a doctor? Florida facing physician shortage amid growth, aging population," details how the state's growing and aging population has put undue pressure on the physician workforce–and without immediate action, more and more patients could begin to encounter difficulties accessing care. Dr. Olds offered his expert perspective on the disproportionate impact of these shortages on vulnerable populations:
"'People want to talk about a doctor shortage, but far more important … is when you look at statewide statistics, there are areas of Florida that have an absolute surplus of doctors, including primary care doctors, and they tend to mask the fact that rural underserved America and urban underserved America have a much greater doctor shortage,"' Dr. Olds said.
St. George's University in Grenada supplies the U.S. with more first-year residents than any other medical school. About 70 percent of its students are U.S. citizens and in 2021, 120 of its graduates started residencies in Florida.
Dr. Olds also explained how the highly competitive nature of admissions at U.S. medical schools is preventing some of the best and brightest students from pursuing careers in medicine.
"Competition for medical school slots also is fierce. There are 50,000 qualified candidates for medical school every year in the United States, meaning they have a high enough grade-point average and standardized test score to do well, but only 26,000 are accepted into U.S. medical schools," Olds said. "Many of those not accepted seek schools outside the U.S."
https://www.sgu.edu/wp-content/uploads/2022/03/students-white-coat-outside-845.jpg
500
845
lchartor
https://www.sgu.edu/wp-content/uploads/2020/02/sgu-logo-grenada.svg
lchartor
2022-03-21 10:25:15
2022-03-22 10:25:32
SGU President Featured in Miami Herald Article on Doctor Shortage