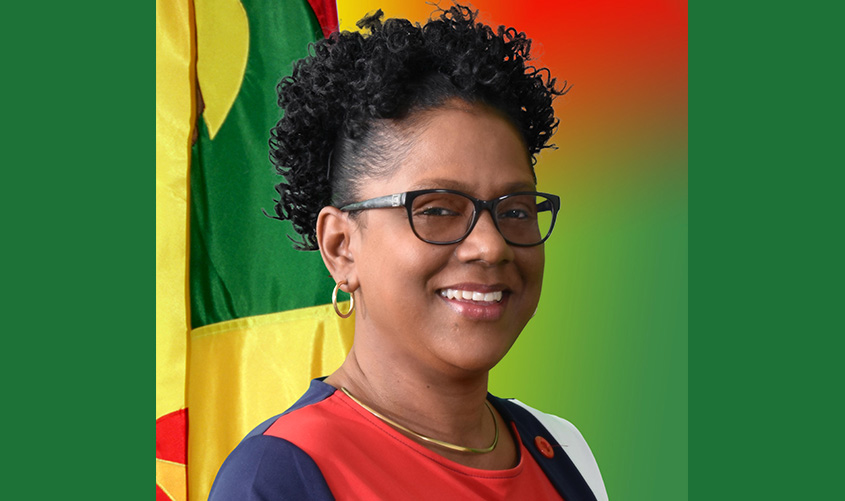 For St. George's University faculty member Samantha Dickson, touching and saving lives has been a lifelong mission. From the age of 17, she has been a teacher, a youth volunteer, an advisor, and a leader in Grenada, and is the first female to have been elected president of the Grenada Red Cross Society (GRCS).
For her contribution of more than 30 years to Grenada's public service, Ms. Dickson was recently awarded the 2020 Spice Isle Award by the Government of Grenada. She, along with the other awardees, was acknowledged at the 46th Anniversary of Independence Celebrations at Grenada's National Stadium prior to receiving her award at an official ceremony held at the Governor General's Residence on February 20.
"I am deeply humbled to have been awarded this honor," said Ms. Dickson, the coordinator of SGU's simulation center as well as the American Heart Association (AHA) International Training Center. "Most of all, I am thankful to my family for supporting me because I had to sacrifice spending time with them in order to help others. I am also grateful to the Red Cross because this is where it all started for me. It's amazing to think that initially I wasn't sure this was something I would want to do, but after attending that first two-day workshop on how to educate young teachers to become leaders in 1988, that was it; I was converted into a lifelong member of this organization."
In 1988, she joined the public service of Grenada as a teacher, becoming a youth volunteer and leader of the GRCS a year later. After serving in numerous advisory roles throughout the years, including as a member of the Health Commission of the International Federation of Red Cross and Red Crescent Societies (IFRC), today she serves as the organization's president.
"I've always had a calling to make a difference and to save lives," said Ms. Dickson. "I went into teaching because it gave me an opportunity to have a huge impact on shaping and molding the lives of our nation's children. Even as a 17-year-old teacher to 16-year-old students, I still felt like I was able to change their lives."
Established in 2007, the National Honours and Awards Act No. 32 allows for the granting of awards to citizens of Grenada and other persons for distinguished, outstanding, or meritorious services or achievements, or for gallantry and related matters. The Spice Isle Award in particular is awarded to any person who has rendered truly emulative service in any field of human endeavor or for other humane action.
Ms. Dickson has dedicated her life to humanitarian services and has travelled to more than 45 countries experiencing, teaching, and learning. She has served as a teacher, guidance counselor, health director of the Red Cross, and deputy/acting national disaster coordinator of the National Disaster Management Agency (NaDMA).
"After 30 years of service to my country, I have made lifelong friends," stated Ms. Dickson. "I have touched many lives and have loved the opportunity to be of service and give back to others. In the future, I plan to continue being a role model and mentor, especially to young women, and to set the path to encourage others so that when I can no longer be of service someone else can pick up the mantle and continue on doing an even better job than I did."
Additionally, Ms. Dickson has functioned as the deputy of operations for the response and recovery to Hurricanes Ivan and Emily in 2004 and 2005. During these operations, she managed the British Housing Recovery Project—rebuilding homes and recovering livelihoods. She has managed the Caribbean Tripartite Agreement—a regional First Aid project between Grenada, Trinidad and Belize—as well as the UNICEF/Grenada Red Cross component of the "Return to Happiness" a psychosocial program, reaching 10,000 children ages 6 to 12 within the span of six months.
In 2005, she had the honor of meeting Queen Sofia of Spain to receive an award on behalf of the outstanding work of the Grenada Red Cross volunteers.
Ms. Dickson is currently completing a master's degree in emergency services administration at California State University, Long Beach. She continues to participate in numerous humanitarian initiatives including as a member of the coordination group for the Global Network for Women Leaders in the Red Cross and Red Crescent movement (GLOW Red) and as one of only five doping control officers in Grenada for the Caribbean Regional Anti-Doping Organization (Caribbean RADO).
–Ray-Donna Peters
https://www.sgu.edu/wp-content/uploads/2020/02/Dickson-main-845-x-500.jpg
501
845
lchartor
https://www.sgu.edu/wp-content/uploads/2020/02/sgu-logo-grenada.svg
lchartor
2020-02-20 21:20:54
2020-02-25 21:08:27
SGU Sim Lab Director Receives Prestigious Spice Isle Award