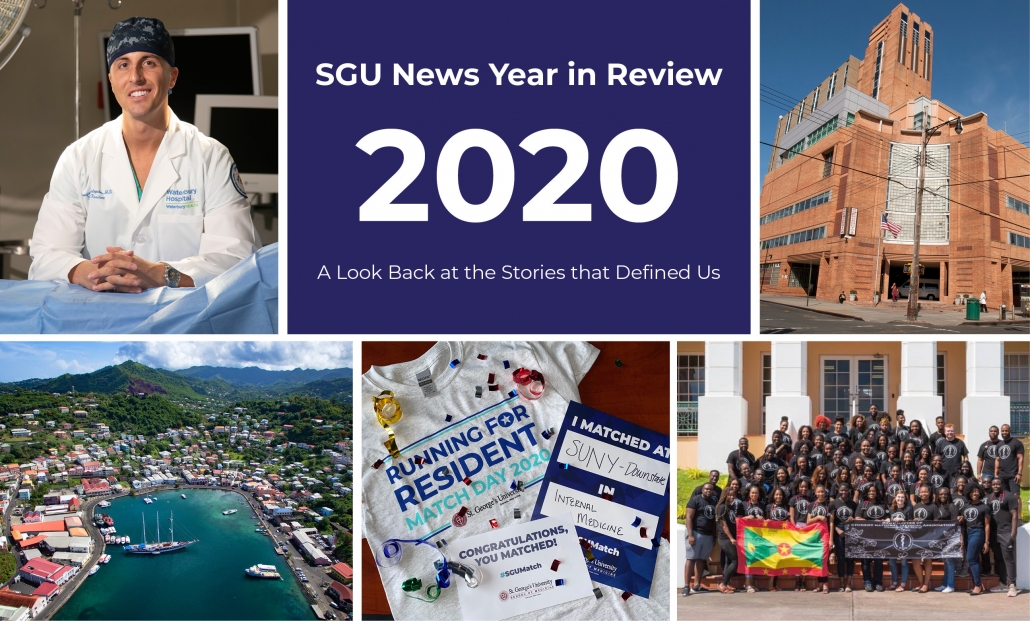 For a wide range of reasons, 2020 is a year that we won't soon forget—from the heroism on the front lines of medicine, powerful demonstrations surrounding racial equality, and the change to our day-to-day lives and our perspectives.
It was a monumental year in so many ways for St. George's University School of Medicine, its faculty, staff, and students. SGU made history when students and graduates secured 1,124 residency positions across the US and Canada in 2020—a 95 percent residency placement rate for eligible 2020 US graduates who applied for US residencies* and a record for the University. Over the summer, approximately 450 of those grads began their residencies in New York-New Jersey area hospitals, some of the hardest-hit hospitals in the nation during the early days of the COVID pandemic.
SGU profiled many alumni across specialties and locales who tirelessly donated their time and services to help those suffering from the disease, some of those who sacrificed seeing their own families to help the sickest of COVID patients.
It was also a year in which diversity and equality was brought to the limelight. The University had frank discussions with its entire community about the importance of listening, learning, and supporting, not only in the current climate but going forward.
These are the stories that underscore the School of Medicine's strengths and define us as a University as we aim to enhance student success and grow the number of healthcare professionals around the world. Read on to see the top news stories of 2020 on SGU.edu.
*SGU student data as of November 2020

Match Day 2020
With the ongoing COVID-19 pandemic, SGU students and graduates were called on to assist in the fight against the virus. On Match Day 2020 in March, they learned of where they would begin their career as physicians. Positions were secured across a wide range of specialties—including anesthesiology, emergency medicine, orthopedic surgery, pathology, and many more—and spanned across the United States.
All told, 1,124 SGU graduates had started residency in the US and Canada in 2020, which equals a 95 percent residency placement rate for eligible 2020 US graduates who applied for US residencies*—a record for the University—including some 450 SGU grads in New York-New Jersey area hospitals. They joined a proud network of 18,000 SGU physicians who have made a difference in healthcare around the world.
*SGU student data as of November 2020

A Conversation on Diversity in the Medical Profession: Thoughts from SGU's Student National Medical Association
With the tragic deaths of people like George Floyd, Breonna Taylor, and many others, and as social justice events were held around the world, SGU News connected with SGU chapter members of the Student National Medical Association (SNMA). The national organization is committed to supporting current and future underrepresented minority medical students by addressing the needs of underserved communities, and increasing the number of "clinically excellent, culturally competent, and socially conscious physicians." SGU chapter members shared their perspectives on the world around us, the importance of the SNMA's mission, and how students can get involved.

SGU Adds New US Clinical Sites for Medical School Student Core Rotations
SGU's clinical network is growing. This fall, seven US hospitals joined the SGU family, including several in California as well as a new venue into the South that allow third-year medical students to receive core clinical training during a crucial time in healthcare.
These hospitals included:
Baton Rouge General Medical Center in Baton Rouge, LA
Doctor's Medical Center in Modesto, CA
Hemet Valley Medical Center in Hemet, CA
MacNeal Hospital in Maywood, IL
Mission Community Hospital in Panorama City, CA
Westchester General Hospital in Miami, FL
Wyckoff Heights Medical Center in Brooklyn, NY
True Calling: From the Navy to the OR
Critical problem solving. A wide array of challenges. The operating room was exactly the type of workplace atmosphere that Georgios Mihalopulos, MD '18, set out to find when he began working toward a career in medicine. It also mirrored his life as an officer in the Canadian Navy, a position that he held before and during medical school.
"I always say I love stress and I hate sleep, so that's why surgery is the perfect field for me," said Mihalopulos, now a third-year surgery resident at Waterbury Hospital in Connecticut. "It just seemed like the most natural thing in the world for me to do."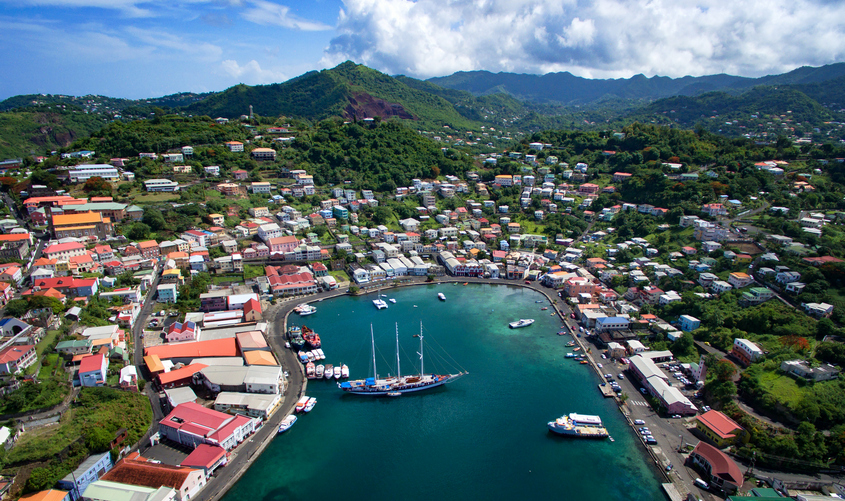 SGU and Grenada partner to address COVID-19 pandemic
As the coronavirus pandemic spread throughout the world, SGU and the Government of Grenada worked hand in hand, developing and operating a COVID testing facility, and bringing in new devices to treat ill patients.
https://www.sgu.edu/wp-content/uploads/2020/12/2020-Top-News-Stories-845-design-scaled.jpg
1544
2560
lchartor
https://www.sgu.edu/wp-content/uploads/2020/02/sgu-logo-grenada.svg
lchartor
2020-12-14 18:52:15
2020-12-14 21:40:57
The News Stories that Defined the School of Medicine in 2020