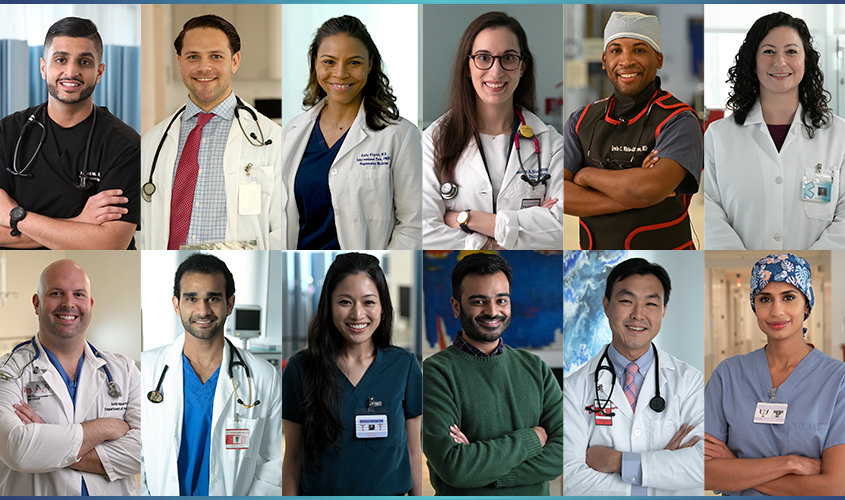 For more than four decades, St. George's University continues to educate highly qualified physicians who are helping to alleviate the physician shortage in the US and around the world.
Recently, 13 School of Medicine graduates including emergency medicine doctors, anesthesiologists, vascular surgeons, cardiologists, pediatricians, and others, participated in a two-day photo and video shoot in New York City that will allow SGU to showcase alumni success in its upcoming digital marketing campaign. Candidates were asked to share their career paths and SGU experiences in video.
"SGU-educated physicians are well positioned to make a positive influence on the global healthcare system—particularly during the COVID pandemic," said Nadav Levinton, who led this marketing initiative for St. George's University. "There is no better way to celebrate our impressive graduates than by stepping up to tell their stories in the same way they would: without hesitation, with a primary concern for the well-being of others, and with well-planned teamwork."
Robert Alig, vice president of alumni affairs for SGU, said: "We thank all of the alumni who participated in the photoshoots. With busy schedules both personally and professionally, we greatly appreciate their time and candor. Hearing about the wonderful work they've done, and the paths taken to get where they are in their careers, is truly inspiring. We know these testimonials will inspire those individuals who are eyeing a career in medicine themselves."
SGU is cognizant of the precarious and difficult situations that healthcare workers everywhere are facing as a result of COVID. As a result, the University took strong precautions to keep both the subjects and the crew safe while completing the photo/video shoot. Such precautions before, during, and after the photoshoots included:
Each subject and crew member was required to have a negative COVID test result prior to filming.
The production crew was kept to a minimum to lower the number of people interacting with each other. All were required to wear masks, sterile suits, hair nets, and booties provided by the clinic where filming commenced. Crew members were provided eye protection as well.
The medical clinic received a special cleaning the night before and again after SGU completed the filming.
SGU had a COVID compliance coordinator on site taking temperatures and asking questions before anyone entered the location.
Subjects were required to wear N95 masks for the majority of the time on location. Photographers only shot a few takes with masks off.
Using the tagline "Are You In?" the images and interviews will be on display starting in mid-December through various digital ads as well as on SGU's website and social media pages. SGU News will highlight the final assets in the December issue of the SOM alumni newsletter.
SGU is hoping to schedule additional photo shoots in the US and Canada in 2021. Details will be forthcoming on how alumni can participate. In the meantime, visit SGU's Alumni Association website to learn other ways that SGU graduates are invited to get involved.
–  Laurie Chartorynsky
https://www.sgu.edu/wp-content/uploads/2020/11/GradCollage_845x500.jpg
500
845
lchartor
https://www.sgu.edu/wp-content/uploads/2020/02/sgu-logo-grenada.svg
lchartor
2020-11-17 16:00:20
2020-11-18 14:16:18
Showcasing SGU Doctors: University's New Marketing Campaign Features Real-Life Graduate Success Stories to Prospective Students