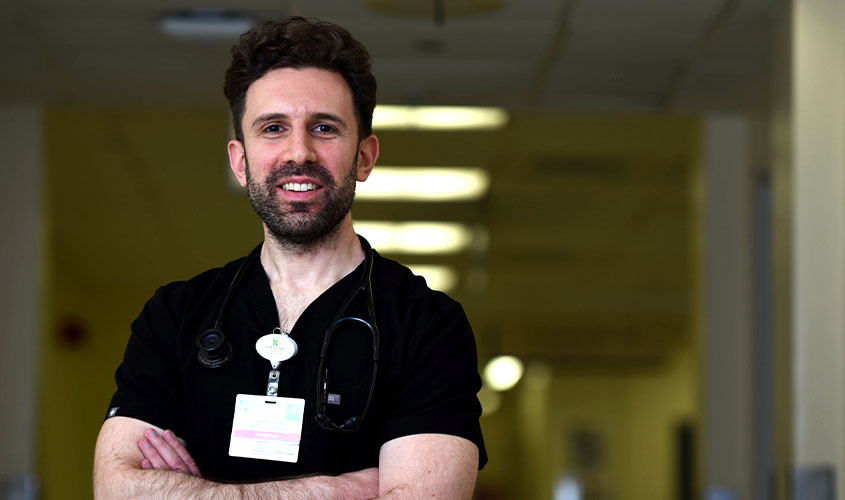 Dr. George Mammo may have graduated St. George's University in 2017, but as a clinical professor and hospitalist at Humboldt Park Health, he interacts with future SGU doctors almost daily.
"I find it very rewarding because I was in their position not too long ago," Dr. Mammo said of working with clinical students. "As a young attending, I see so much of myself in many of them. I feel that it's a great way for me to give back."
Humboldt Park Health is a 200-bed acute care hospital located in the Humboldt Park area of Chicago, IL. Formerly named Norwegian American Hospital, the institution rebranded in 2021 as part of a wider initiative to better serve its local community.
Dr. Mammo was part of the inaugural class of residents at the hospital. Now he is not only an attending physician there, but has joined SGU's clinical faculty on site to teach third- and fourth-year med students the clinical skills they need to prepare them for residency.
SGU News asked Dr. Mammo what clinical students at Humboldt will learn and the lessons they will be able to take with them in their career.
St. George's University: How long have you been a clinical faculty member?
Dr. Mammo: I've been part of the clinical faculty for six months now.
SGU: What are some of the day-to-day ways that you interact with SGU students?
Dr. Mammo: From bedside teaching rounds to lectures in clinical medicine, I directly interact with students on a one-on-one basis and guide them in their development as clinicians, especially in their ability to formulate a differential diagnosis and plan of care for a patient. I emphasize to students and residents that the diagnosis in the vast majority of cases can be narrowed down from collecting a detailed history and physical examination, and this is mastered by the art of applying the full breadth of pathophysiological knowledge that is unique to their journey as a physician-in-training.
SGU: What are some of the skills that students might acquire over the course of their time here?
Dr. Mammo: I would say the two most important skills that students should acquire are first, how to take a thorough history from a patient. And with that history, learn how to narrow down their differential diagnosis to come up with what will be the ultimate best course of action and best treatment route for that patient. But it all starts with taking a good history. From day one I try to impart that in the students. I just can't emphasize that enough. As they improve their physical examination skills they will also improve their clinical skills.
SGU: Why did you choose medicine as your career path? What appealed to you about going to med school?
Dr. Mammo: I chose to go to medical school wanting to understand the fabric that binds and connects us as humans, and by understanding this fabric to solve the problem of pain and suffering. I have always imagined that if we can alleviate people's pain, physically, mentally, and emotionally, that there is hope in the healing of the human condition, and years later I see this positive impact on countless lives on a daily basis in practice.
SGU: What fascinates you about family medicine? Why did you choose that specialty?
Dr. Mammo: Family medicine is really the one specialty that allows you to do the most good for the most amount of people. It allows you to be as specific and focused, yet as well-rounded and skilled as you'd like, or as general as you'd like. You can really tailor your practice and the way that you approach medicine, see patients, and take care of patients.
SGU: How did you choose SGU and how would you describe your SGU experience?
Dr. Mammo: I was born in the metro Detroit area, definitely a blue-collar city, to immigrants from the Middle East. Throughout my life, they gave me all the virtues of hard work, persistence, and committing myself fully to the goals that I set for myself and my life.
What piqued my interest in going to SGU was the fact that it's probably the most diverse place where you can go to get a medical education. In my experience at SGU, it was phenomenal and wonderful to get to know people from all over the world. Not just from the US or Canada, or even students from the local area in the West Indies, but from all over—Brazil, Italy, China, South Asia, Africa, and the rest of the world. I don't think you would get that experience anywhere else. So I think it just enriched my experience of being a student in a way that being at an American medical school you may not get.
SGU: What is one piece of advice that you would like to pass on to students to be successful in their clinical education?
Dr. Mammo: My advice to all students would be that medicine is a profession of lifelong learning. And so as you approach every milestone and move forward, remember that we're all students of medicine for life and we're always learning and that includes even when we get into practice.
In addition, always remember that, whatever it was that fueled you to go into medicine, keep it there and allow that to continue to be what drives you to do the best thing for your patient. But that requires you to continue to learn, stay up to date, and always be a student of medicine.
– Brett Mauser and Laurie Chartorynsky
Related Reading
https://www.sgu.edu/wp-content/uploads/2022/08/George-Mammo-845.jpg
500
845
lchartor
https://www.sgu.edu/wp-content/uploads/2020/02/sgu-logo-grenada.svg
lchartor
2022-08-16 08:06:01
2022-08-16 12:06:49
SOM Grad: Becoming a clinical faculty member is a "great way" to give back